Frontiers North Adventures together with Belinda and Parker Fitzpatrick today announced the transfer of the Fitzpatrick's 50 percent ownership stake in the Tundra Inn to Frontiers North.
"Parker and I would like to thank our amazing staff (past and present), our suppliers and, most importantly, all of our guests," said Belinda Fitzpatrick. "Thank you for choosing the Tundra Inn!"
In 2009 the two parties entered into a 50-50 partnership in the Churchill, Manitoba hotel property, restaurant and pub. The business grew to include a hostel in 2011, which also forms part of Frontiers North's acquisition of the Tundra Inn.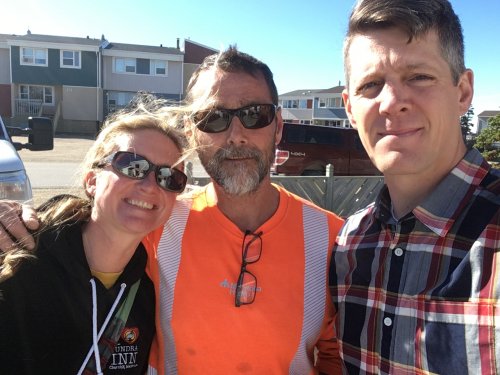 Belinda and Parker Fitzpatrick with Frontiers North President and CEO, John Gunter.
With this transfer of ownership Ms. Fitzpatrick will be resigning from the role of General Manager of the property. At the same time, Frontiers North is excited to announce that Ms. Fitzpatrick will remain with the Tundra Inn on a seasonal basis in the role of Restaurant Manager, with Yves Page continuing on in the role of Head Chef.
"The Tundra Inn wouldn't be what it is today without the hard work and love that Belinda and Parker have poured into this place, and for that we are very thankful," said John Gunter, President and CEO of Frontiers North. "We are excited for the challenge and opportunity to continue to serve the community and to elevate the hospitality experience for our guests in Churchill."