Churchill is so very different from other parts of the world, and it can be overwhelming to teach yourself about the ins and outs of this place. So who better to learn from than three born-and-raised Churchillians!
Meet Brendan, Nikki and Sandra! Brendan and Nikki are part of the Frontiers North team and Sandra is a terrific local artist. All three have lived in Churchill their entire lives. Growing up in the Polar Bear Capital of the World, they have the northern wisdom to help guide you through your visit to this iconic destination.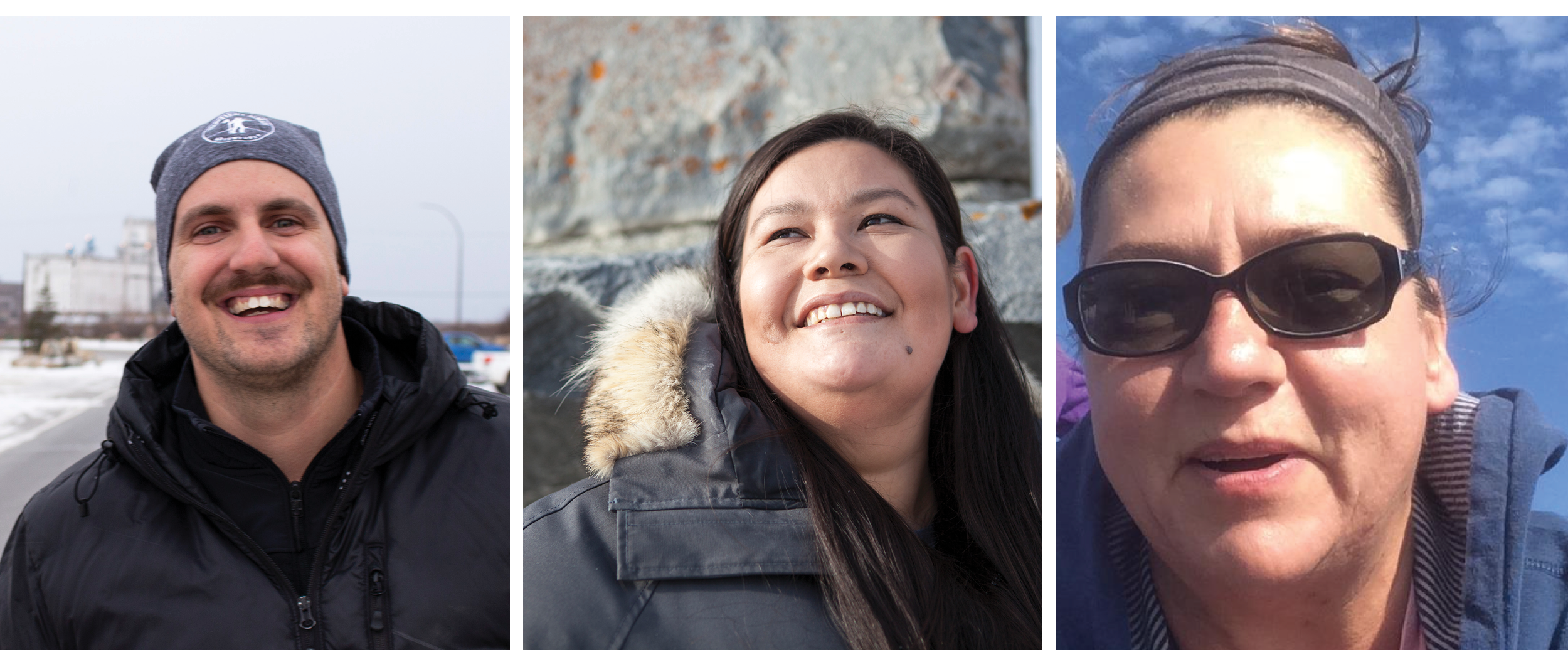 Pictured left: Brendan, pictured centre: Nikki, pictured right: Sandra
We asked them a series of questions to help you learn a little more about their one-of-a-kind community.
1. What is your favourite restaurant in Churchill? What Churchill dish is a must try?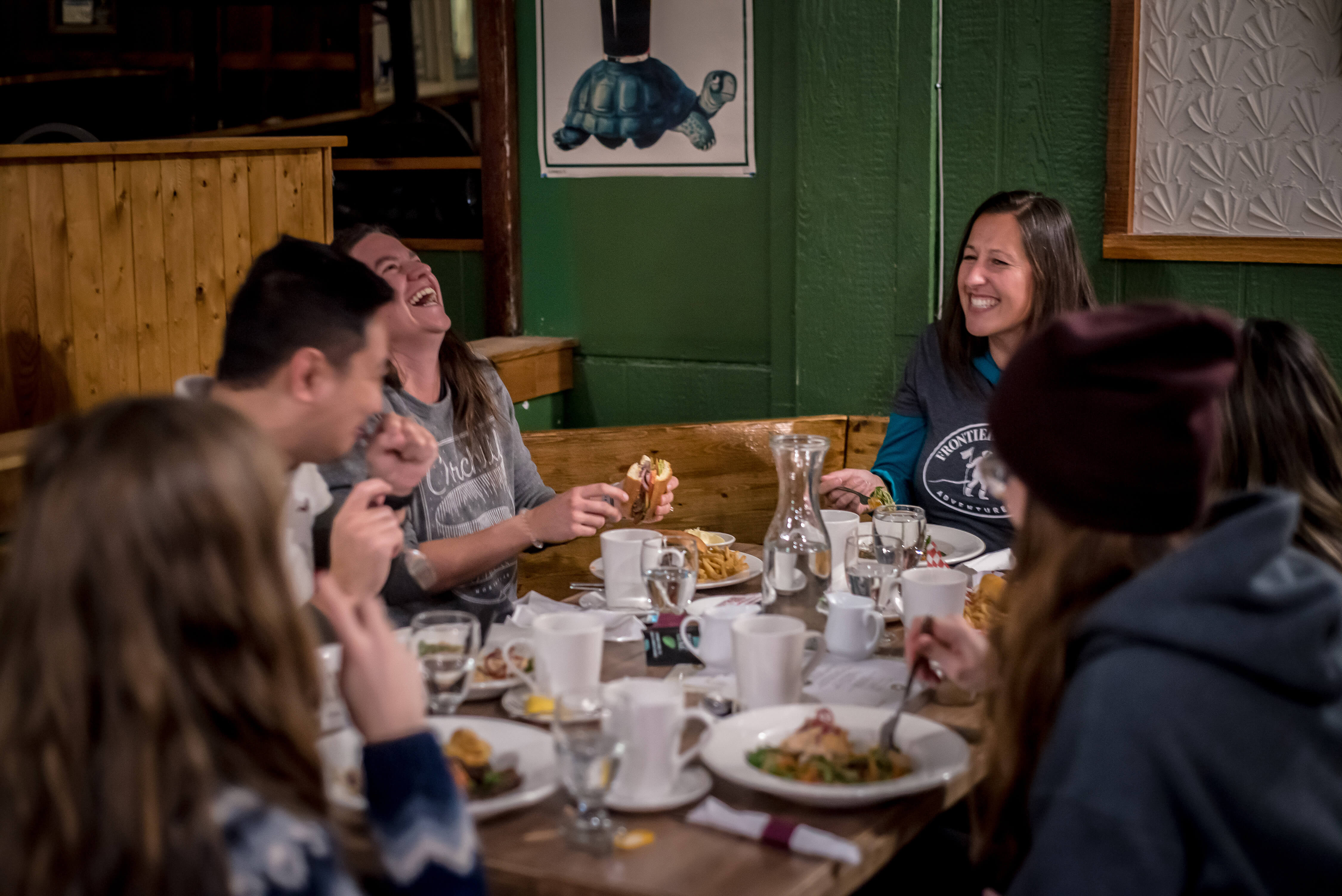 ©Abby Matheson
Brendan: Tundra Pub pizza is my go-to! The Tundra Pub is seasonal, so it's sort of like when the ice cream stand finally opens up for the summer.
Nikki: Each restaurant in town is worth visiting, but I especially look forward to the Tundra Pub opening every summer. If you are a vegetarian/vegan you'll find the most options to fit your diet here. Meat eaters, don't sleep on the Borealis Burger!
Sandra: Tundra Pub is the fave, hands down! Favourite dish is a toss up between the fish tacos and tundra salad...oh heck, let's have both!
2. What Churchill pastime do you think all visitors should experience?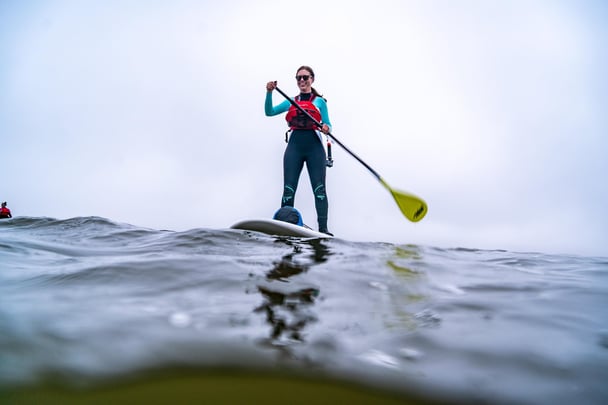 ©Micah Kvidt of Wander the Map
Brendan: Find a nice location based on the season and watch a Churchill sunset.
Nikki: I think stand-up paddleboarding is such a neat and intimate way to safely view beluga whales. Not to mention, you'll get the opportunity to meet Erin, who is a hidden gem herself! Beginners to experts can enjoy this activity, as Sea North does a safety briefing before the tour, and you will have a support boat nearby.
Sandra: A bonfire or picnic on the beach watching the long sunset or sunrise.
3. What is your favourite thing to do in summer?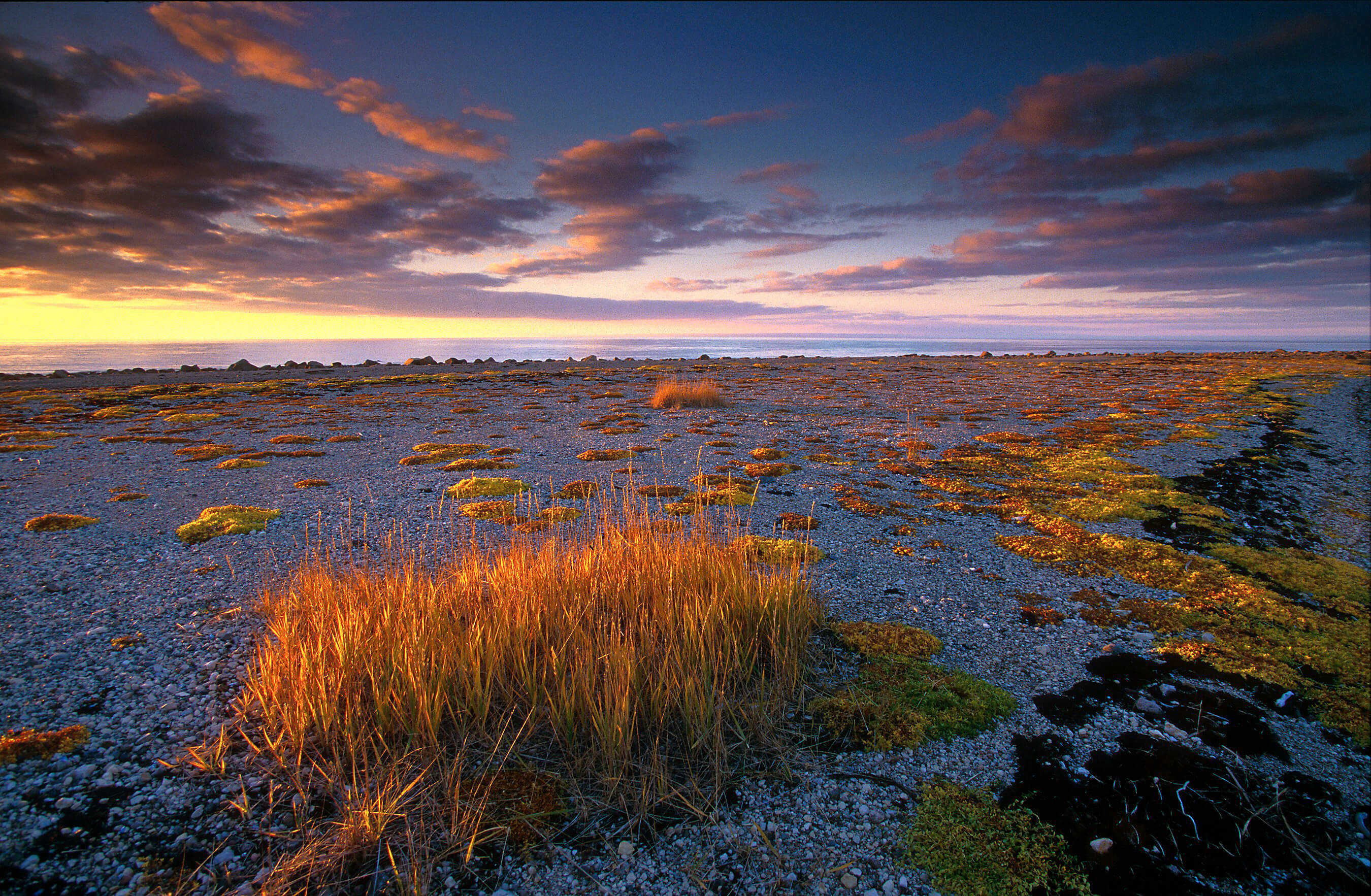 ©Belinda Fitzpatrick
Brendan: Hangout on the coast line. The wind off the Hudson Bay helps keep the mosquitos down!
Nikki: The sun seems to set forever in the summer. Down by the beach there are accessible fire pits that often have wood piled nearby. The waves of the bay, the crackling fire, the amazing sunset...all you'll need is some good company to make your visit complete. (But don't stick around too late, you know…bears)
Sandra: See question #2, I love a bonfire or picnic on the beach!
4. How do you pass the time in the freezing cold winters?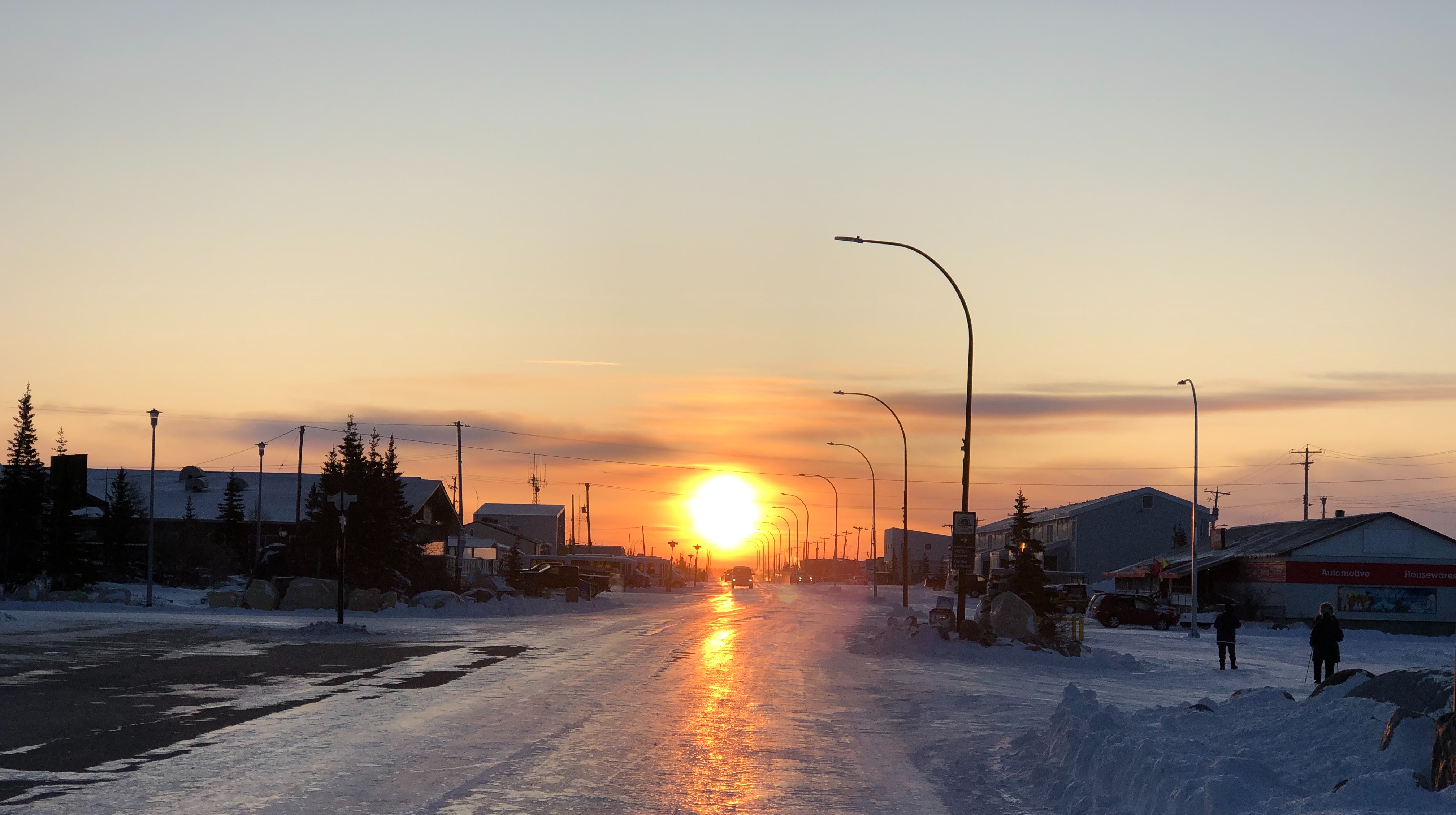 ©Lynn Cullen
Brendan: I spend a lot of time on my snowmobile visiting our various cabins and stocking up the freezer with wild game.
Nikki: Lots of people enjoy spending time at cabins along the rivers, creeks and bays that surround Churchill. My dog Geno LOVES winter and we spend time exploring outside (less likely of a polar bear encounter this time of year, but not impossible!).
Otherwise, I'm inside listening to true crime documentaries, cooking and working on various art projects. Although this is the time of year many Churchillians like to sneak away to the white sand beaches, rather than the white snow beaches at home.
Sandra: Long winter walks with the ravens at -50C, snowmobiling, snowshoeing, hunting, enjoying cabin time, cooking, exploring different ethnic cuisines (many Churchill folks are fantastic cooks), dinner parties, reading, artistic ventures, researching and booking warm vacations and online shopping for vacation clothes.
5. What is the best kept secret in Churchill?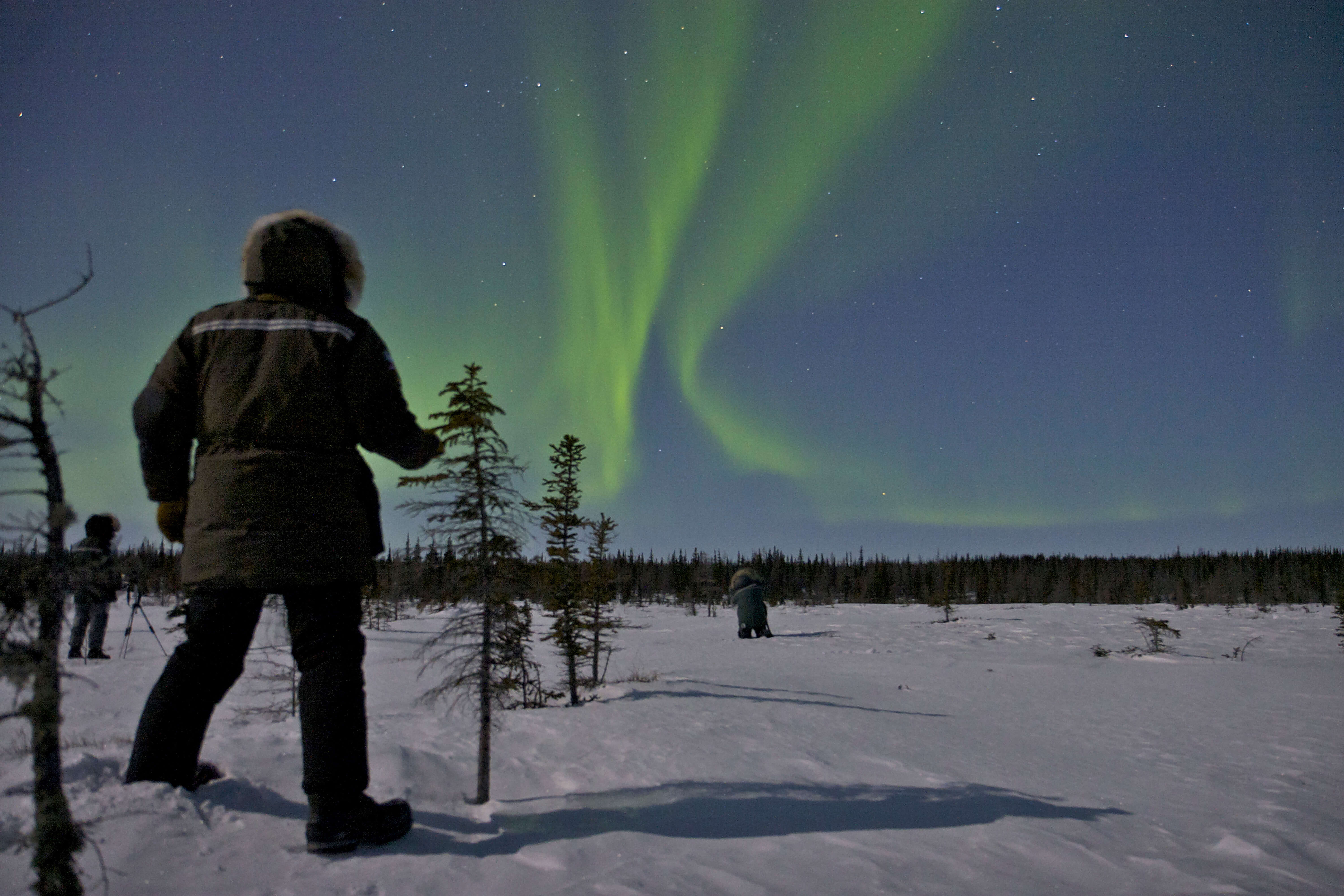 ©Frontiers North Adventures
Brendan: The locals! Churchillians are some of the friendliest people you will ever meet.
Nikki: There's something in the water. I'm not sure what it is, but it tastes amazing and fresh. I actually bring a bottle with me when I travel, and it's one of the first things I do when I get home from a trip.
Other than that, it may be the aurora borealis! There can be some amazing action and the northern lights can be visible throughout the entire year, but the environmental conditions are best in winter.
Sandra: I could tell you but then I'd have to kill you.
6. Where is the best place to take a photo of the whole town?

©Jessica Burtnick
Brendan: From a helicopter. Helicopters offer a great view of the landscape. Not accessible to visitors, but the Port of Churchill also offers a great birds eye view of the Town of Churchill.
Nikki: My favourite spot to get a photo of the town is along the road to town. I think it beautifully captures Churchill's positioning in the middle of the subarctic tundra.
My other favourite spot is the opposite side of town at a place called Polar Bear Hill. This hill has many dips and valleys covered in thick brush (the perfect for polar bears to escape and hide from the Polar Bear Alert team).
From there you can capture many of the buildings in town as the sun rises in the background, and the Hudson Bay is just off to the left.
Sandra: From the top of the port or from a helicopter.
7. Any tips on how to crush trivia nights at the Tundra Pub?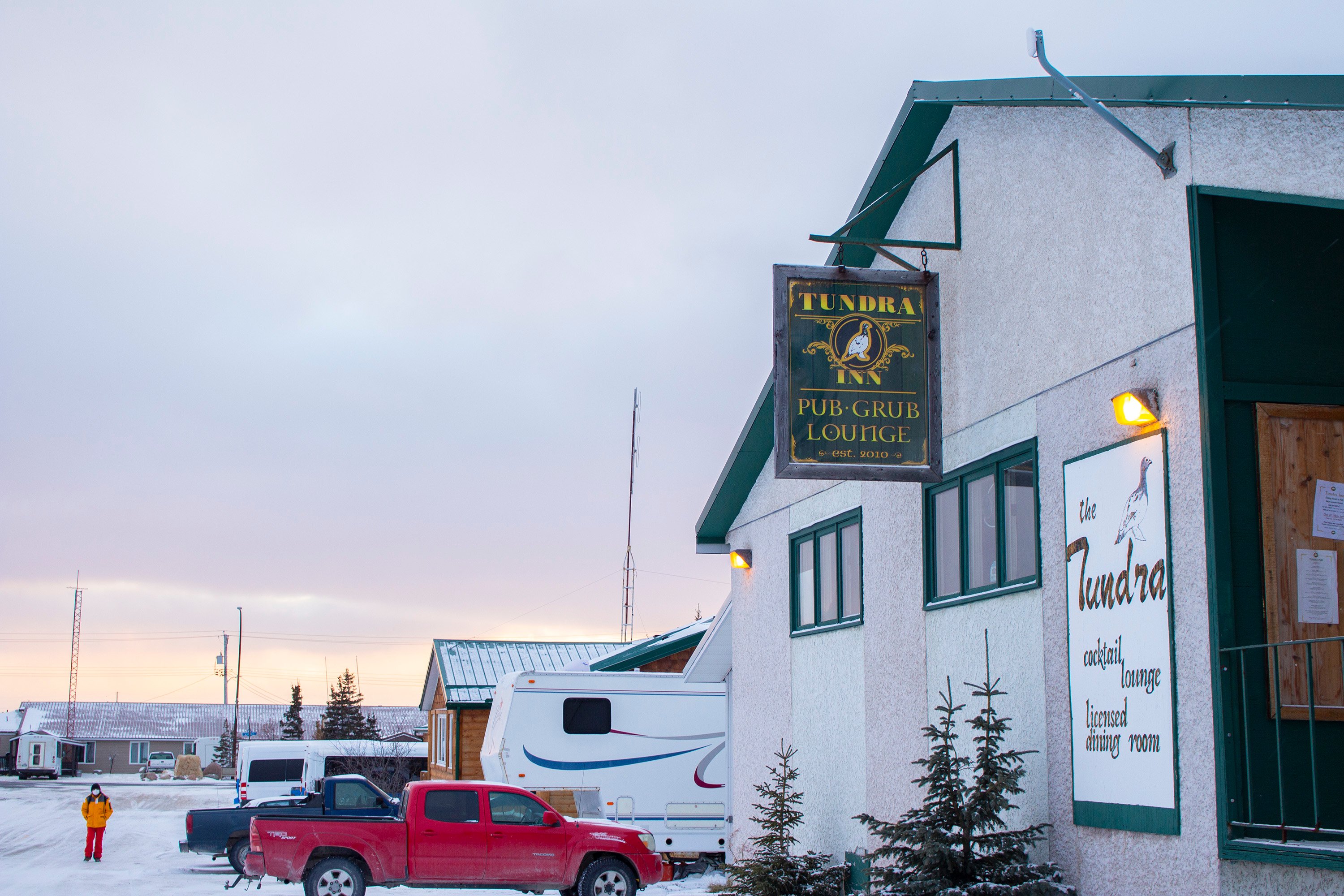 ©Madeline Grant
Brendan: Befriend Joe Stover and Jim Baldwin. Jim and Joe are Frontiers North staff members who are usually on the top of the trivia leaderboard.
Nikki: Yes, ask our staff! Frontiers North has quite a few regular trivia ninjas working with us! For example Belinda (Manager, Tundra Pub Dining Room), Joe (Logistics Support), Erin (Manager, Fifty Eight North) and Jim (Tundra Buggy Driver) are always in the top team each season.
Sandra: Get to know the quizmaster's favourite beverage and spare no expense. Just kidding! Make sure that your team has a wide knowledge base and a fun attitude.
8. If you're looking for a special gift for someone, where do you shop?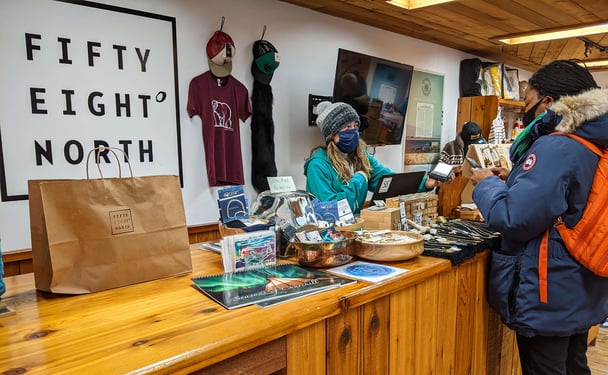 ©Jessica Burtnick
Brendan: The local gift shops are great at bringing in items that also appeals to local shoppers.
Nikki: There are so many gift shops to visit and find beautiful gifts, like Fifty Eight North, Wapusk General Store, or the Arctic Trading Company. But one of my favourite places to pick up neat books and souvenirs is the Itsanitaq Museum. It's a small corner of the museum, but the books about the North are great!
Sandra: Local artists/artisans! That being said, Fifty Eight North represents several local and Manitoban makers, and the staff are knowledgeable of local crafters and are willing to pass on contact info.
9. What is your favourite thing about Churchill?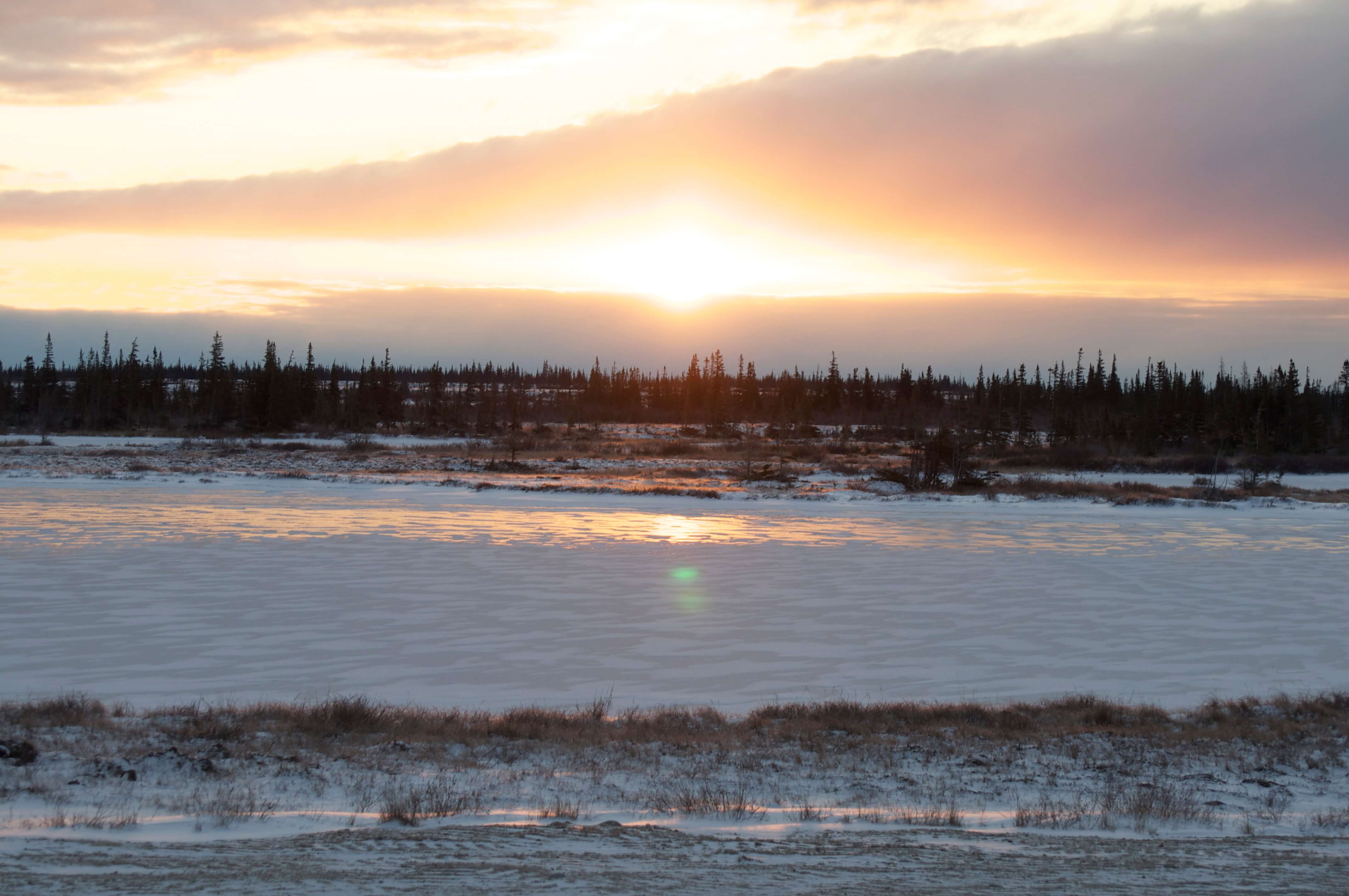 ©Frontiers North Adventures
Brendan: The accessibility to the wilderness is my favourite thing about Churchill. I can walk out my front door and drive my snowmobile or ATV right into the open wild.
Nikki: The people and their stories. As many characters as you'll meet in Churchill is about how many different stories you'll hear on how people came to be here, and why they chose to stay. Whether they were born and raised here, or they only planned to stay a week in Churchill but are still here several years later. Everyone has a story worth hearing about this beautiful place.
Sandra: I have lived 43 of my 55 years here and have yet to feel that I have explored all of the wild nature in the area, the natural beauty of this place still takes my breath away!
interested in exploring the town of churchill for yourself?