We remember Canada's great contributions and sacrifices in war.
Voice of Tundra Buggy Driver, Kevin Burke
This is Kevin Burke, a member of the Canadian Rangers and long-time Tundra Buggy® Driver. Every year on Remembrance Day he leads a short service followed by a moment of silence out on the tundra via radio to all the Tundra Buggies. It's a powerful and important reminder for us to take a moment to remember, no matter where we are.
Thank you Kevin Burke and all military personnel for your service.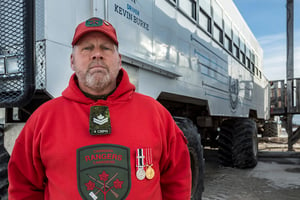 Lest we forget.
Photo and Audio © Handcraft