Frontiers North Adventures is excited to present Dan's Diner a remote culinary experience dining beneath the northern lights in Churchill, Canada. Learn more about what to expect once you book your seat.
The Dan's Diner Culinary Experience
Embark from Churchill on an official Tundra Buggy® to traverse across the frozen Churchill River to the Dan's Diner site. Once there, diners will enjoy a carefully curated multi-course meal inspired by local and regional fare. Equipped with panoramic windows and skylights guests can enjoy viewing the northern lights from the heated comfort of Dan's Diner.
Dan's Diner Frequently Asked Questions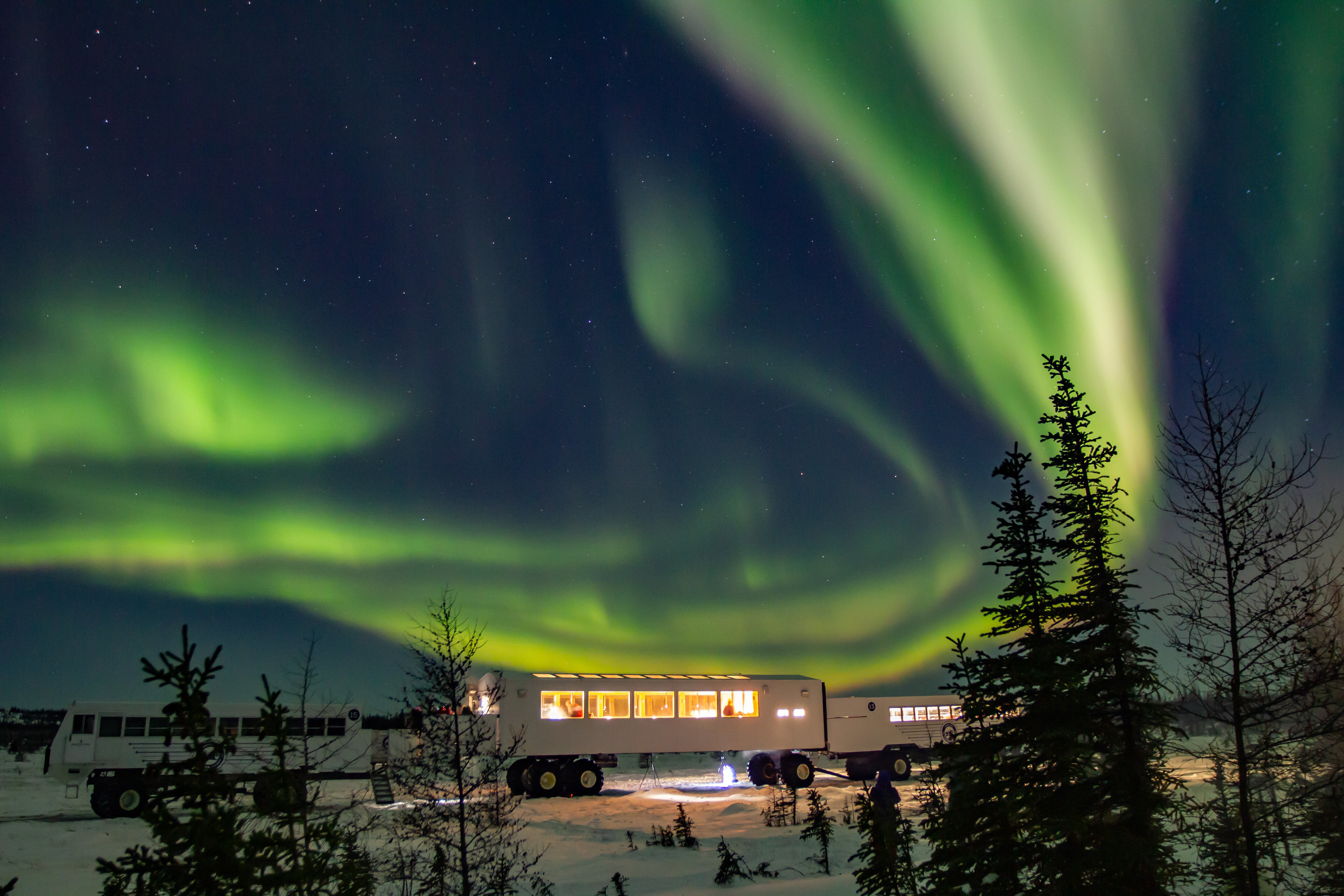 Q1) What kind of food can i expect at Dan's Diner?
The menu at Dan's Diner is carefully curated by our chef and inspired by local and regional fare. It is a multi-course dining experience executed by our chefs to provide guests with a feast for their eyes and tastebuds as they dine beneath the northern lights.
Q2) Where does the name dan's diner originate?
Diner was affectionately named after Dan Guravich, the first cook to take up residence at the original Tundra Buggy Lodge. Cooking out on the remote tundra was Dan Guravich's speciality and in his honour we have named our culinary experience after him to carry on his legacy of delighting guests with delicious meals in the remote north.
Q3) What should I wear? Or is there a dress code?
There is no formal dress code but we recommend dressing in warm layers for the most comfortable experience. The interior dining space of Dan's Diner is heated but you will still be exposed to wind and cold for short periods when moving between the transport Tundra Buggy and Dan's Diner. Keep in mind you may also want to have warm snow gear layers to spend time outside of Dan's Diner viewing the northern lights or spending time at the campfire out on the Churchill River.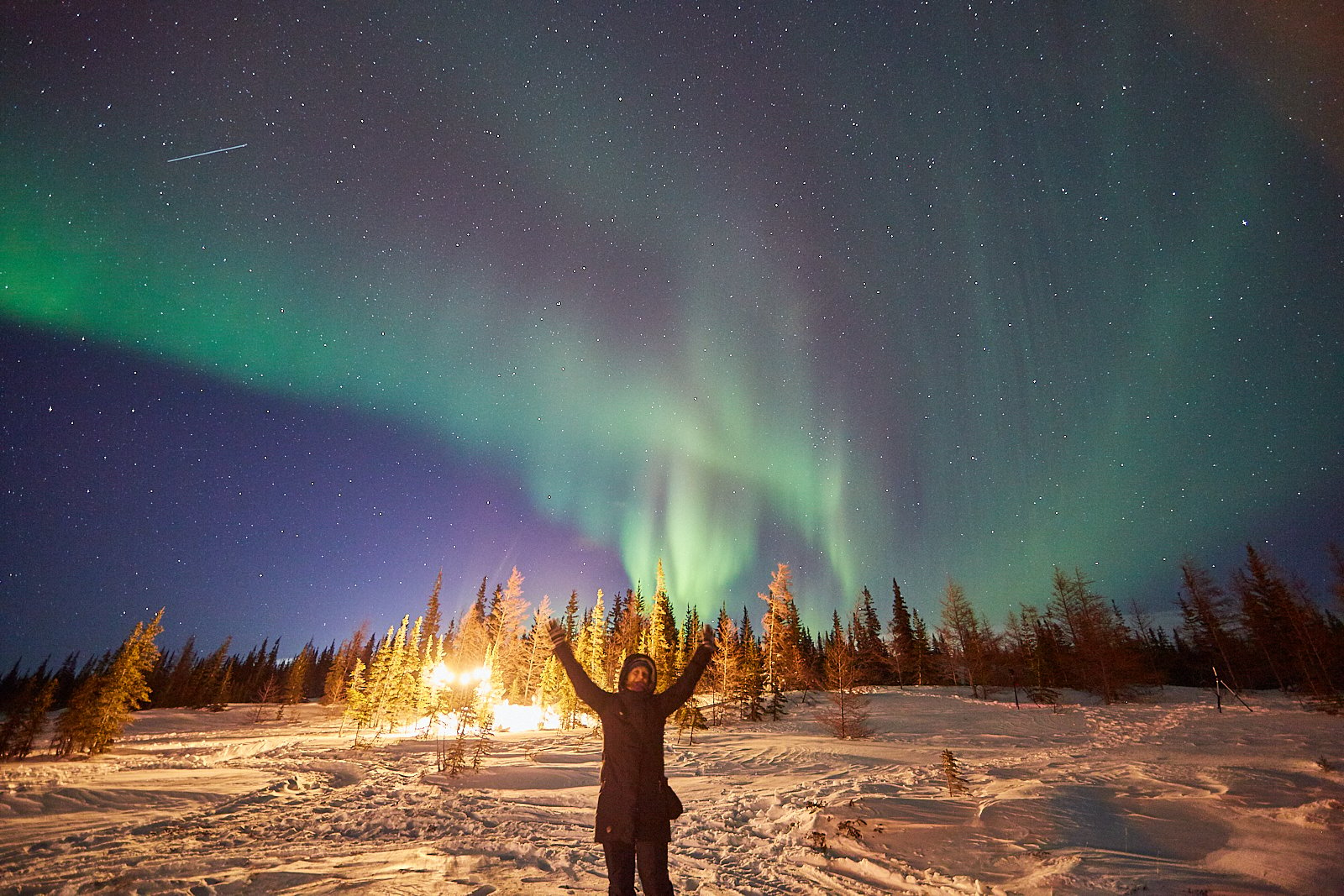 ©Mike Gere
Q4) Can dietary restrictions be accommodated?
Yes. Our chefs at Dan's Diner are able to accommodate dietary restrictions within certain limitations. To best help our chefs provide you with the best dining experience please notify us of any dietary restrictions in advanced by calling us toll free at 1-800-663-9832 or international at 1-204-949-2050 so we can alert you to any courses that may contain an allergen and if possible plan accordingly to accommodate.
Q5) Are alcoholic beverages included in the cost?
Generally not, though some courses may include alcoholic beverages as part of the experience. A limited wine and cocktail selection is available for purchase. If you would prefer to bring your own, a corkage fee applies.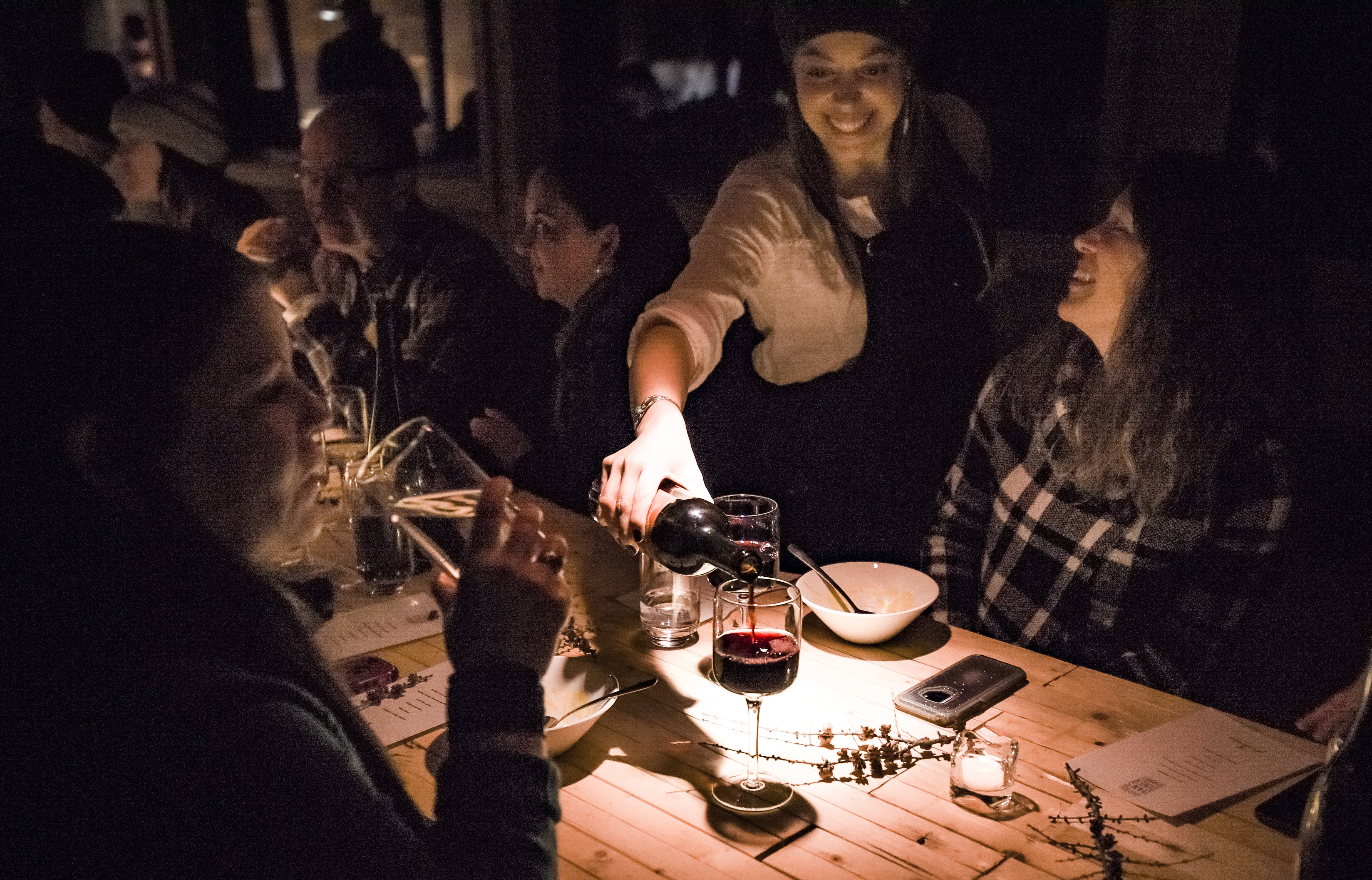 ©Abby Matheson
Q6) Are tips included in the cost?
A 15% auto-gratuity will be applied at time of purchase which is shared between the chef(s) and serving staff. Should you wish to provide a cash tip to your Tundra Buggy Driver or Guide, please give it to them directly (CAD or USD preferred).
Q7) What type of food will be served?
Guests will enjoy a meticulously curated menu designed by one of the region's top chefs, featuring courses inspired by regional delicacies from land and sea.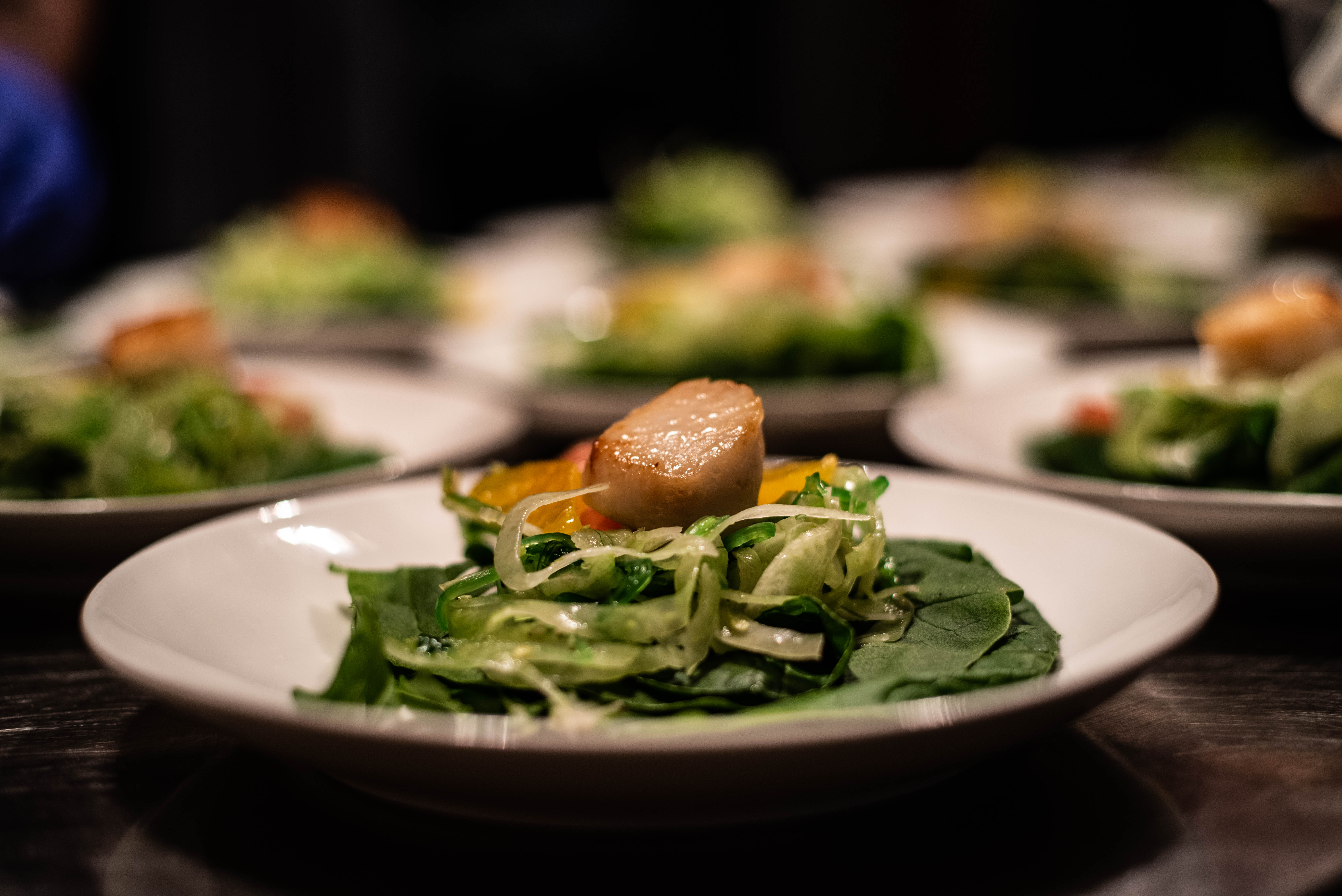 ©Abby Matheson
Q8) What time are the seatings at?
Transport to Dan's Diner begins at 4:45 p.m. from Fifty Eight North- Home of the Official Tundra Buggy®. Seatings in Dan's Diner commence at 6 p.m.
Q9) How long is the dinner?
Dan's Diner meal service will be approximately 2.5 hours; the entire experience is approximately 5 hours.
Q10) I'd like to bring my camera and tripod for the northern lights viewing – is there anywhere to store my belongings safely during dinner?
Yes. Bring the camera gear with you on the Tundra Buggy and flag down one of the Frontiers North team members. There will be a safe spot onsite that they can store it for you if required.
Q11) How do I book a seat today for Dan's Diner?
There are three ways to reserve your seat for Dan's Diner:
Book onto any of our Frontiers North northern lights adventures which will include an evening at Dan's Diner.
Reserve individual tickets now by filling out this form.
Inquire about reserving an entire seating for your group.
Header photo © Abby Matheson