Find out why this Manitoba gem keeps both locals and tourists coming back for more.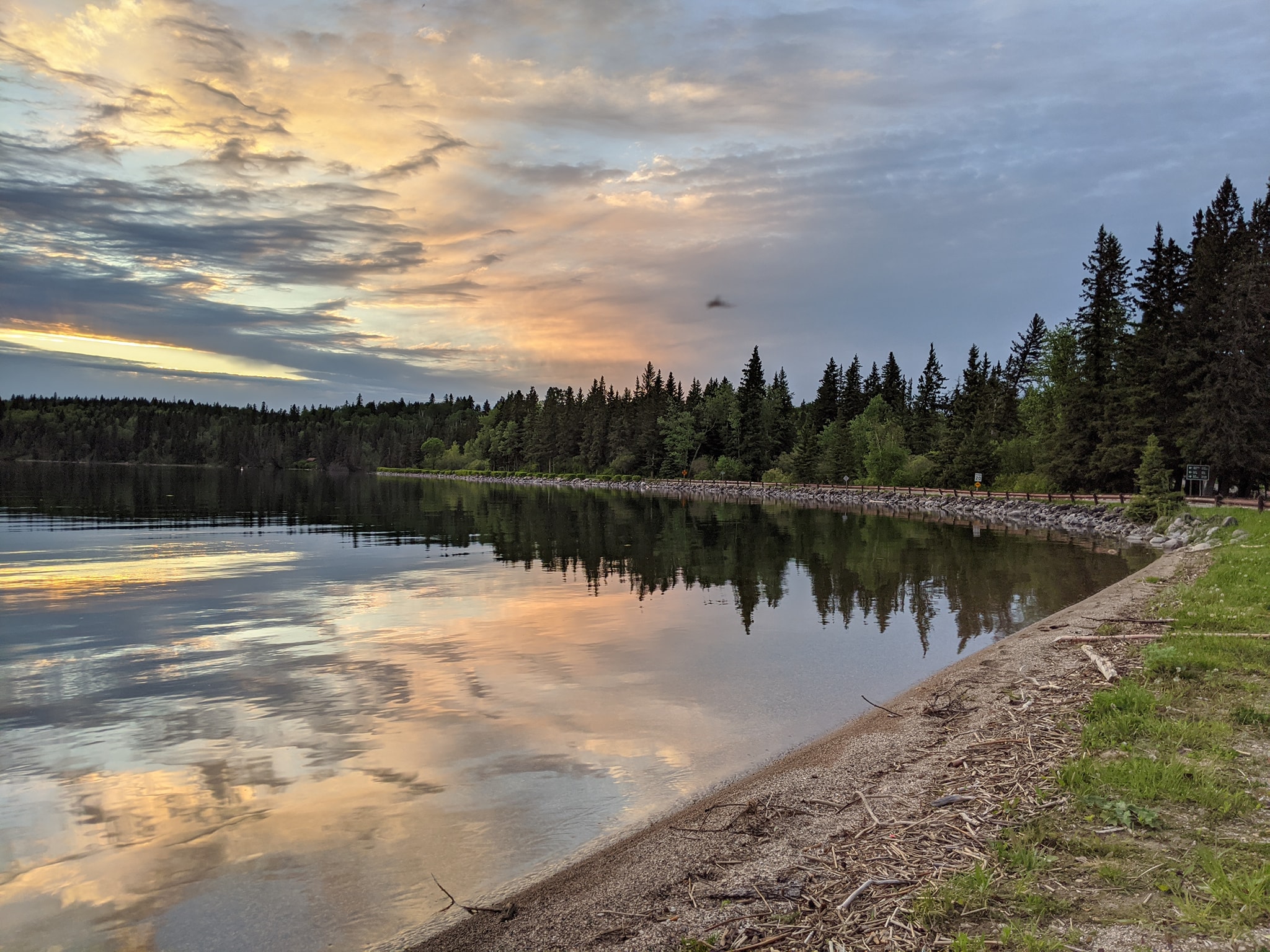 ©Abby Matheson
Tucked away in the southwest corner of Manitoba, this 3,000 km² outdoor retreat is nationally recognized, yet flawlessly maintains its local and friendly nature. In fact, you'd be hard-pressed to find a Manitoban who doesn't make Riding Mountain National Park a priority to visit each summer. For many, it's the nostalgia from visiting when they were young, the excitement of that first wildlife sighting and, of course, the incomparably relaxed vibe of Manitoba's cottage country.
As you near the park, the shift in landscape from flat prairies to lush valleys trick you to think you've been transported somewhere brand-new, but every now and then, glimpses of bright yellow canola fields among the hues of green bring you right back to Manitoba. Beautiful Manitoba.
What's special about Riding Mountain is the mosaic of both locals and tourists. The locals make it feel like home, yet the tourists make it feel fresh, new and exciting. It's the perfect contrast of familiar and different, all in one magical place.
If you've never been to Riding Mountain, it doesn't take long to see the magic we're talking about. Whether it's the night sky opening up to reveal the Milky Way, a family of black bear cubs playing hide and seek in the aspen trees or the soothing sounds of lake life playing just outside your window, this place will keep you coming back for more.
Here Are Our 5 Reasons To Love Riding Mountain National Park:
1. The Wildlife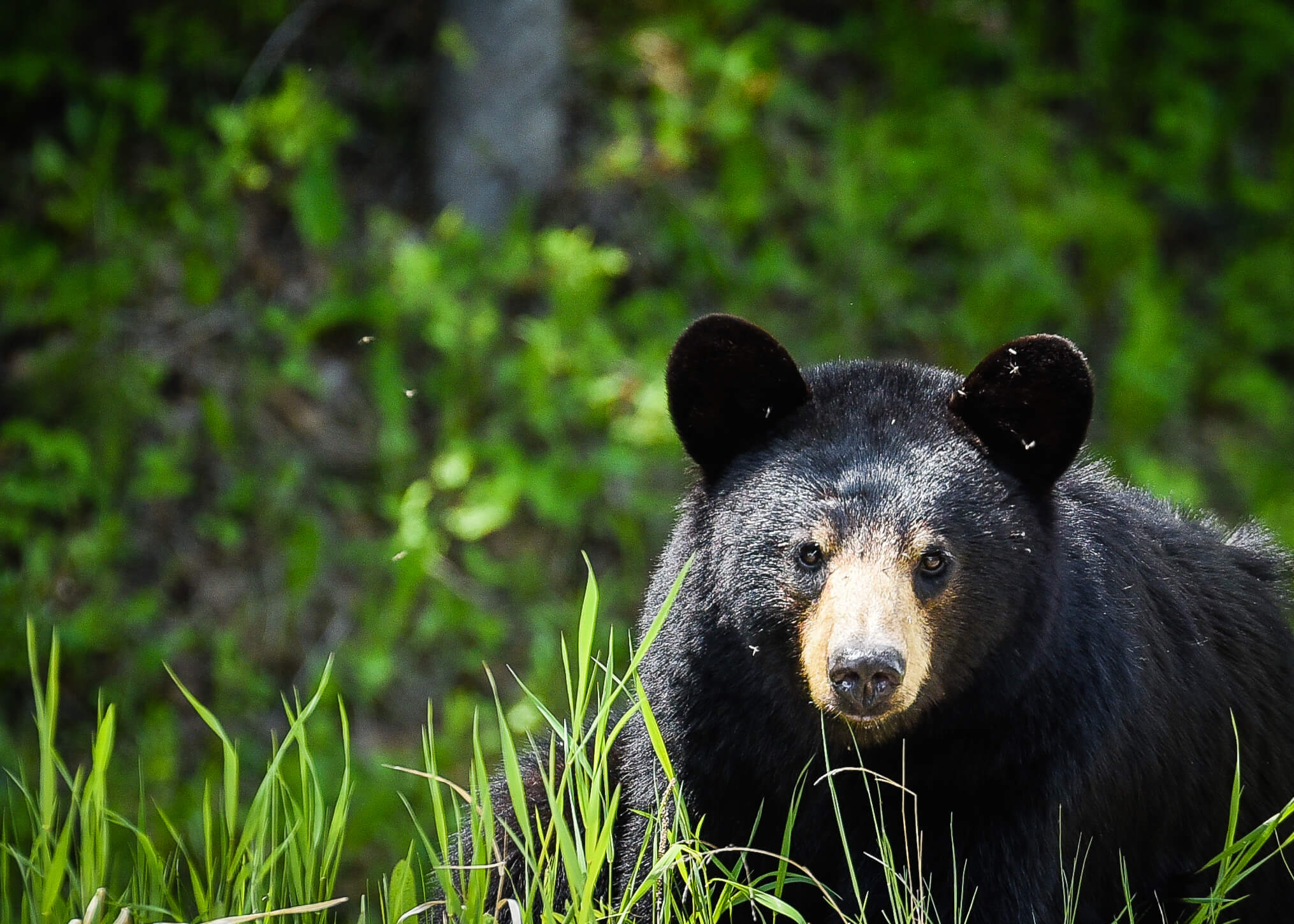 ©Abby Matheson
The wildlife of Riding Mountain National Park is unparalleled. Parks Canada estimates there are 800-1,000 black bears, 3,000 moose and 40 plains bison in the park. Cougars, lynx and wolves can also be found here, but are not as common to see. As you drive into the park, you will notice signs along the highway to warn of crossing wildlife. Let us tell you, those signs are not just a suggestion. It's very common for a deer to cross before you, or if you're extremely lucky, a full-grown moose! Always keep your eyes peeled, as you never know what's just beyond the tree line.
2. The Town of Wasagaming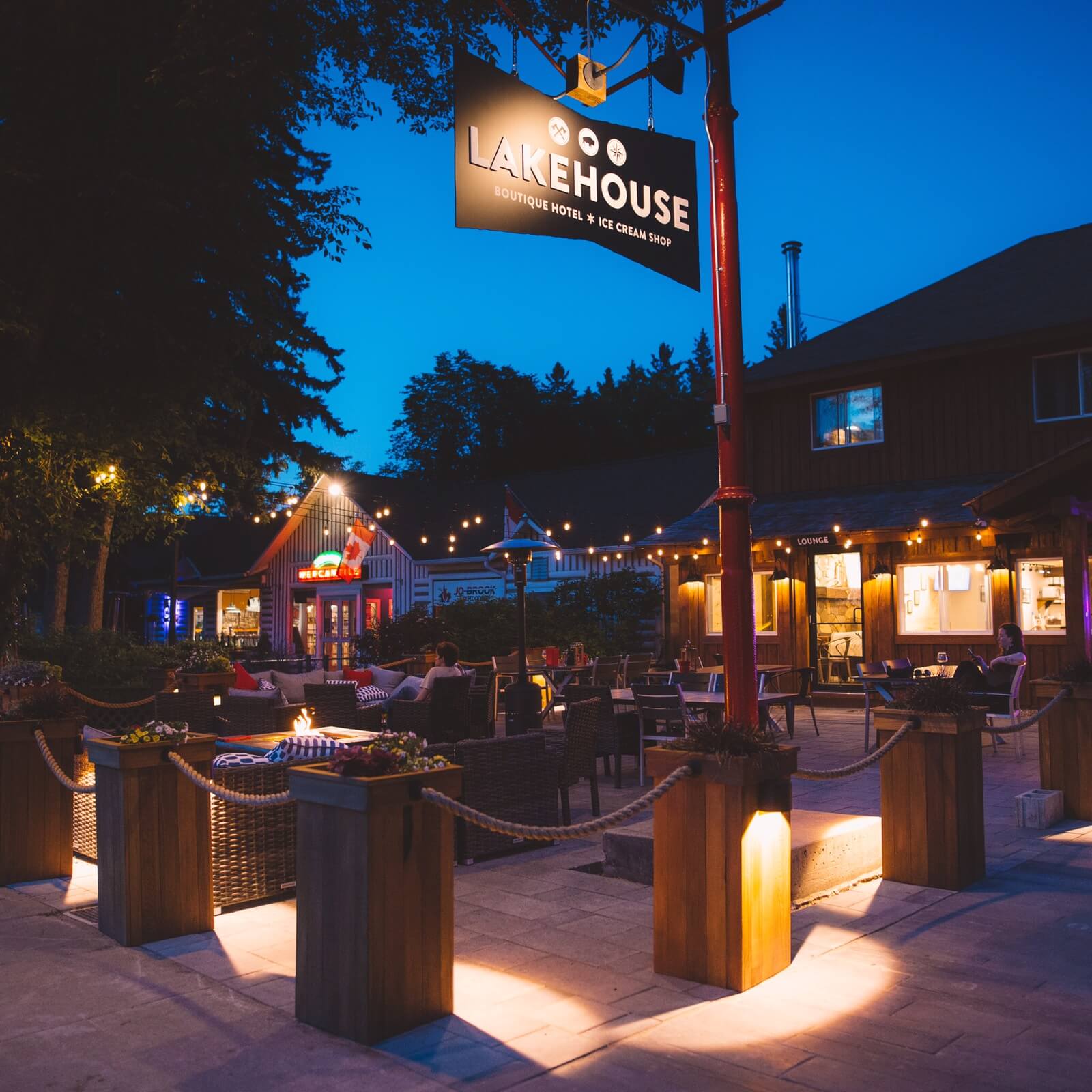 ©Lakehouse hotel
Located in the heart of Riding Mountain is the ever-charming townsite of Wasagming. We don't like to make comparisons, but to help paint a picture, think Banff—only quieter and more down-to-earth. Wasagaming brings a liveliness to the park, serving up everything you could ever want in a vacation: boutiques for shopping, restaurants for indulging and pubs for socializing, all done with the gorgeous backdrop of a national park to admire!
3. The hiking Trails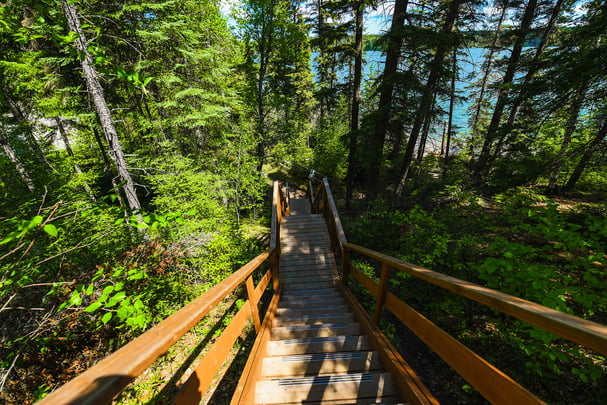 ©Abby Matheson
With almost 370 kilometres of hiking trails, there's always a new adventure to be had. For an easier hike close to Wasagaming, try the Ominik Marsh trail, a 1.9 kilometre floating boardwalk through Riding Mountain's wetlands. Keep an eye out for beavers!
For a more challenging hike, try the Bald Hill trail, an 11 kilometre roundtrip hike that's known for providing one of the best views of the escarpment in Riding Mountain. It takes time, but the view is so worth it! See the full list of trails here.
4. Clear Lake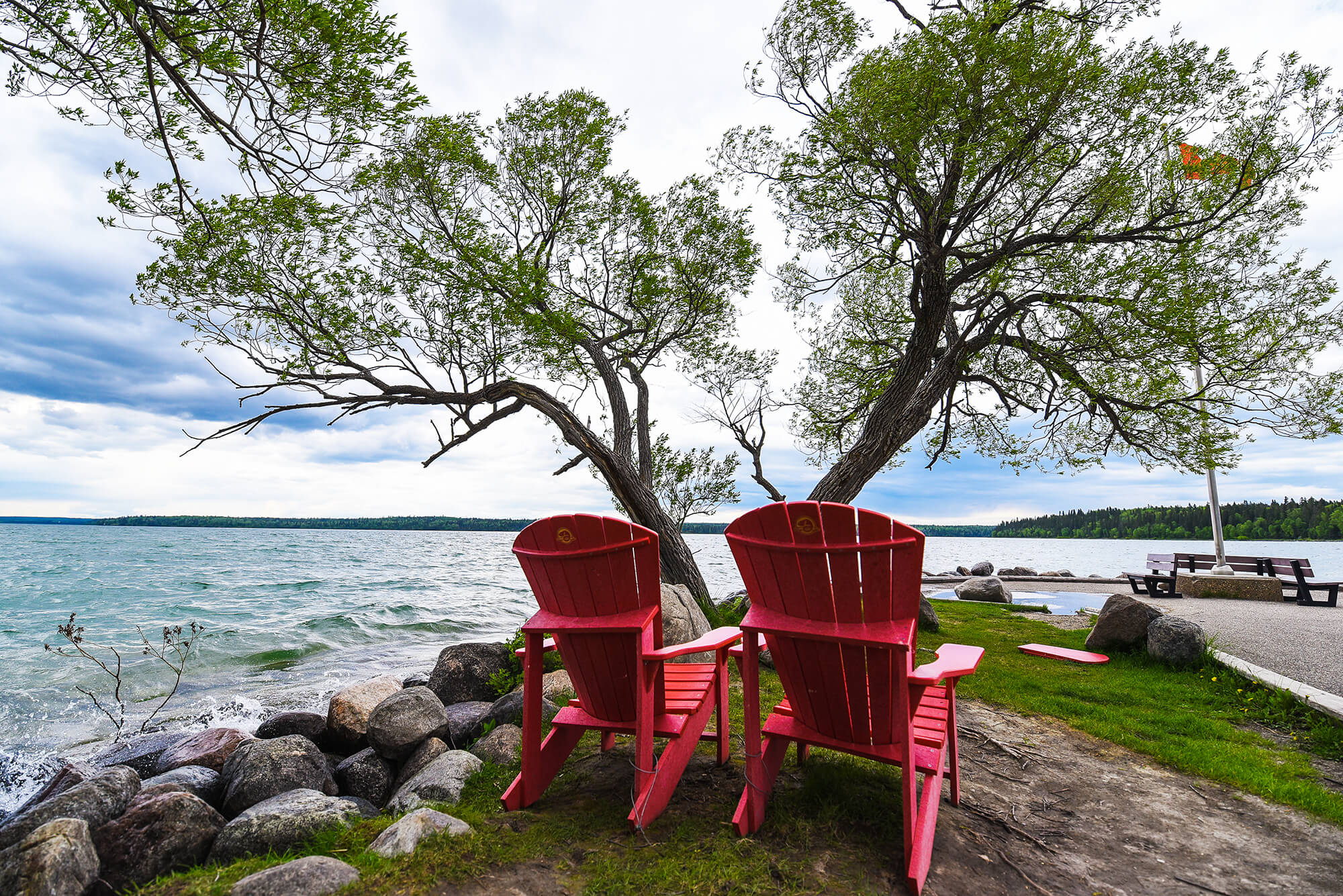 ©Abby Matheson
Locals rarely call Riding Mountain National Park by its official name, but rather "Clear Lake". Although you will find many lakes here, Clear Lake is the one most associated with the park. Its beach is located just seconds from downtown Wasagaming and features a boardwalk and marina where you can rent a kayak, paddleboard or a pedalboat for the kids. After spending a day at Clear Lake, you'll swear it can't get any better than this—that is—until you see a gorgeous Manitoba sunset disappear behind it.
5. The History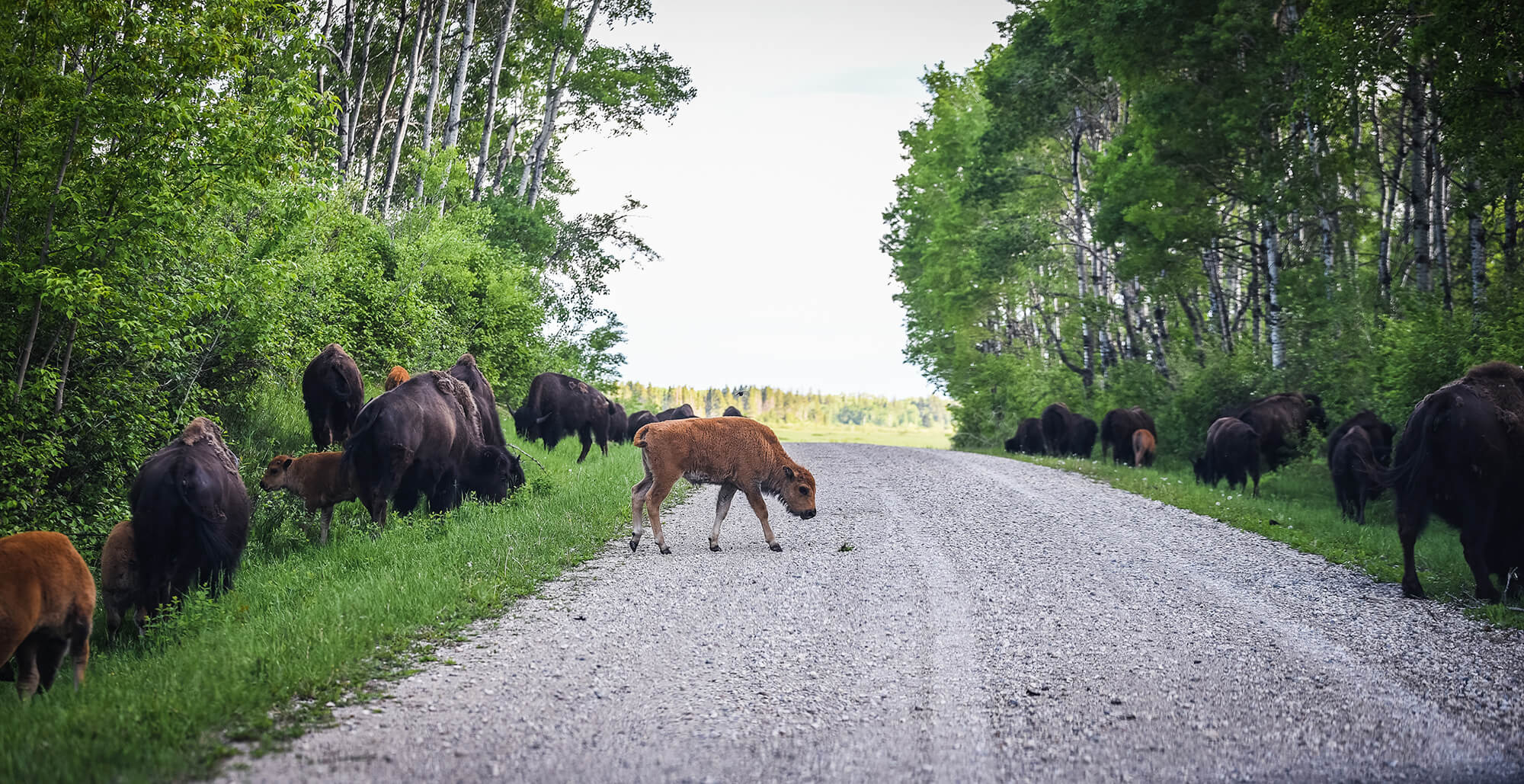 ©Abby Matheson
If you know us, you know we love a good historical fact, and this place is full of them! This area was officially established as a national park in 1933, but its story begins much earlier than that. Indigenous groups have occupied Riding Mountain for over 200 years due to its excellent hunting and fishing conditions, and the iconic hills and valleys that we know today as Riding Mountain National Park were formed some 10,000 years ago during the ice age, when the last of the glaciers retreated from the area.
A historical highlight is a visit the Lake Audy Bison Enclosure. Here, you can learn about the significance of bison in the Riding Mountain area, their near-extinction and their reintroduction to the park in the 1940s.
At Frontiers North, we're from Manitoba, and we want our travellers to experience the very best parts of this province, which is why we introduced Riding Mountain Adventure and Frontiers North's Big Five Safari to our Trip Collection. Experience the greatness of Riding Mountain National Park on either one of these adventures!