Wildlife in Churchill
Home to the best polar bear and beluga whale viewing opportunities on the planet, Churchill, Manitoba is the perfect place to bring your kids on an adventure that will leave them with a meaningful connection to wildlife.

Here are a few fun Churchill learning moments you can experience with your family.
1. Learn about Polar Bears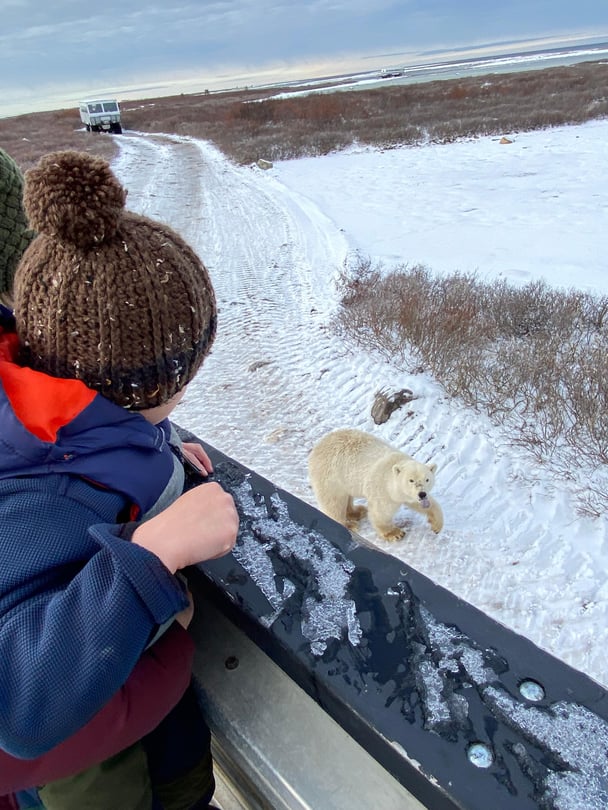 ©Stephanie Burke
As the world's polar bear capital, Churchill is a fascinating place where people and polar bears coexist. This coexistence works well thanks to Churchill's Polar Bear Alert program, which was developed in the town of Churchill and is designed to keep both people and polar bears safe. It is an excellent opportunity for kids to see how humans can live among wildlife.
Also located in Churchill is the Polar Bears International House, an educational interpretive centre run by Polar Bears International (PBI) to teach visitors about polar bears and climate change. Visitors can learn firsthand from a PBI scientist how they are working to study, protect and conserve wild polar bears in their natural habitat. With interactive and hands-on displays, it is perfect for the whole family.

A Family Learning Adventure: Polar Bears is the best opportunity for kids to learn about polar bears in Churchill. However, it is also possible to see polar bears on a Summer Family Learning adventure.
2. Learn about Beluga Whales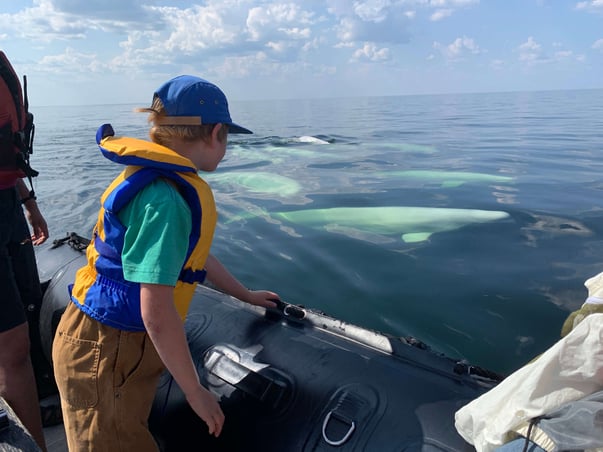 ©Frontiers North Adventures
What kids wouldn't enjoy the opportunity to paddle-board, kayak or Zodiac alongside beluga whales? Beluga whales, like children, are playful and curious creatures always wanting to explore and they are often known to come right up for a close look at their observers.

Your family can learn why belugas are known as the "canaries of the sea" as they communicate using complex and unique sounds. Listen through a hydrophone on the Churchill River as beluga whales call out to each other right below you! A Family Learning Adventure: Beluga Whales is the best way for everyone to learn about beluga whales on an exciting summer adventure.
Churchill is also home to the Beluga Boat, which livestreams beluga whale footage across the globe. The beluga boat, operated by PBI, educates people about beluga whales and even captures footage used for various studies on beluga whales.
3.Learn about Conservation Efforts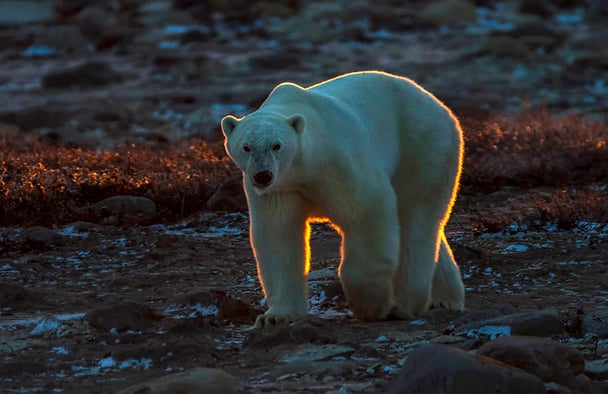 ©Steve Mandel
A Family Learning Adventure trip both in summer and autumn includes time spent in the Churchill Wildlife Management Area (CWMA). The CWMA is a protected area that limits accessibility in order to ensure wildlife has adequate space. On a Tundra Buggy® in the CWMA your family can learn about ongoing conservation efforts for various species that migrate through the area, such as polar bears and caribou.
Since 2002, Frontiers North has worked with and supported Polar Bears International. Part of the support includes providing PBI with Tundra Buggy One, a purpose-built Tundra Buggy that acts as a research vessel and mobile broadcasting studio for Polar Bears International scientists. Tundra Buggy One observes polar bears right on the tundra and even broadcasts educational live streams of polar bears around the globe, sharing information about how we can all help polar bears.
4. Learn about The Three Ecozones around Churchill
©Brandi Hayberg
Churchill is home to three unique ecozones: the tundra, boreal forest and the Arctic Archipelago Marine. Each ecozone holds its own unique features that will fascinate you and your kids alike.

The tundra comes to life in the summer months welcoming hundreds of seasonal flora and fauna back each year. From wildflowers, caribou and birds, there is so much to learn about on the Churchill tundra.

The boreal forest is home to black spruce, white spruce tamarack, and various other flora and fauna. Your family can learn about different wildlife species that call the boreal forest home, such as moose and wolves.

The Arctic Archipelago Marine includes the Hudson Bay, an iconic Canadian location. Thousands of beluga whales depend on the Hudson Bay and its many river tributaries, including the Churchill River, as breeding sites in the summer months.
5. Learn about the history of the North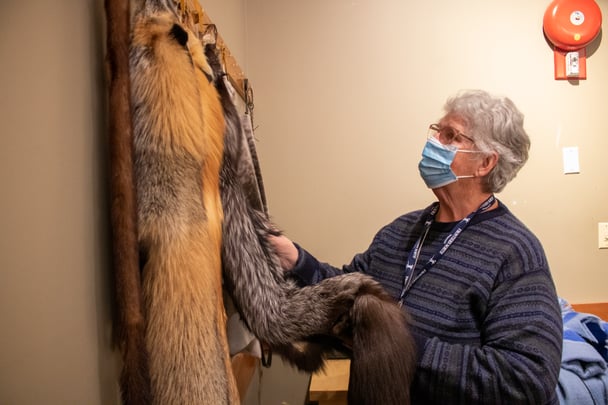 ©Alex Cupeiro
The Churchill area, specifically Hudson Bay, is rich in Canadian history. Home to the fur trade, there is no better place to learn about some of Canada's earliest roots than Churchill! Walk amongst the Prince of Wales Fort and Cape Merry battery and hear the exciting history of the fur trade and learn about how the British, French and indigenous peoples turned Churchill into an essential area for trade lines that helped form Canada as it is today.
Embark on the family adventure of a lifetime where you and your family can explore, learn and have fun all at the same time. An adventure to Canada's North is the perfect learning opportunity for kids.
Plan your family learning adventure today

Header Image: ©Stephanie Burke