We're proud to be an award-winning leader in Canada's eco-tourism industry!
At Frontiers North, we consider it a privilege to share the great lands of Canada's North with the world; we also consider it our highest responsibility to respect the land and wildlife where we operate. As an experiential tourism company whose signature product revolves around polar bear viewing, we recognize our dependence on wildlife and healthy ecosystems, which is why we've made sustainable tourism and social responsibility a priority since our early beginnings in 1987.
Through our sustainability efforts and partnerships, we are internationally recognized as an award-winning leader in eco-tourism.
HERE ARE FIVE WAYS WE COMMIT TO SOCIAL RESPONSIBILITY:
1. BIODIVERSITY
Healthy wildlife and ecosystems are crucial in achieving biodiversity. In 2005, we worked with Parks Canada to conduct an Environmental Impact Assessment (EIA) of our Cape Churchill operations in Wapusk National Park. This EIA outlines processes to protect and preserve natural resources and we review our entire operation annually against this EIA.
2. WASTE MANAGEMENT AND RECYCLING
We encourage our suppliers to use recyclable materials where possible. In 2018, we made the switch to containers made from recycled materials that are easily biodegradable. We use only Rainforest Alliance and FSC-certified paper for our brochures and encourage prospective guests to view our brochure online rather than receive a paper copy.
3. ZERO PLASTIC BOTTLES
In 2016, Frontiers North stopped providing plastic water bottles on Tundra Buggy tours and instead encouraged travellers to bring reusable, sealable travel mugs. Through this initiative, we've eliminated approximately 3,780 plastic bottles per year on our tours!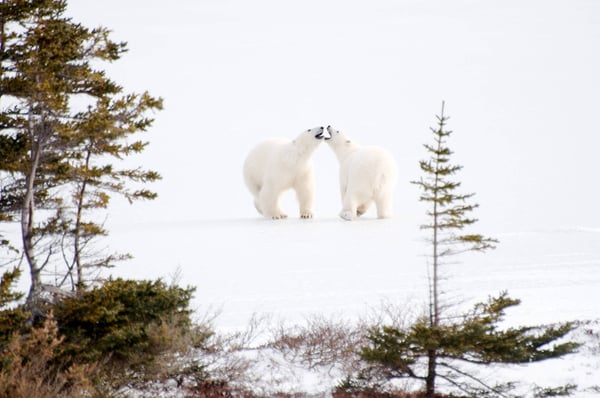 © JP McCarthy
4. COMMUNITY INVOLVEMENT
Churchill, our base of operations, is a small, remote community of approximately 900 residents, half of which are Indigenous peoples. Frontiers North is devoted to leaving a positive impact on the community. We do this by partnering with, learning from and coaching Indigenous colleagues regarding sustainable tourism development in Canada's North.
5. TRANSPORTATION
We work in very remote regions and we're dedicated to managing and minimizing our transportation impacts on the land. Our Tundra Buggies® adhere to a strict trail network in the Churchill Wildlife Management Area to minimize impact on the delicate ecosystem. In 2016, we optimized and reduced the number of flights required to support our Churchill operations.
To learn more about our sustainability efforts, check out our 2016 Sustainability Report.
Header image © Jessica Burtnick