Originally a cozy spot for guests to dine on spaghetti carbonara, corned beef and potatoes, Dan's Diner has evolved into a culinary experience that invites guests to escape to the North and feast on a curated menu of local delights beneath the dancing aurora borealis.
As a photographer researching his forthcoming book Lords of the Arctic with writer Richard Davids, Dan Guravich became captivated by Churchill's subarctic environment and its polar bears. In 1979 he approached Len Smith, who conceived and built the very first Tundra Buggy® that same year, so they could spend extended periods of time amongst the bears. Over the next few years, the two worked together to define how to adventure amongst polar bears. Guravich invited photographers and adventure-seeking friends, and worked closely with Smith who built and operated the infrastructure that was to become the Tundra Buggy Lodge.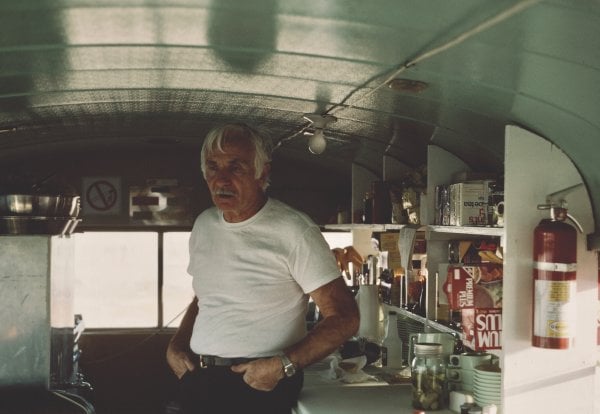 © Fredrica Gamble
In those early days, Guravich assumed the role of camp cook. It wasn't until 1983 that a kitchen unit was added to the Tundra Buggy Lodge.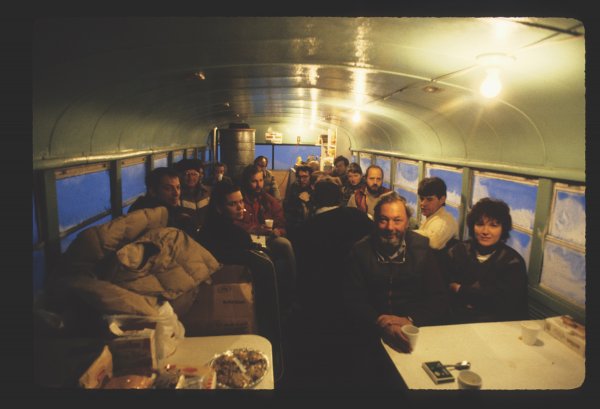 © Robert & Carolyn Buchanan
Fabricated from a school bus body, the unit - run by Guravich - included a small kitchen area and cramped tables at which guests dined together in relative comfort compared to the oft cold and blustery conditions outside.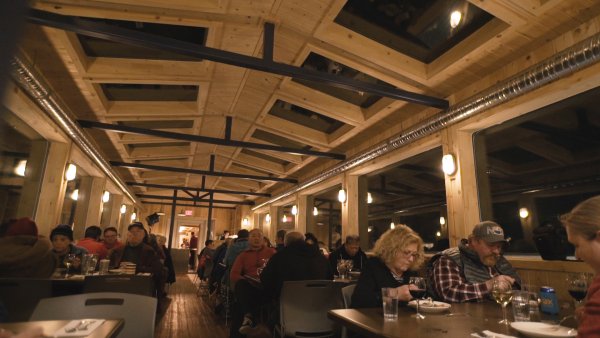 © Handcraft Creative
The kitchen unit today has evolved from a quaint diner to a large, fine-dining space enwrapped by windows, providing front row seats to wildlife viewing in autumn and northern lights in winter.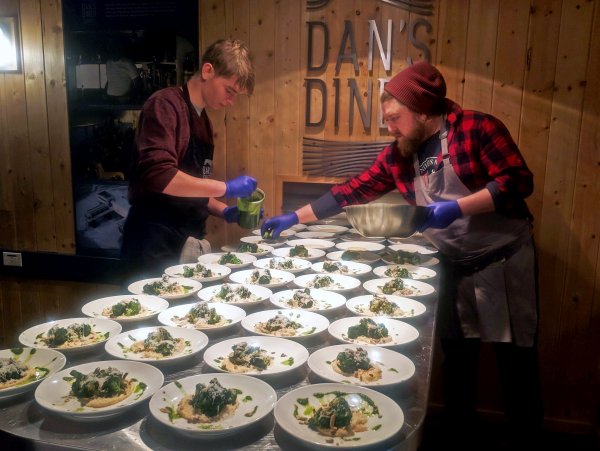 © Jessica Burtnick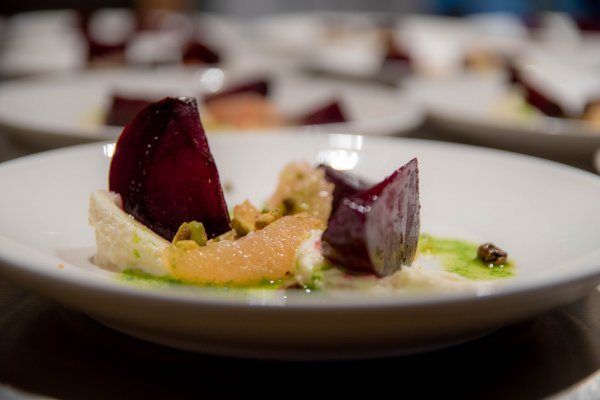 © Abby Matheson
Patrons at Dan's Diner will enjoy a carefully-crafted meal prepared by Canadian Chef Jared Fossen, surrounded by wilderness beneath the northern lights, conditions permitting. This storied place was once explored and occupied by the Hudson's Bay Company of Adventurers who traded furs with the Cree, Dene and Inuit nearby.
Embark on the adventure
All of our northern lights trips include an evening of enjoying a carefully curated menu at Dan's Diner. By booking a Northern Lights and Winter Nights adventure you will also be able to dog sled through the boreal forest, snowshoe along the frozen banks of the Churchill River and end your night in our exclusive Thanadelthur Lounge for your best chance at viewing the northern lights. This authentic northern adventure allows you to immerse yourself in nature and truly enjoy all it has to offer!
Our heated lounge boasts panoramic views with wall-to-wall windows and skylights and a spiral staircase to the roof-top observation deck for 360° views of the surrounding wilderness and aurora borealis. Imagine being able to step out onto the tundra and feel tiny against the never-ending sky, enveloping you in Mother Nature's most dazzling light show!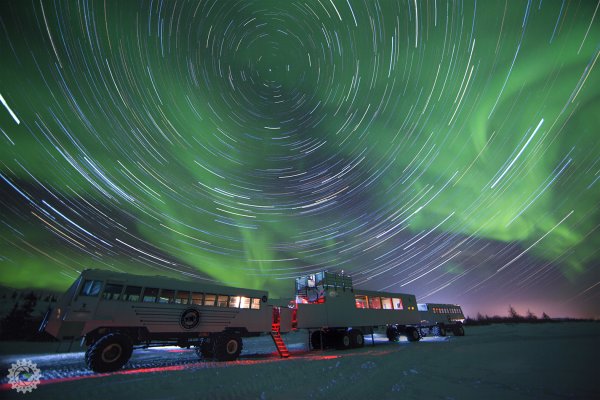 © Mike Gere
We invite you to join the adventure and experience our exclusive Dan's Diner remote culinary experience!
ABOUT DAN'S DINER
Dan's Diner is a custom built, mobile dining hall which debuted at the Tundra Buggy Lodge in the autumn of 2017.
Churchill is located directly under the auroral oval, making it one of the best places in the world to view the northern lights, weather permitting. Dan's Diner has been designed purposefully with panoramic windows and skylights to allow for exceptional northern lights viewing opportunities for guests during dinner service.
Header Photo © Handcraft Creative