FRONTIERS NORTH ADVENTURES DEBUTS WORLD'S FIRST ELECTRIC VEHICLE TUNDRA BUGGY®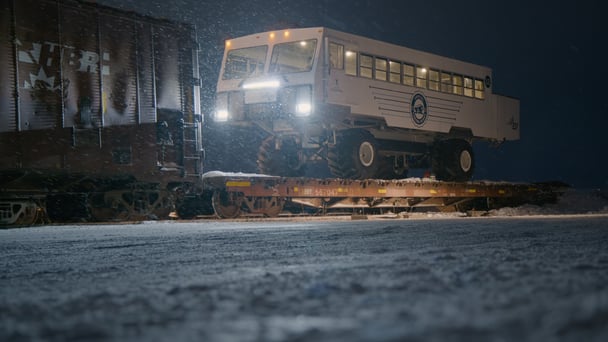 EV Tundra Buggy® 12 arrives in Churchill, Manitoba by rail on Nov. 18, 2021.
©Frontiers North Adventures
It's finally here! Our Electric Vehicle Tundra Buggy® has officially rolled out onto the tundra, providing a completely silent, non-intrusive touring experience and reducing our environmental impact through zero-emission vehicle technology.
Churchill, Canada- Nov 20. 2021—Today, we launched our new Electric Vehicle Tundra Buggy® (EV Tundra Buggy) in Churchill, Manitoba, Canada: the Polar Bear Capital of the World. Together in collaboration with Red River College (RRC), we have transformed one of our diesel-powered Tundra Buggies into a battery-powered vehicle, a collaboration made possible through Manitoba's new Conservation and Climate Fund, the Vehicle Technology Centre (VTCI), and in-kind support and technical services from RRC Polytech's Vehicle Technology & Energy Centre (VTEC).
Our new EV Tundra Buggy emits zero emissions and minimal sound, providing a less-intrusive experience for our guests and wildlife. On Saturday, November 20, for the first time, we will be driving the new EV Tundra Buggy out to roam the subarctic tundra near Churchill amidst the wild polar bears.
"In addition to contributing to Frontiers North Adventures' reduction of greenhouse gas emissions, the main deliverable of this EV Tundra Buggy will be a silent touring experience for our guests," says John Gunter, CEO and president of Frontiers North Adventures, adding, "The EV Tundra Buggy makes it easier for machines to fade more into the background of any guest's wildlife experience in Churchill."
As Canada's only B Corp™ Certified adventure travel operator, we are committed to reducing greenhouse gas (GHG) emissions and plan to convert our entire fleet of 12 Tundra Buggies from diesel to electric power before the end of the decade. As we continue to transform our remaining Tundra Buggy fleet, our GHG emissions could be reduced by more than 3,600 Tonnes of carbon dioxide over the next 25 years.
Our Tundra Buggy® fleet also includes Tundra Buggy One, the research vehicle for Polar Bears International, the only nonprofit dedicated solely to polar bears and the Arctic sea ice. Through this partnership, Tundra Buggy One hosts scientists as well as Polar Bear Live Cams powered by explore.org, the largest live nature network in the world, reaching millions of viewers.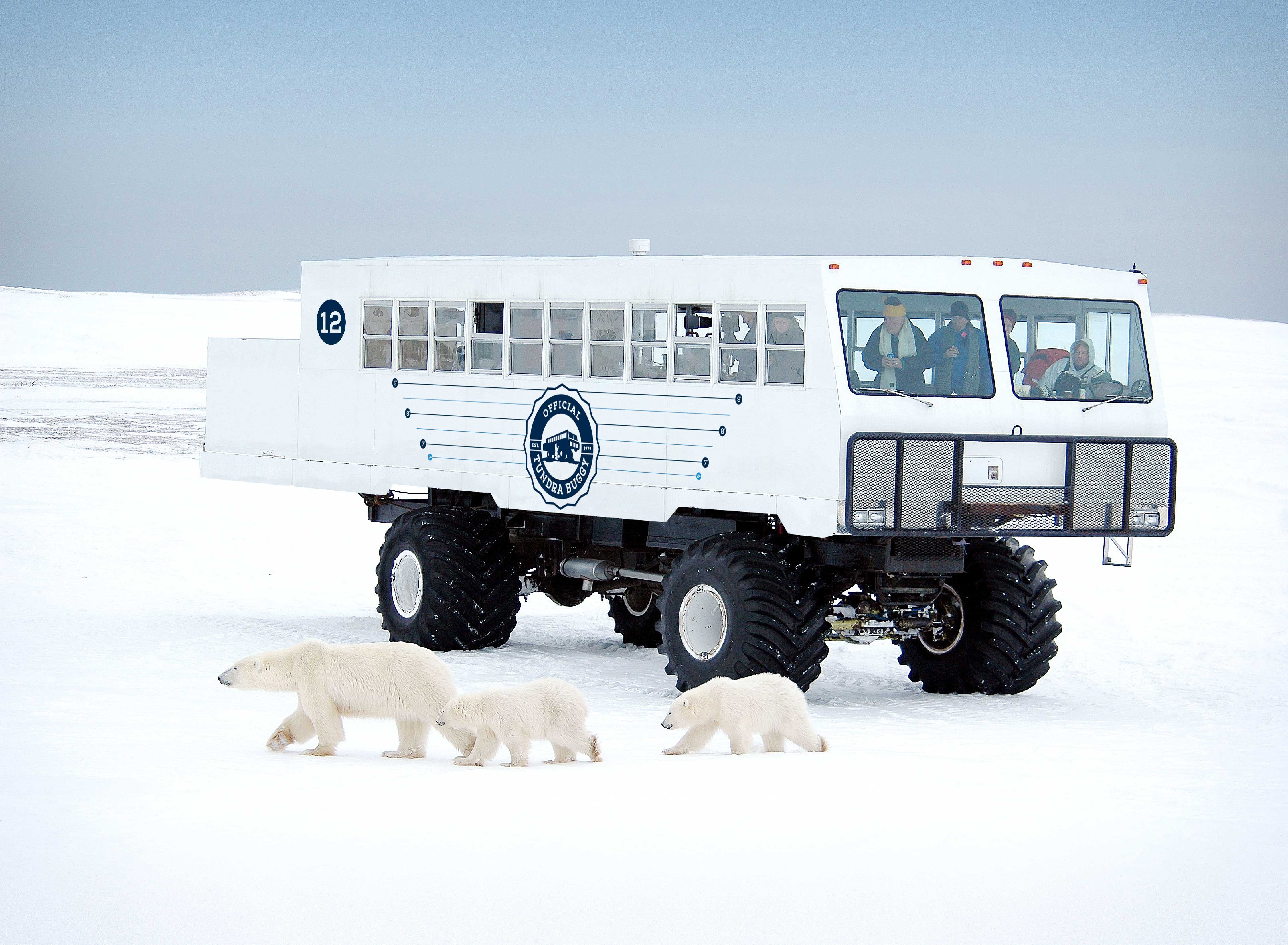 Tundra Buggy® 12 before being converted out on the tundra. © Robert Taylor/Frontiers North Adventures
Frontiers North Adventures' purpose is to share in the stewardship of the communities and environments in which we operate. We are a certified B Corporation® and have been a leader in Canada's travel and tourism sector since 1987. We specialize in adventures in Canada's North, providing our guest's opportunities in Churchill to dine beneath the northern lights, kayak amongst curious beluga whales and lock their gaze with wild polar bears. www.frontiersnorth.com
Polar Bears International's mission is to conserve polar bears and the sea ice they depend on. Through media, science, and advocacy, we work to inspire people to care about the Arctic, the threats to its future, and the connection between this remote region and our global climate. PBI is the only nonprofit organization dedicated solely to wild polar bears and Arctic sea ice, and our staff includes scientists who study wild polar bears. The organization is a recognized leader in polar bear conservation. For more information, visit www.polarbearsinternational.org.
Learn about our other sustainable endeavours
Header image © Frontiers North Adventures