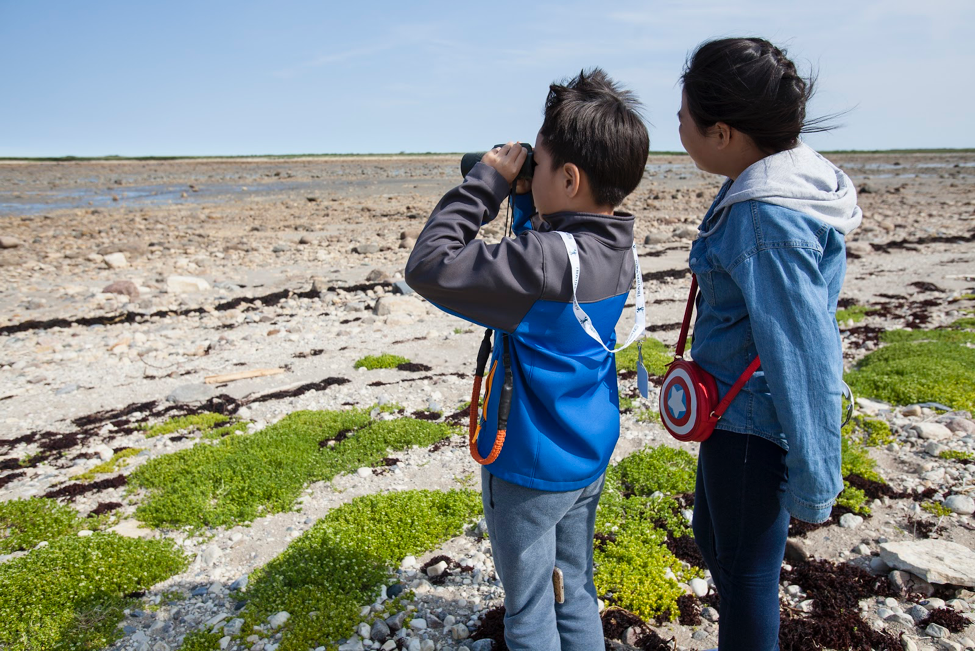 © Jessica Burtnick
Autumn polar bear excursions may get all the publicity, but summer is a magical time to check out sights and adventures in Churchill. In fact, if you're looking for the ultimate family vacation, you'd be hard pressed to find a better place to spend a week. Check out what's in store for your family on a Belugas, Bears and Blooms - Family Adventure in Churchill this summer.
1. embark on a summer family roadtrip like no other.
We've created a brand-new way for your family to experience Churchill: on a self-drive and ride summer adventure! Perfect for families who love hitting the open road, our Churchill Summer Rail and Road Trip offers a detailed itinerary, complete with accommodations and activities, that lets travellers explore Manitoba at their own pace. This journey begins in Thompson, Manitoba, where travellers will catch the overnight train to Churchill to experience its world-renown beluga whale migration!
2. go dog carting through the boreal forest.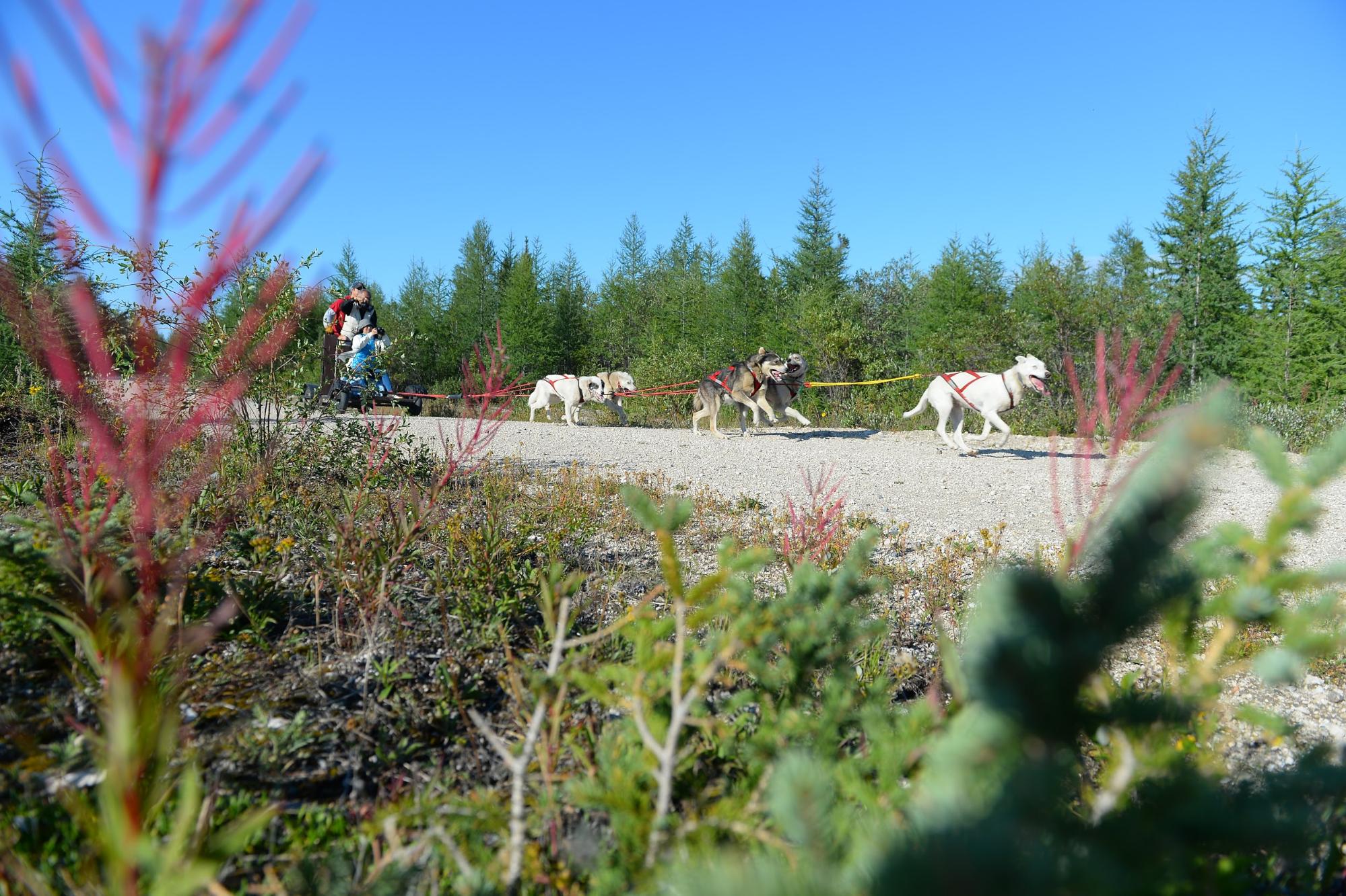 © Dan Harper
Dog sledding in Canada dates back over a thousand years, when the Inuit used it to move food and supplies. In fact, early northern culture relied heavily on working sled dogs. If you've ever wanted to experience the thrill dog sledding, summer in Churchill is the perfect time to do it. No snow? No problem! Dog carting gives you all the excitement without the cold, and it's an incredible opportunity for your kids to learn more about how these amazing dogs are raised, trained and handled, and the important role they played in Canada's history.
3. Get up close and personal with the beluga whales on a Zodiac tour of Churchill River.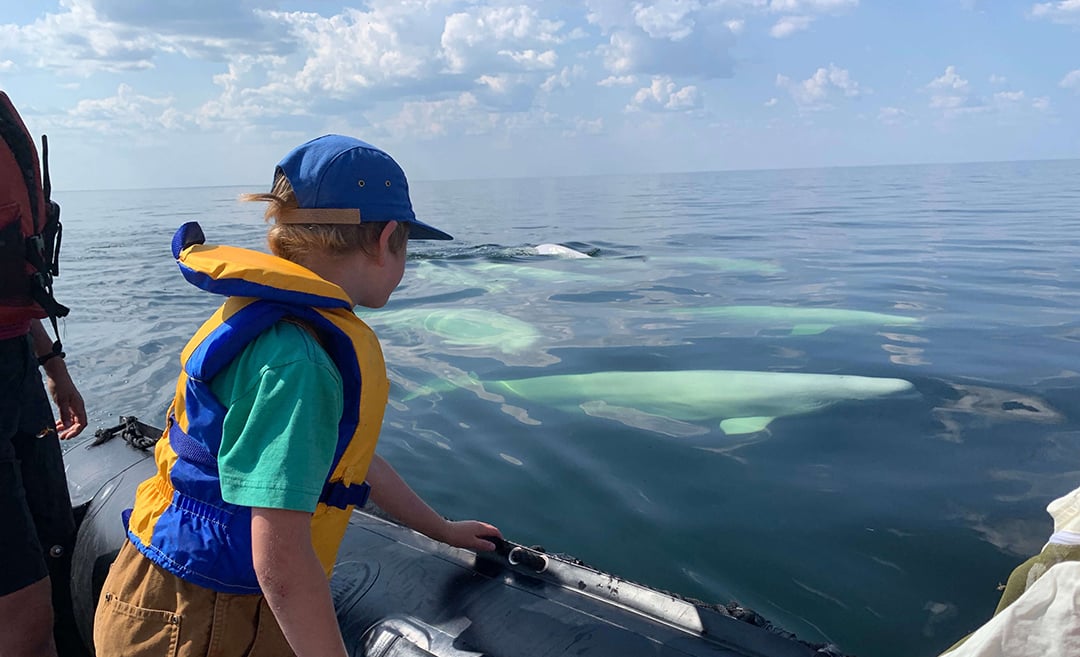 Picture this: You're out on your inflatable Zodiac when a cheery-looking beluga swims past your boat. It almost looks like it wants to play (and it's quite possible it does). It continues to follow your boat, and another dives under the craft while more swim around it. That's the scene of the Churchill River in summer when thousands of beluga whales descend on the estuary. It's one of the largest concentration of belugas anywhere in the world! And if you're feeling adventurous, you can even grab a paddleboard and test out your balance. These white and grey wonders are friendly, social and as curious as cats. There's nothing quite like engaging with them as they frolic in the water; it's an experience your kids will never forget.
4. Cruise through fields of wildflowers on an official Tundra Buggy®.
If the tundra makes you think of grey and barren fields, think again! In summer, the subarctic tundra is transformed into a riot of wildflowers. Scarlet fireweed, bright red bearberries, white-petaled Arctic dryas and perfectly formed, miniature orchids create a carpet of colour across the tundra. If you're lucky, you may even spot a bit of summer wildlife: foxes, minks, martens, moose and wolves, to name just a few. And the birds are everywhere, especially Smith's Longspur, a song-filled bird that summers on the tundra. The weather's so pleasant in summer, even kids enjoy long rides on the Tundra Buggy without getting cold (plus they may even get a chance to drive the Tundra Buggy themselves!).
5. Catch a glimpse of a sleepy polar bear napping in the sun.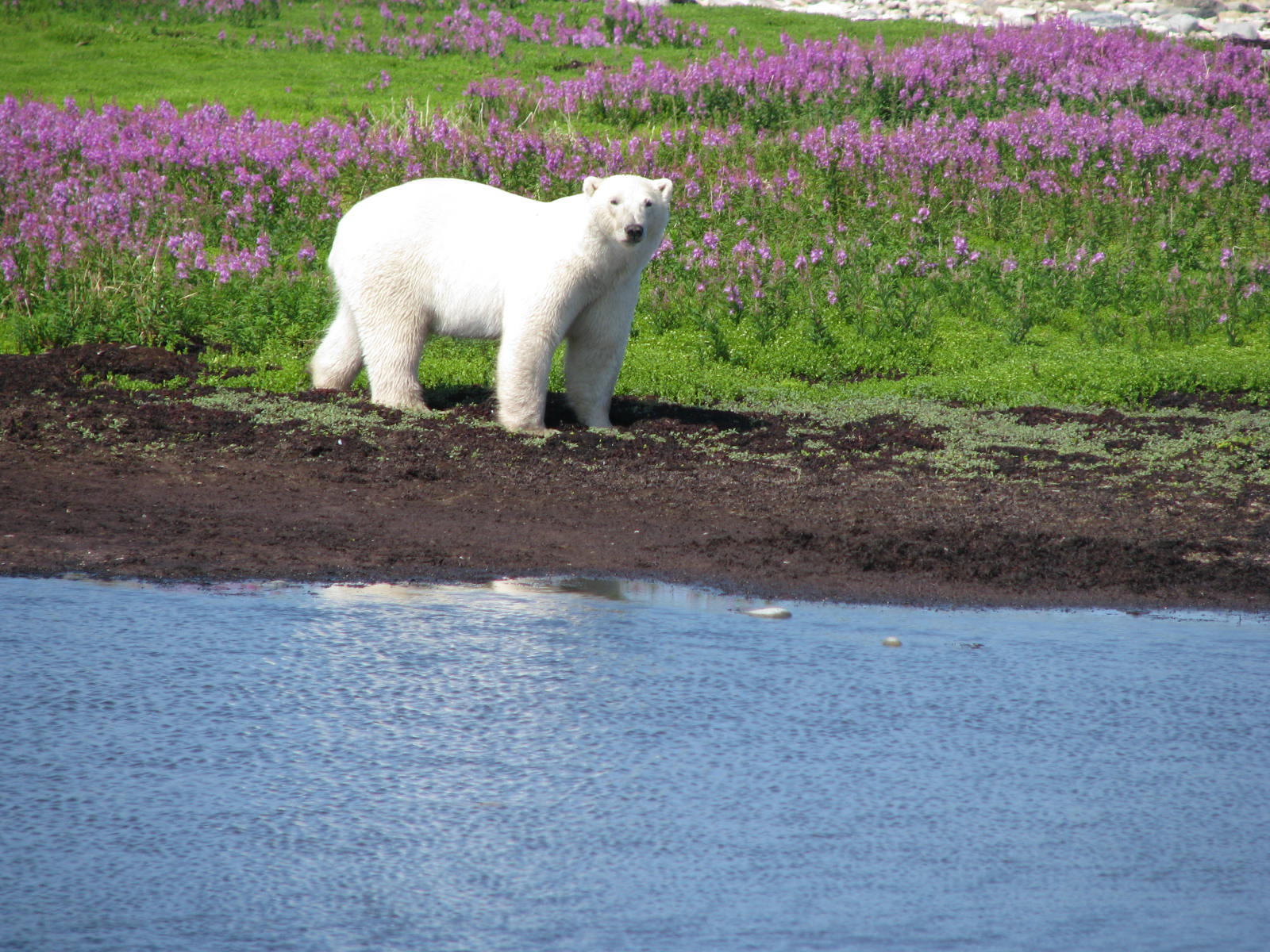 © Nicole Langis
Polar bears are expert nappers: they can sleep anytime, anywhere. They're especially good at napping in the summer sun, because they're conserving their energy until seal-hunting season starts again fall. Summer is considered a "walking hibernation" for polar bears. They laze around and eat very little, anticipating return of the Arctic sea ice on the bay when they will again feast on seals. Although summer isn't known as peak polar bear season, there is still a chance you might spot one or two on your adventure. Be sure to bring your camera to capture a snoozing polar bear!
6. Feast on fun local dishes like elk and fresh wildberry pie.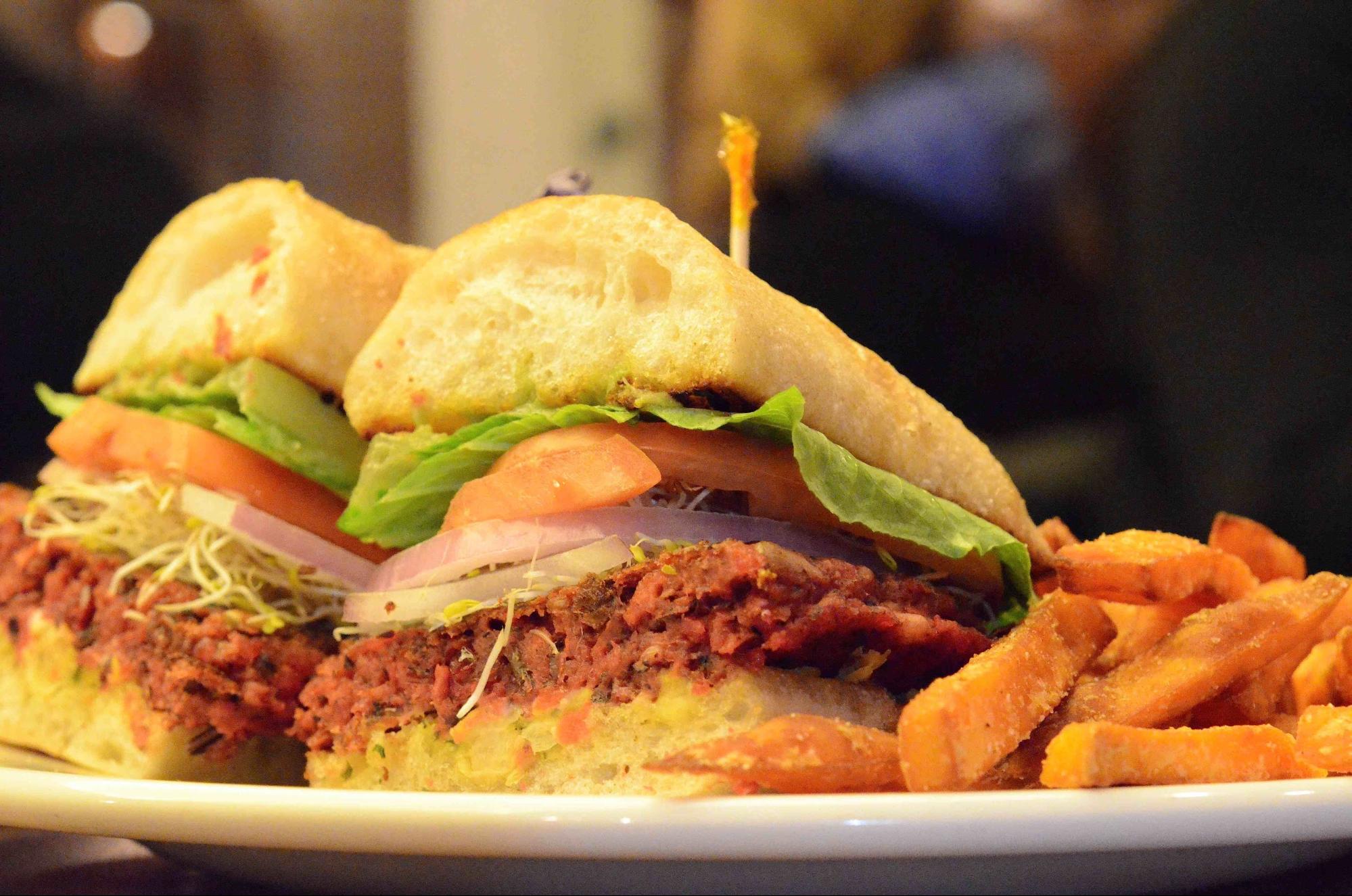 Even the pickiest eaters can be tempted to try new things at Churchill's local restaurants. Fish, wild game and waterfowl are often on menu, Tundra Inn sells an amazing Borealis burger (pictured above) made of rice, berries and beans. And if that doesn't excite them, delicious jams, jellies, preserves and pies from bountiful summer berries certainly will. Wild blueberries, lingonberries and gooseberries are just a few tasty fruits that grow around Churchill. Warm berry pie with a scoop ice cream is a treat your kids (and kid in you) will definitely enjoy. It's one of the many culinary delights Churchill is famous for.
7. See the sun rise at 4 a.m. (or the sunset at 10:30 p.m. if you prefer).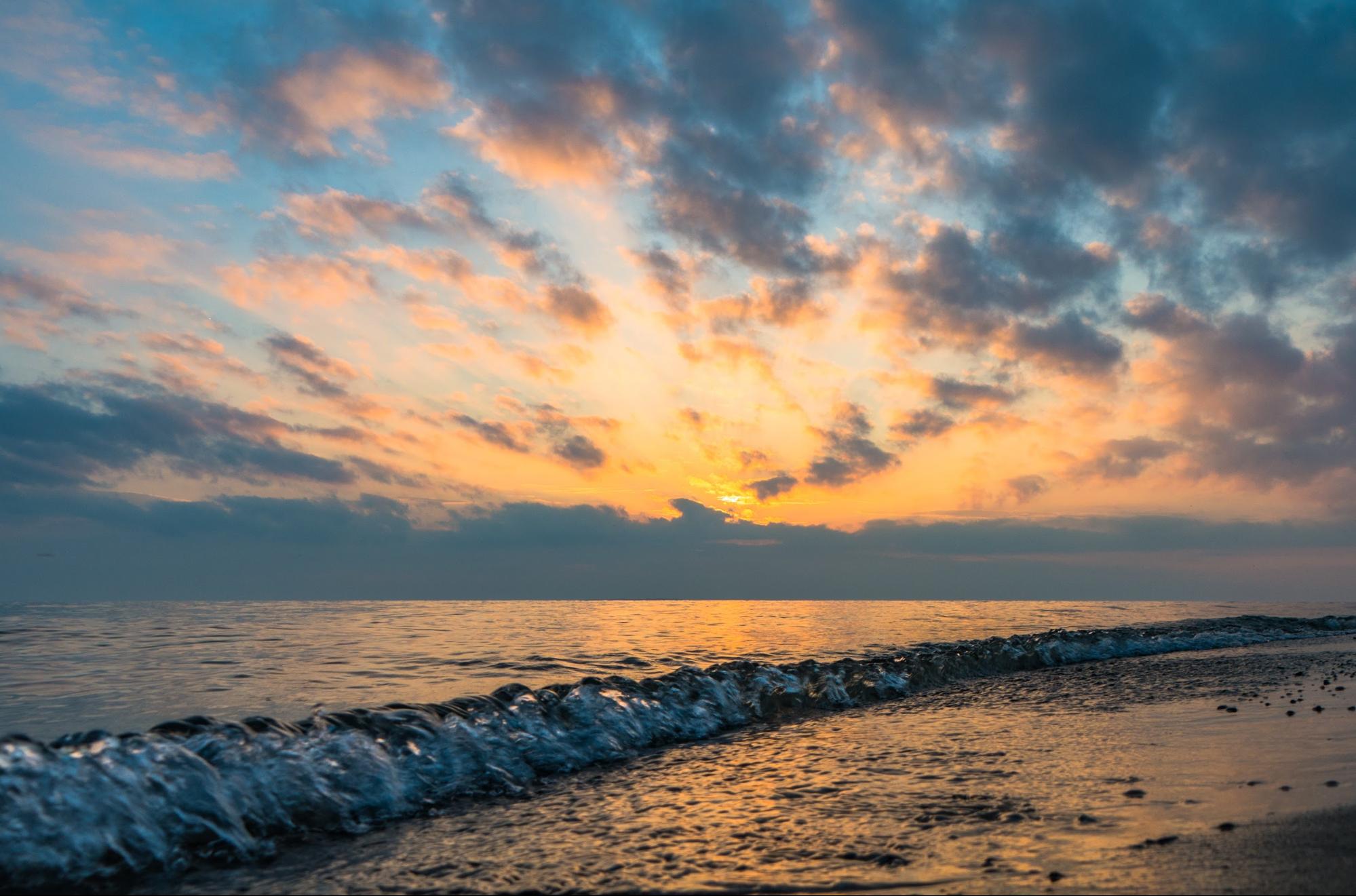 One of the great things about summer in Churchill is that you never run out of daylight to do all the outdoor activities that excite you. That's 18-½ hours of time to explore the beach, hike around the fort, socialize with the whales, wander the tundra, ride the dog carts, search for wildlife, kayak on the river, watch for birds, picnic at Cape Merry and just enjoy some quality time together. If you're more of a night owl, you might even see the northern lights! Although winter is definitely the best time to see them, it's definitely not unheard-of to see a dancing display during the short summer nights.
8. Learn about the Inuit people and see their amazing artwork at the Itsanitaq Museum.
You can't come to Churchill without wondering about Canada's first people, the Inuit who made their home here hundreds of years before the Europeans arrived. At the Itsanitaq Museum, you can learn more about their life and history through their artwork and tools. It's a great place to inspire imagination—and it's entirely free! If you encounter a rainy day on your summer trip to Churchill, spend a few hours at the museum and then head to the Churchill Town Centre Complex to run off steam at the indoor playground, go swimming at the pool, take a curling lesson, or catch the latest movie.
Ready for adventure?
Churchill in summer has something for everyone in your family, and you'll enjoy this one-of-a-kind destination without the crowds that turn up during peak polar bear season. Why not get in touch today and see how affordable it is to give your family an exciting vacation in Canada's North? And if you're not sure Churchill is right for you, sign up for our free email course to learn more about planning a vacation in Churchill!