Polar Bears International is the world's leading polar bear conservation group, dedicated to saving polar bears by saving their habitat. Focusing on research, education, and stewardship, Polar Bears International provides scientific resources and information on polar bears and their habitat to institutions and the general public worldwide.
Since 2000, Frontiers North Adventures has been a Platinum sponsor of Polar Bears International. To help Polar Bears International better accomplish their goals, Frontiers North supports Polar Bears International's Tundra Connections®, and Field Ambassador Program, as well as provide Polar Bears International use of Tundra Buggy® One—a mobile broadcast and research centre we created exclusively for Polar Bears International's use. Buggy One is outfitted with tools and equipment that enable polar bear scientists to study bears and broadcast their live Tundra Connections webcasts from the remote tundra, sharing up-to-date information on Churchill's polar bears with audiences around the world.
Through our exclusive alliance with Polar Bears International, we provide an opportunity for our guests to learn first-hand from Polar Bears International species experts who join us on our Tundra Buggies and at our Tundra Buggy Lodge. Presentations add to the in-depth interpretation provided by our tour leaders and interpretive drivers, offering our guests with an opportunity to not just see polar bears but to learn about them in a way that will leave a depth of knowledge about these majestic animals.
Through our alliance with Polar Bears International we have collaborated on a number of other projects intended to inspire people all over the globe.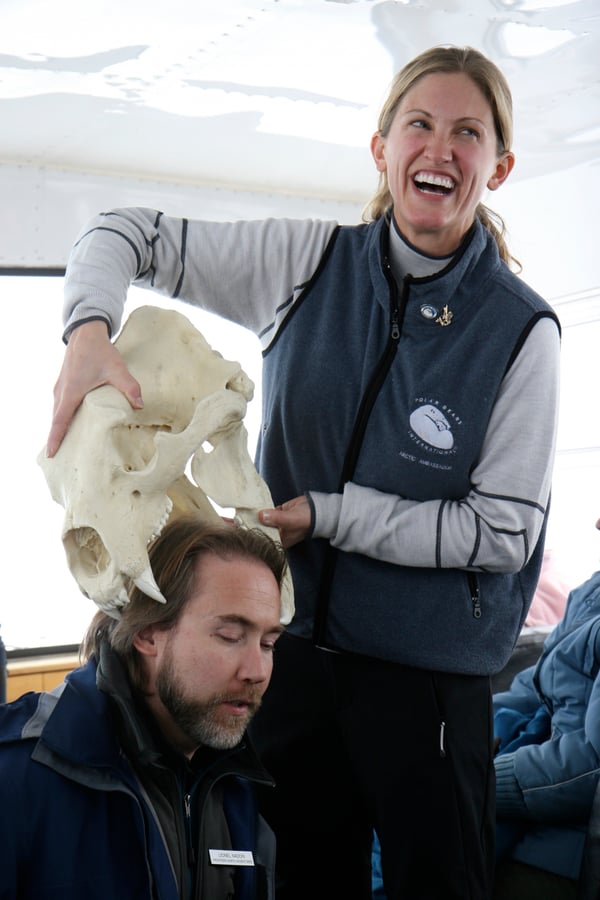 Polar Bear Cam
More than a decade ago we created polarbearcam.com, a site where viewers from around the world could see what we see during our time in Churchill. Over the years, the Polar Bear Cam has seen many variations – from still frame photos uploaded regularly, to short videos from the north and finally to live streaming directly from our Tundra Buggy Lodge - but the goal has always been to share polar bears with the world.
Thanks to our alliance with Polar Bears International and explore.org we are able to inspire millions of people around the globe by streaming live footage of Churchill's polar bears during their autumn migration. Now, anytime you want to watch Churchill's polar bears you can visit explore.org and check out the Polar Bear Cams either live during season, or playing back a compilation of the season's best shots during the rest of the year.
To view the Polar Bear Cam, visit: www.explore.org
Google Street View
During October 2013, Frontiers North Adventures hosted the Google Maps team in Manitoba Conservation's Churchill Wildlife Management Area and, with leadership from Polar Bears International, retained the Google Maps Trekker to capture imagery during November at Cape Churchill in Parks Canada's Wapusk National Park. Both areas are near Churchill, Manitoba and home to world's most dense annual polar bear aggregations.
Using Google's mapping tools, people from around the globe can now explore the habitat of one of the world's best-known polar bear subpopulations, all captured using a Google Street View Trekker mounted on a Frontiers North Adventures Tundra Buggy®.
With Google Street View, we are able to share wild polar bears with people all over the world that may never have the opportunity to travel to Churchill.
To explore Churchill on Google Street View, visit: www.google.ca/maps/about/behind-the-scenes/streetview/treks/churchill-canada/
Citizen Science Project
The Churchill Citizen Science Project, conceived by Polar Bears International's chief scientist, Dr. Steven C. Amstrup, is an opportunity for people visiting Churchill to help Polar Bears International gather data on polar bears in the Churchill area.
Armed with cameras, Frontiers North guests are able to capture photos of polar bears that approach their Tundra Buggy during the autumn migration. Shared with Polar Bears International, these photographs help develop a record of the health and condition of the polar bears in the area. The long-term monitoring study will also track the sex and age of the observed bears.
The data helps scientists get the big picture on the physical well-being of the population and allow them to track changes over time. Ultimately, the technique will allow comparisons among different geographic regions.
For more information on the Citizen Science Project, visit: https://polarbearsinternational.org/news/article-research/a-day-in-the-life-of-a-citizen-scientist/
To learn more about Frontiers North's partnerships, visit our partnership page.
Top photo © Fang Tiemann