Travelling to Canada's north is always exciting because you never know what you may find. Every once in a while, guests experience genuinely magical moments in Churchill that seldom repeat. Even harder is to capture those rare occurrences, which can end in a split second.

Take a look at some of our favourite rare moments that have been captured in Churchill over the years.
Blue phase Arctic fox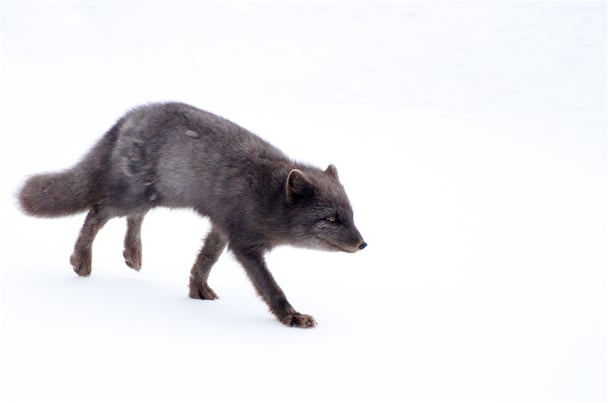 ©JP McCarthy
This blue phase arctic fox was spotted on the Cape Churchill trip in 2017. Though arctic foxes are not uncommon in the Churchill area, nearly all of the population is the white phase of arctic fox. Unlike the white phase, the blue phase of arctic fox remains a dark blue-grey colour year-round, standing out against the stark white snow. Several guests and guides from this adventure went home with stunning photos of this rare sighting.
Polar Bear at the end of the Rainbow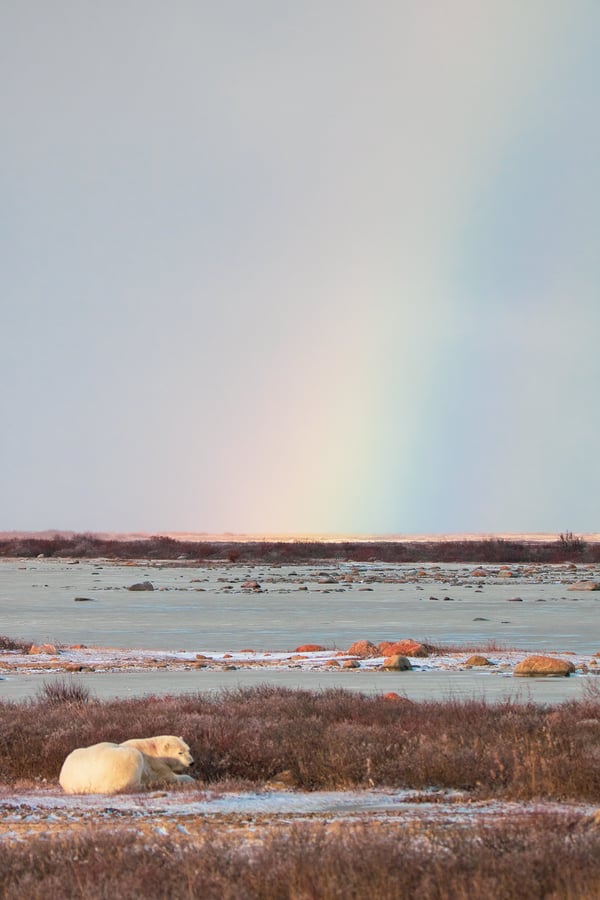 ©Alex Cupeiro
Have you ever wondered what is at the end of a rainbow? Well, wonder no more because we discovered the answer is a polar bear! In 2021 a truly magical moment took place where a rainbow appeared over the subarctic tundra, and a peacefully resting polar bear was right below. Special moments like this are rare, relying on weather and animals to line up perfectly.
Close up Wolverine Sighting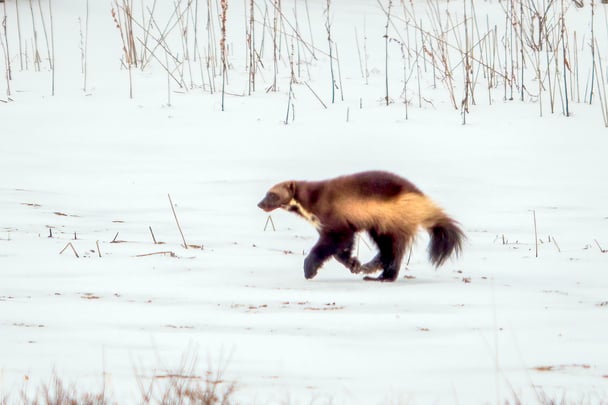 ©James Deng
Spotting a wolverine is a rare sight alone as these elusive animals tend to spend much of their time away from the presence of humans. However, in 2020 guests had a rare encounter with a wolverine that decided to venture through the Churchill Wildlife Management Area (CWMA) and right by a Tundra Buggy where guests like James Deng were able to snap some photos. It is an excellent example that you never know what wildlife you might encounter on an adventure into the CWMA.
Wolves hunting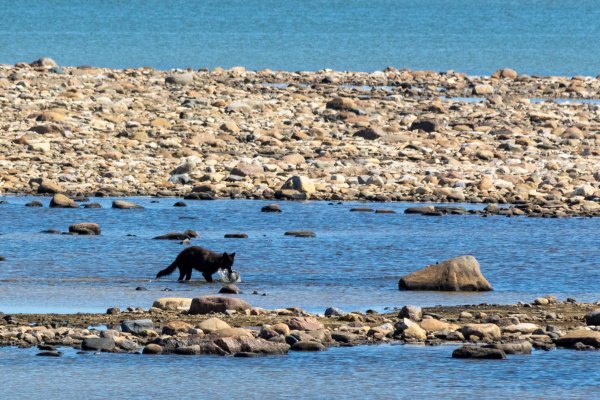 ©Kevin Wagar
A small population of wolves frequent the area surrounding the town of Churchill, but these canines are seldom spotted and even less frequently caught on camera. During a summer Tundra Buggy Adventure, some fortunate guests had a chance encounter where they got to see the wolves of Churchill in action catching an unlucky Canada goose. To see wolves alone is rare and to see them make a catch is an opportunity many Churchill locals will not even see.
Polar Bear in Fireweed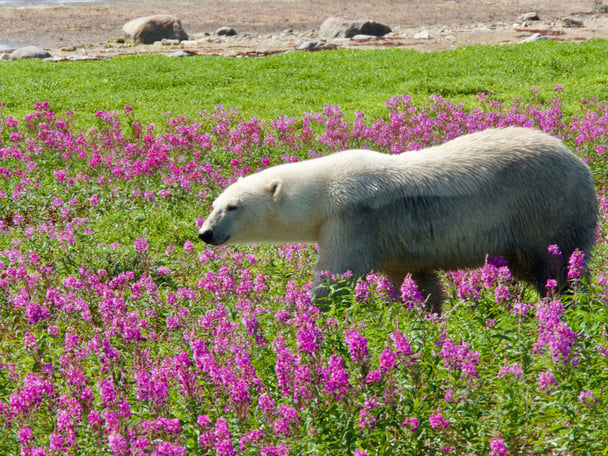 ©Jim Baldwin
Though polar bears and fireweed are not uncommon in summer, catching the perfect moment when the bears roam through the purple flowers can be tricky. Where the animal goes and what it does are never guaranteed when photographing wildlife. It takes a lot of luck and good fortune for polar bears to nicely pose in the fireweed for photos like the one in this image did.
2017 Snowstorm in March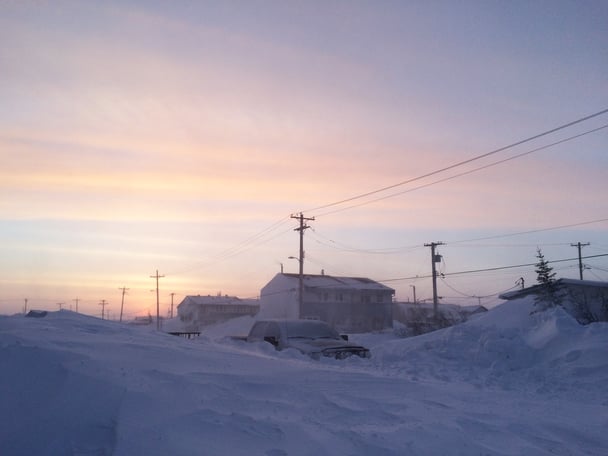 ©Brandi Hayberg
March 2017, a massive snowstorm swept Churchill, seemingly blanketing the town in two meters of snow overnight! This crazy weather phenomenon left cars buried in snow, doors snowed in and a lot of shovelling to be done by town members. Looking at the photo, you can see that the snowdrifts nearly reach the first story of buildings!
See more photos and videos of this historic snowstorm.
Polar Bear and arctic fox Encounter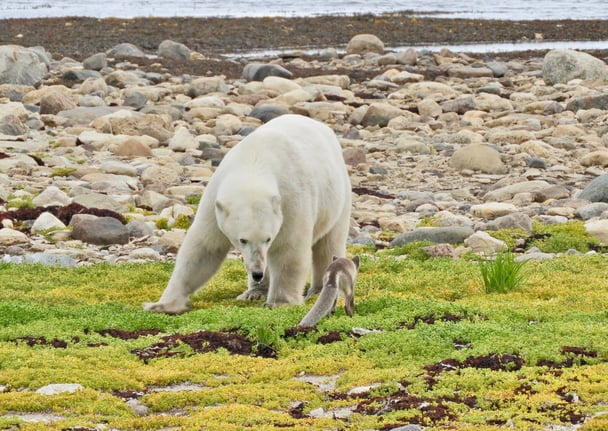 ©JP McCarthy
Arctic foxes are known to follow polar bears out onto the sea ice in winter to scavenge off their food; however, to see arctic foxes and polar bears interacting so closely in summer is a rather bizarre occurrence. Usually, these small foxes know it is best to give the polar bears more space when other food sources are more readily available than polar bear leftovers. However, Tundra Buggy driver Jim Baldwin captured this moment of an arctic fox boldly getting close to a giant polar bear and having what looks like a small standoff.
Three polar bear cubs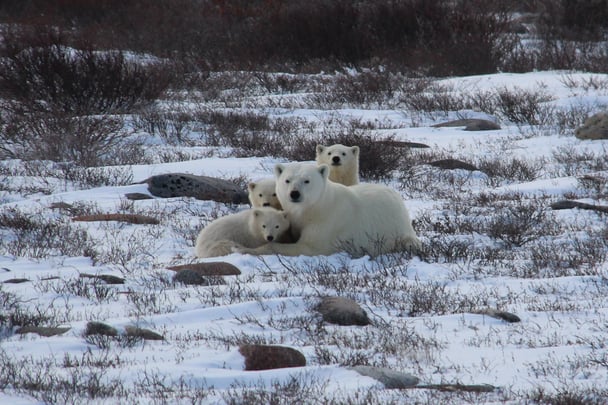 ©Linda Young
Spotting a mother polar bear that has successfully raised three cubs is an exceptional sight. Though polar bears can have one to three cubs, all three cubs rarely survive to the cubs' age pictured above. For a mother polar bear to provide enough food for three cubs and protect all three from male polar bears that would eat her cubs is nothing short of extraordinary. This mother and trio of cubs were spotted from a Tundra Buggy in the Churchill Wildlife Management Area in 2020.
Red Fox hunts an Arctic Fox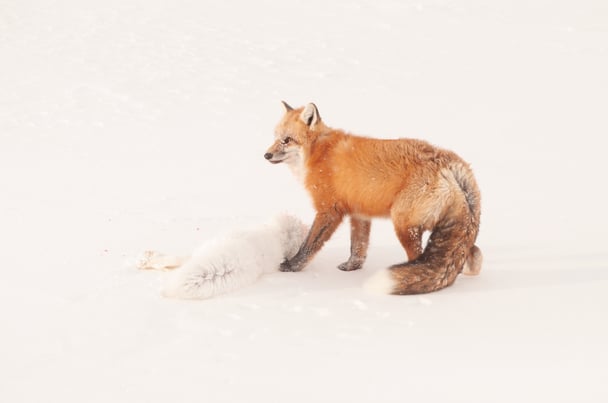 ©Bob Debets
On one Cape Churchill trip in Wapusk National Park, guests witnessed a rare scene where a red fox predated and killed an arctic fox. Though it has been known that red foxes have been moving further North and putting pressure on their smaller relatives, the arctic fox sightings of these interactions have been incredibly rare. Even rarer is to capture a moment like this on camera.
Polar Bear Catching a Seal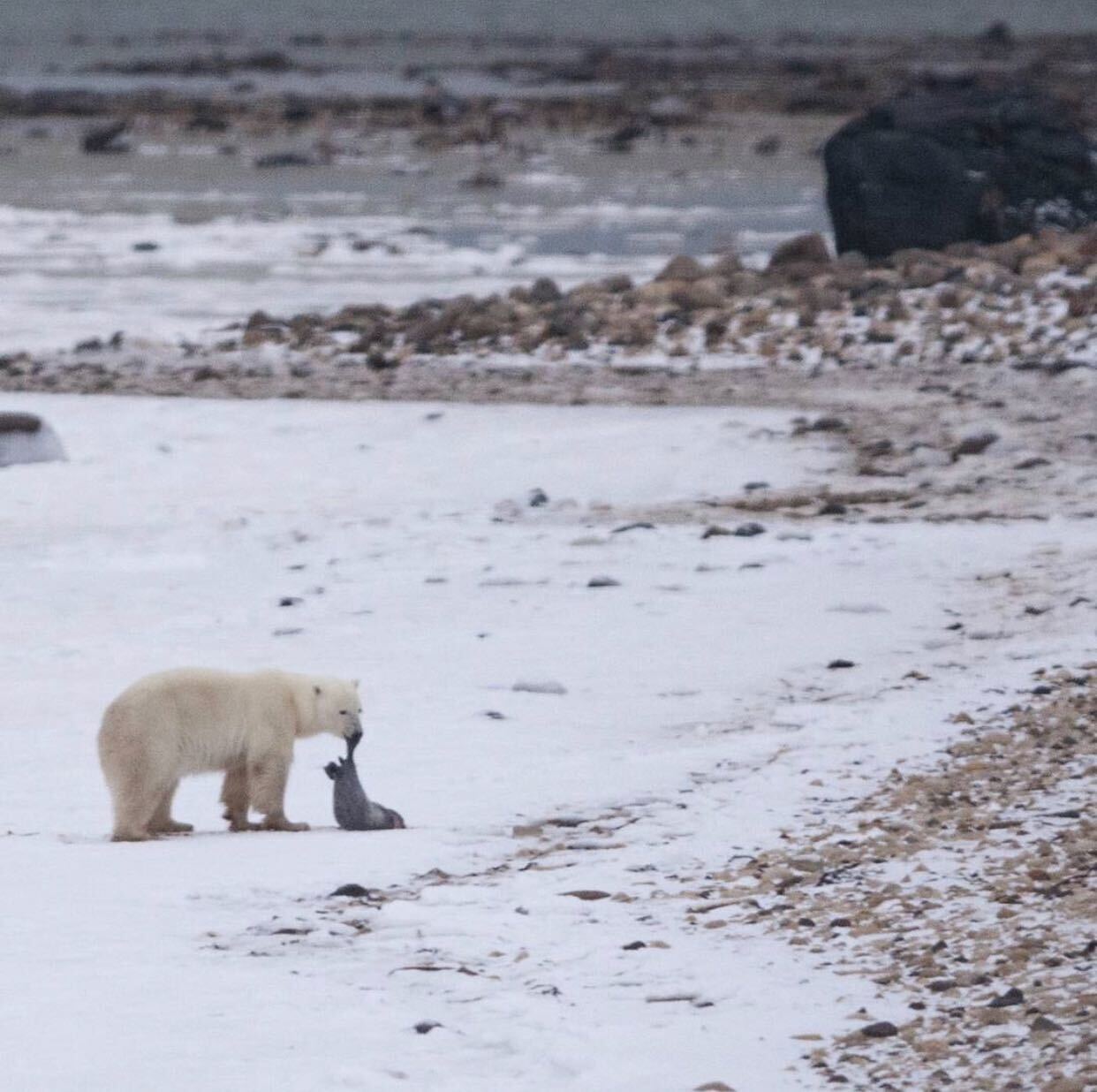 ©Jessica Burtnick
When polar bears are on land and off the sea ice, they seldom have the chance of a substantial meal, as catching seals without the advantage of sea ice is incredibly difficult. This lucky polar bear crossed paths with a very unlucky seal that was not paying attention and resulted in a tasty autumn feast for this bear. Even rarer was that this all unfolded in front of a group of Conservation Journey: Polar Bear guests who had the chance to capture the encounter in photos.
Electric Vehicle Tundra Buggy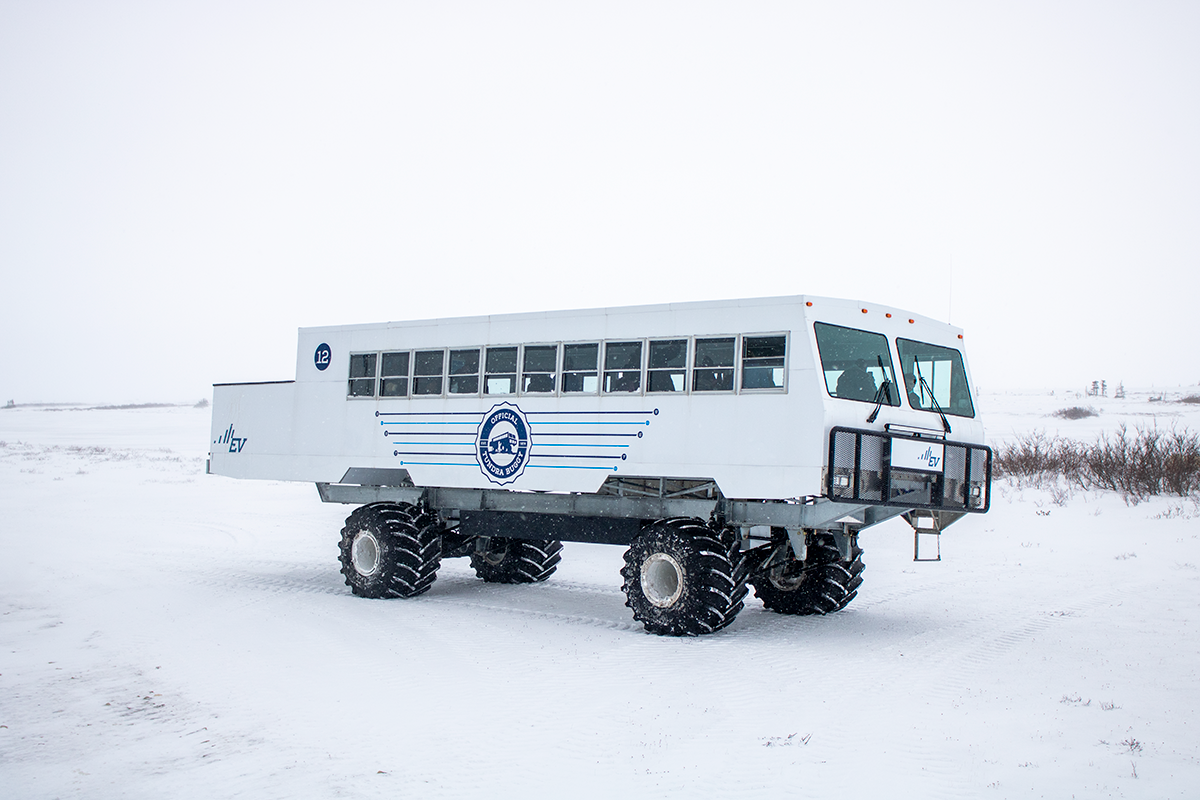 ©Alex Cupeiro
In 2021 we launched our first-ever Electric Vehicle Tundra Buggy® out onto the subarctic tundra. The EV Tundra Buggy is essential to a greener and more sustainable form of tourism in Churchill. Though it may be rare and the first of its kind at the moment, we are already getting ready to convert the second Tundra Buggy in our fleet to electric vehicle technology and plan to have the entire fleet changed over by the end of the decade.
Polar Bear cub Nursing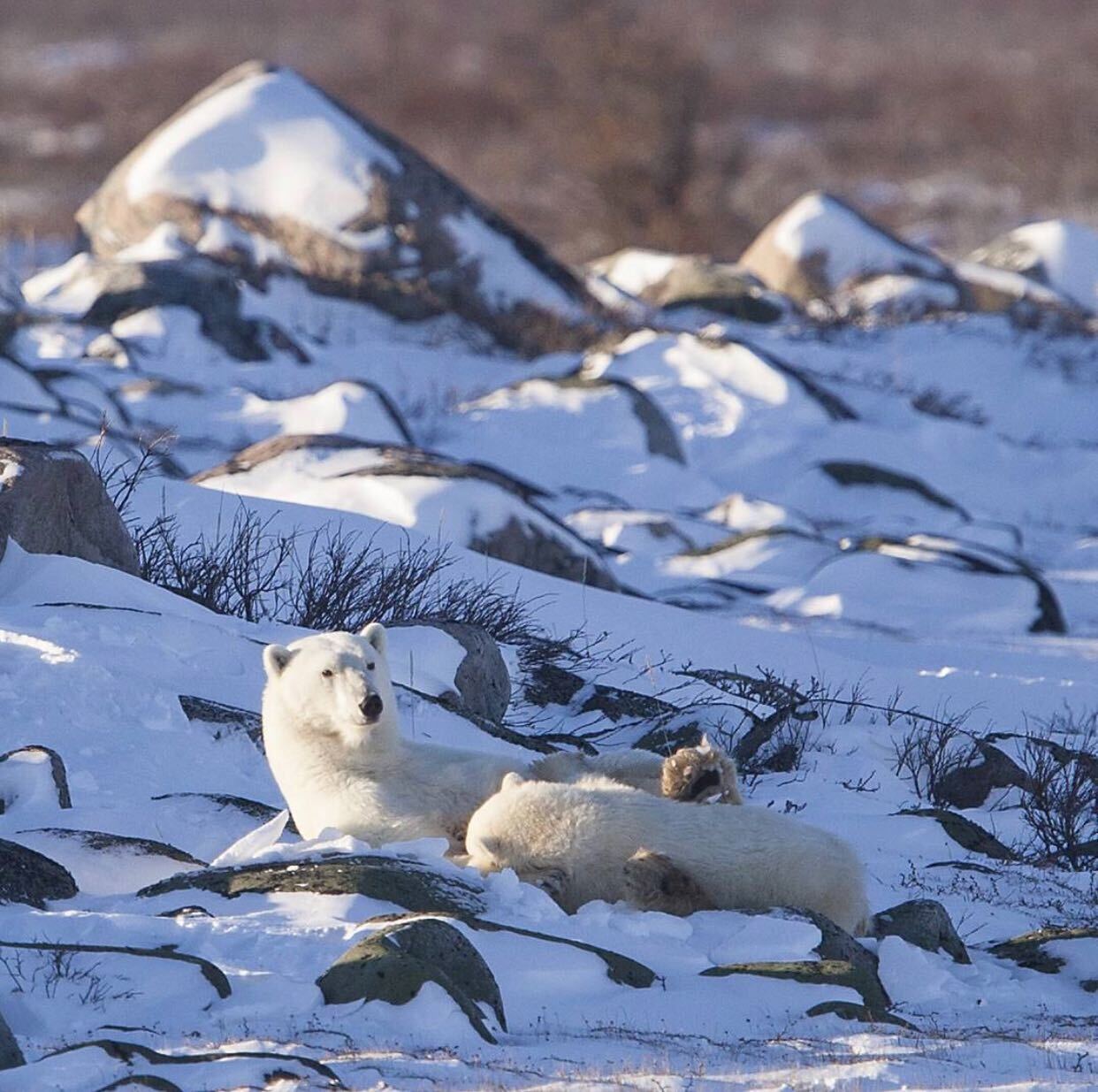 ©Jessica Burtnick
Mothers and cubs in the Churchill area are not rare, but having the chance to witness this intimate moment can be quite exceptional. Mother polar bears are remarkable, undergoing some of the most prolonged fasting periods in the animal kingdom while providing sustenance for 1-3 cubs simultaneously.

You never know what you might see on an adventure in Churchill. Each season has different opportunities and different rare moments that could occur, further adding to a trip of a lifetime.There is only one way to experience a rare moment in Churchill, and it starts with planning your adventure.
Plan your Churchill Adventure

Header Image: ©Jp McCarthy