Journey up to Churchill, Manitoba to learn about the largest annual gathering of beluga whales in the world, better known as the great migration.
Podcasts are a great way to learn and be entertained at the same time. The delivery of a podcast makes them versatile resources you can listen to while commuting, cooking dinner, or relaxing. Our team are huge fans because you can listen by yourself, with a friend, or as a family. In each of our recommended podcast articles we focus on a different and informative podcast that pertains to adventures we have in Churchill.We also list all of our recommended podcasts on a Spotify playlist for anyone to find later on.
There are many reasons to plan a trip up to Churchill in the summer and without a doubt beluga whales are a big draw. These friendly animals, affectionately nicknamed canaries of the sea are sure to bring a smile to your face. To help you understand a bit more about these cetaceans we have found a podcast through the Ocean Project for your listening pleasure.
Hosts Colleen Turlo and Bob Keating talk about how beluga whales and the 140,000 + people who live in the Arctic are intertwined. Their discussions include the importance of creating protected areas for marine wildlife and why we need to act now, rather than wait.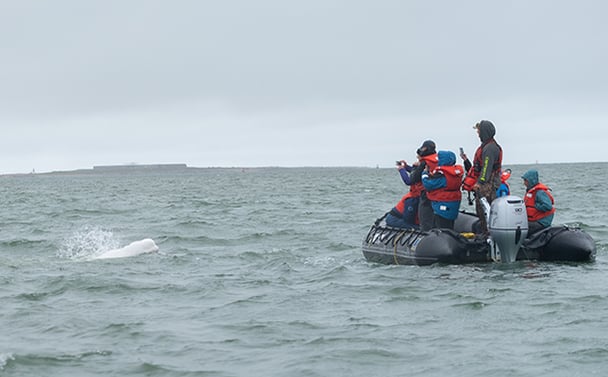 Image © Abby Matheson
Summer in Churchill offers a multitude of options for visitors. Journey up to Churchill by plane or train to learn about the flora, fauna and animals that call Churchill home during the summer months. With beluga whale trips offering a beluga boat and Zodiac opportunity you are sure to learn about these fascinating and friendly creatures.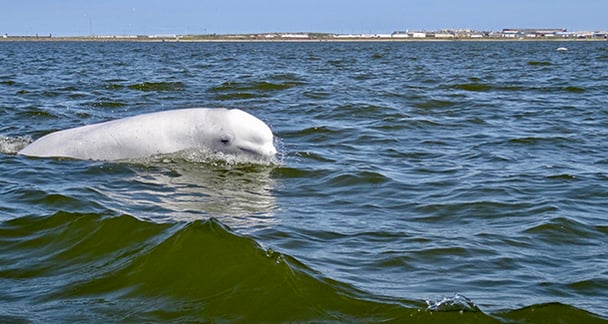 Image ©Heidi den Haan
You can find The Great Beluga Migration as well as many other episodes through the Ocean Project or you can find them on Spotify, Google Podcasts, Apple Podcasts and most other podcast providers. Check out our very own podcast playlist, with all our podcast recommendations.
You can witness beluga whales first hand by journeying up to Churchill on one of our many different Beluga Whale Adventures.