With freezing temperatures, rapidly changing weather and endless wildlife, it's hard to imagine Churchill being a place where you can grow and sustain farm-to-table produce, but Rocket Greens has changed the game when it comes to food security in the north.
Churchill, Manitoba is a charming Canadian town with deep historical roots that sits on the edge of Hudson Bay at the 58th parallel. People recognize it as 'The Polar Bear and Beluga Whale Capital of the World' but probably don't realize how remote it actually is and that it can only be accessed by rail or plane.
In March 2017, the town of Churchill experienced an epic blizzard, officially deemed a "historic weather event" which would inevitably melt and wash out part of the rail line in May. For the next year, the uncertainty of receiving shipments and deliveries and the added cost of only receiving them by air would leave the town and communities that sit on the rail line in flux.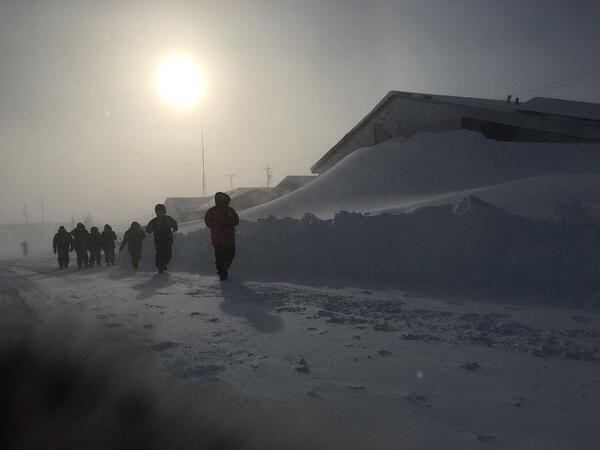 © Frontiers North Adventures
The Churchill Northern Studies Centre (CNSC) - an independent non-profit, sits just outside of the town of Churchill at the old Rocket Range. They had already been working on growing a hydroponic garden in a shipping container (called a Growcer) from an Ottawa/Iqaluit based company who developed these self-contained gardens to address food security issues in northern and remote locations.
Carly Basler, the Growcer's system manager, through planting seedlings in nutrient-rich water, celebrated her first harvest of fresh lettuce, kale, bok choy and basil in January 2018.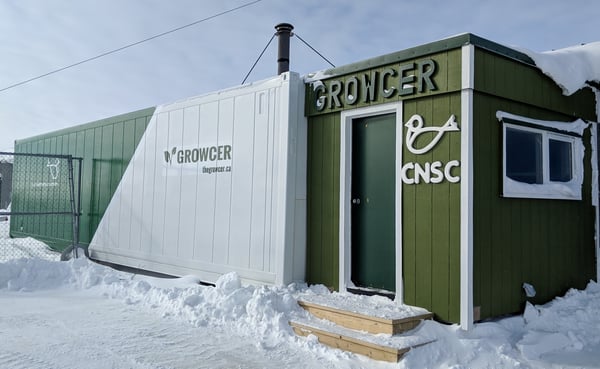 © Abby Matheson
This Growcer is highly insulated and efficient so it can operate all year long. As of 2020, it has a separate nursery for sprouting up to 1200 seedlings and has growing spots for 1800 mature plants. Carly is currently growing over forty varieties of greens (spinach, butterhead lettuce, arugula), herbs and even berries. Watch the video to meet Carly and get a glimpse inside the Growcer!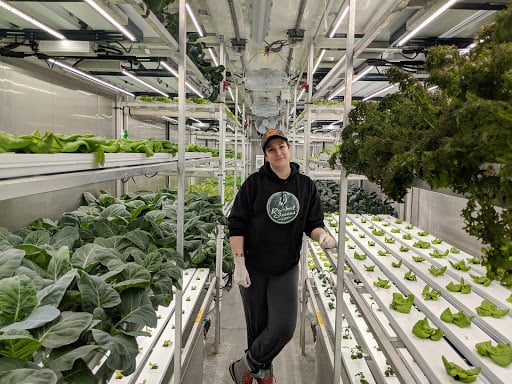 © Abby Matheson
Rocket Greens are available for the locals and businesses on a monthly subscription plan where they receive 'Launch Boxes' - truly playing up their location in the best way. Rocket Greens were one way to help the community get access to reasonably priced produce while the train line was being repaired. The town of Churchill celebrated the return of their rail service on October 31, 2018.
Frontiers North supports Rocket Greens in autumn for almost every dinner at our Tundra Buggy Lodge and then again during northern lights season at our pop-up restaurant, Dan's Diner.
We can't wait for you to be able to join us in Churchill. Not sure which season? Let us help you!

Header image © Abby Matheson