If you are looking for the family trip of a lifetime, forget travelling to Disney World, an all-inclusive beach resort or any other overcrowded destination and instead pack your bags to join us on our Family Learning Adventure: Beluga Whales experience. Bringing your family North to the Canadian subarctic this summer will surely be a trip of a lifetime that you and your kids will never forget. Still not convinced? Well, here is a detailed look at what you and your family can expect when you visit Churchill on a Family Learning Adventure: Beluga Whales tour.
Family Learning Adventure: Beluga Whales
The family trip of a lifetime!
Time to pack your bags and head north to the coast of Hudson Bay with your kids for a summer adventure filled with beluga whales and subarctic wildlife that they won't forget.
The perfect Adventure for The Animal LOVER in YOUR HOME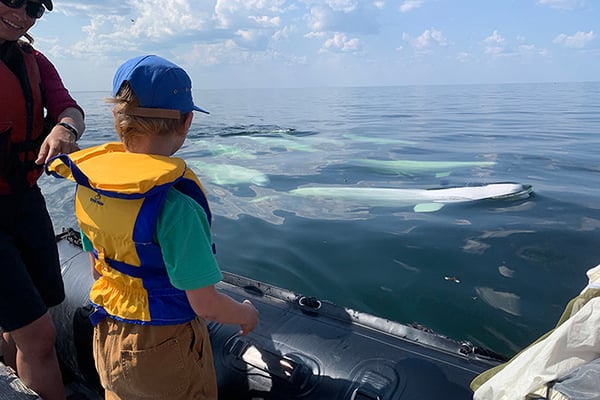 ©Frontiers North Adventures
If your kids are animal lovers, what better place to bring them than to where thousands of curious beluga whales fill the Churchill River? In the summer months, Churchill is teeming with diverse wildlife from a wide variety of migratory birds, caribou, foxes, beluga whales and even the occasional polar bear. Don't forget to pack your binoculars!
A Trip Where You and Your Kids Can LEarn Something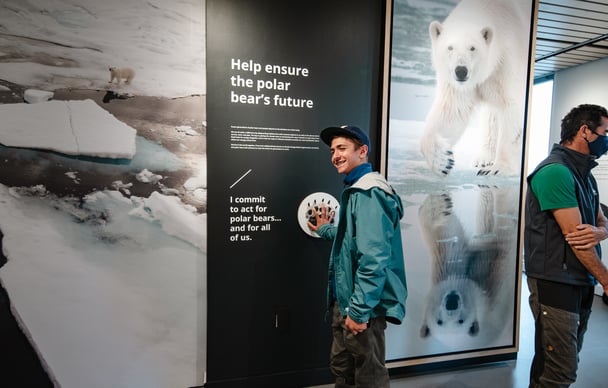 ©Abby Matheson
On this adventure, not only will your kids learn something new, but we are sure that you will too! This trip gives you the one-of-a-kind opportunity for your family to engage with a scientist at the Polar Bears International House, where your family can learn about polar bears and climate change from experts in the field. Filled with dozens of interactive and hands-on displays, the Polar Bears International house is a learning playground for families who visit.
Explore the landscape On a Tundra Buggy
©Alex Cupeiro
Your family is sure to love rolling across the tundra in a gigantic Tundra Buggy® searching for wildlife in the Churchill Wildlife Management Area. Keep your eyes peeled and binoculars ready as species such as caribou, red fox, arctic fox, many migratory birds and sometimes even polar bears are spotted in this area. Your guide and Tundra Buggy driver will highlight various interesting things about the landscape and local wildlife as you explore the tundra.
Travel back in Time With a Visit to the Historic Prince of Wales fort
©Alex Cupeiro
Take a step back in Canadian history with Parks Canada when you explore the historic Fort Prince of Wales. Your family will love having the chance to roam amongst the towering stone walls of the fort and check out the 42 cannons that can be found within. With a Parks Canada guide to answer all your questions you and your family can discover what life during fur trade was like.
capture your adventure with photos you wont forget
©Alex Cupeiro
The town of Churchill has many beautiful locations that can turn into stunning backdrops for photography. The options can feel almost limitless from a selection of painted murals, Inukshuk's and landmarks around town. Ask your guide about some of the best spots in town that might make great sites for epic photos, and make sure you find some friends to accompany you.
Mush! Warning Your Kids Are Going To want to bring home a sled dog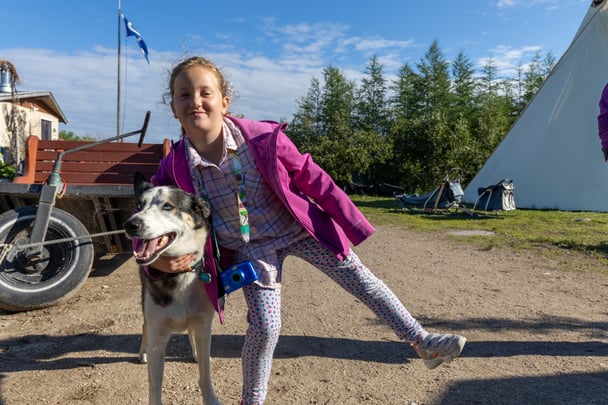 ©Alex Cupeiro
Whizz through the boreal forest behind a team of eager sled dogs with your family and learn about dog sledding from local dog musher Dave Daley and his team at Wapusk Adventures. This hands-on dog carting experience will inspire your kids to teach the family dog at home to be a sled dog or beg to bring one of the dogs home!
So much to see, do and explore in the subarctic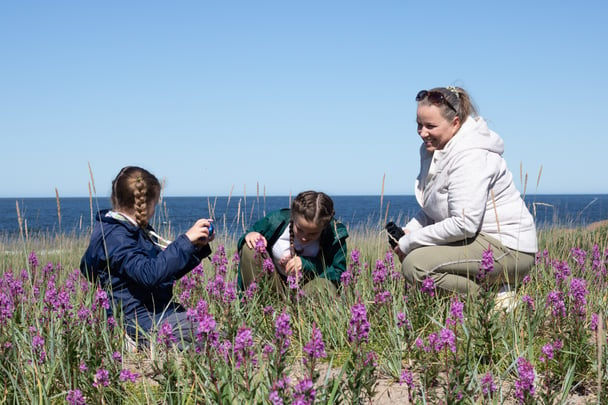 ©Alex Cupeiro
On a Family Learning Adventure: Beluga Whales trip, your family will have the chance to experience the best of what Churchill in summer has to offer. From boating amongst hundreds of curious beluga whales, exploring the historic sites, engaging with polar bear researchers and more, this trip has a little bit of everything.
Here is a sneak peak at some of the highlight activities
Viewing hundreds of curious beluga whales on the water.

Learning from and engaging with polar bear experts at the Polar Bears International House.

Exploring the historic Prince of Wales Fort.

A Tundra Buggy Adventure in the Churchill Wildlife Management Area.

Dog Carting through the boreal forest.

Exploring the subarctic town of Churchill, Manitoba.

And so much more!
Learn more about a Family Learning Adventure: Beluga Whales Trip

Header Image: ©Alex Cupeiro