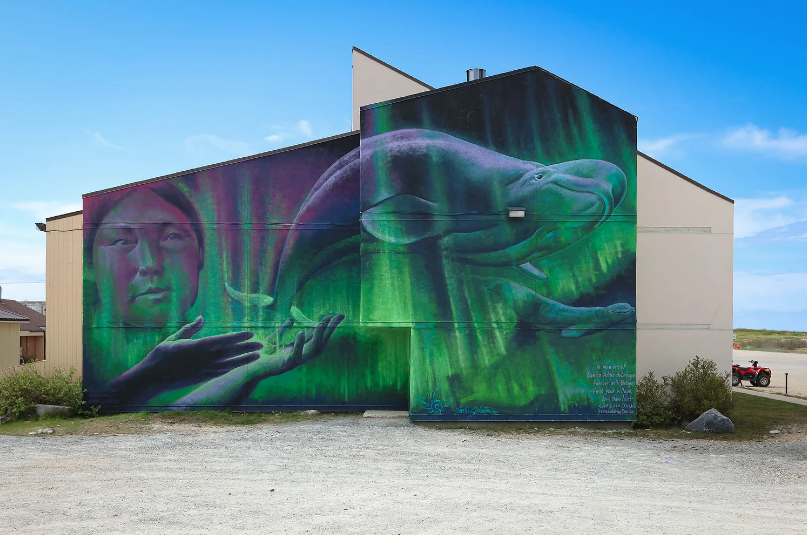 Artist: Charlie Johnston
It's amazing how art transcends its canvas and touches our lives so tremendously. Think about it: Have you ever seen a painting, sculpture, photograph, or really any artform and been moved by it? That idea—that art moves us, changes us—is exactly why Sea Walls Churchill happened. But 18 murals around Churchill, Canada, didn't just get painted overnight. Here's the whole story, from beginning to end, about why this project even happened, how it was formed, what came from it and how you can be a part of the ongoing solution (and even go see them for yourself). View the Sea Walls Churchill map.
Step 1: The need.
There's no point in taking action if there is no need. And unfortunately, the need for the Arctic Ocean and its surrounding nature is great. Over the last few decades, the polar ice caps have melted dramatically. The loss of ice has created huge problems for our furry friends, the polar bears, along with many other species. In fact, all of the Earth's oceans are experiencing major issues, which the PangeaSeed Foundation is trying to combat. More on that in a bit. The warmer waters in the Arctic don't just affect the North—the effects could trickle down all the way to the Indian Ocean. It's not just an issue for Canadians; it greatly affects us all. Due to the lack of ice, polar bears are not able to travel as far to find food. Some are literally getting stranded because the ice is melting that quickly. Something has to be done.
Step 2: The response.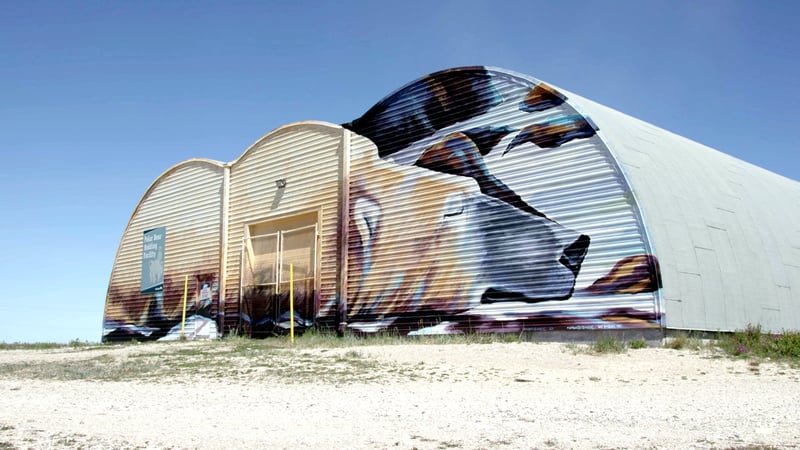 Artist: Kal Barteski
As people began to notice these environmental issues, foundations were quickly created to fight for our oceans and the surrounding nature. PangeaSeed founded Sea Walls: Artists for Oceans, an art movement to bring awareness to the issues our oceans are facing. And no place needed something like this more than Churchill, which sits at the Hudson Bay and Churchill River. Considered the "polar bear capital of the world," Churchill is mainly a tourist town. People come from around the world to see polar bears, beluga whales, the northern lights and many more intriguing sights. The town has done an amazing job of promoting responsible tourism. Many of the companies give much of what they earn back to the community and the environment. It's thanks to these companies for supporting Sea Walls Churchill, otherwise, it may never have happened.
Photo © Handcraft Creative
Step 3: The action.
So how exactly did Sea Walls Churchill come to fruition? A good amount of the thanks can be given to Kal Barteski, Project Director for Sea Walls Churchill and a major reason the opportunity was brought to Canada's North. Kal is an artist living in Winnipeg, with a huge heart for Churchill. She was one of the artists who painted a mural for the project. You can even buy some of her work during a visit. With 18 murals around the small town (Churchill has a population of 800), the artwork certainly became a talking point. Many of the murals were painted on the sides of buildings, but one artist had a less traditional canvas.
A non-traditional canvas
Pat Perry used an old, crashed cargo plane to tell his story via mural. The sad shape of the plane reminded him of the sad shape the world is facing. He hopes that through a mural of tragedy, we can avoid a real one taking place.
Put many pieces together to form something new
A brighter mural, painted by Arlin Graff, shows a colourful polar bear made up of different blocks. The different shapes represent humans attempting to fix what they've destroyed in nature.
Sometimes, you just need to use your words
Two murals used written words to convey their messages. The phrase and title of the mural, "Human Nature" by Askew One, represents our human condition being the excuse for everything that has happened to the environment. There is a "duality" between depending on nature and industrialization. Another phrase broadcasted from a mural is "Know I'm Here," which has a double meaning, for Churchill and the oceans. According to the artist, it "creates a strong message of valuing the people of Churchill, but also communicating to all people that we need to read the water and world around us in order to know our place and take actions to nurture what we have been given." These are just a taste of the different types of murals around Churchill, but they all have one purpose—to bring positive attention to the great need surrounding the town and its ocean. See more of the artists, murals and a map of the mural locations in Churchill, Manitoba here.
Step 4: The tourist.
These murals, while amazing, are not going to solve the crisis facing Churchill and its surroundings. But you can help. Simply by visiting Churchill, you'll be supporting a town eager to sustain its ocean, river, wildlife and the rest of its community. You can even take a tour specifically designed to educate you about polar bears and how to help preserve their habitat. It's one thing to read about these murals and the community they are supporting—it's another thing entirely to go to Churchill and see them for yourself, as well as the magnificent people and wildlife they represent. Aren't you ready to take a vacation that does more than just gets you away from your desk? Have a win-win trip to Churchill and give back to a community that is both a once-in-a-lifetime destination and one that needs your help.
Step 5: The contribution.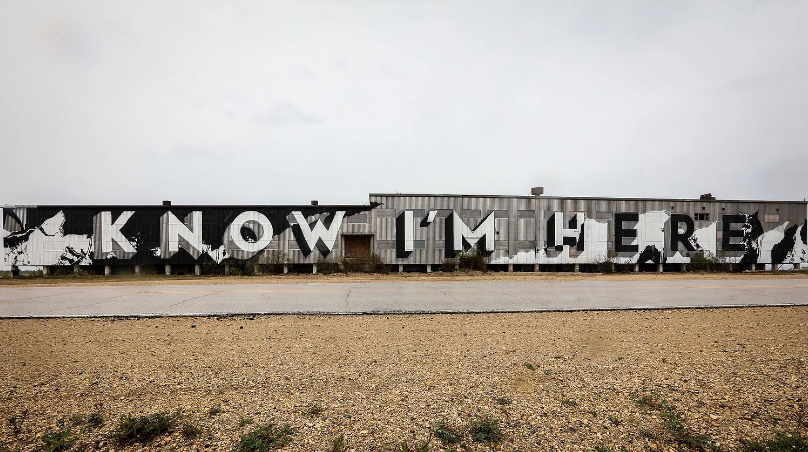 Georgia Hill's piece 'Know I'm here' encapsulates the purpose of the painting and mural making. Thanks to the efforts of environmental nonprofits PangeaSeed, Kal Barteski and all the artists involved, more and more people are becoming aware of the effects climate change is having on local ecosystems, such as the unique environment of the beloved town of Churchill, Manitoba. There are 300 different murals in 12 different countries with the same incentive, but Churchill is the only subarctic town to don the Sea Walls artworks. As a place that has been heavily affected by climate change, their impact is only strengthened. Widespread awareness isn't the only positive effect that has resulted from this project, the Sea Walls murals have also managed to inspire a sense of community in the local people of Churchill. Extreme weather and floods left the only rail line that allows travel in and out of the remote town in disuse, leaving the people of Churchill stranded and isolated. But the creation of the murals has drawn attention to the value of the town, its people, the landscapes and the wonderful wildlife that inhabits them.
Ready to go?
If you're ready to see the murals for yourself, support Churchill and have the vacation of a lifetime at the same time, we'd love for you to join us. Answer a few brief questions here to get your travel plans started today. Or if you're simply looking for more information, sign up for our free email course now.