Every day we respond to questions from people who are ready to take the trip of a lifetime to see the polar bears of Churchill up close. One of the questions we hear most is "What is the difference between staying at the Tundra Buggy Lodge or staying at a hotel?"
During peak polar bear season (October and November), we offer two types of adventures: Tundra Buggy Lodge at Polar Bear Point and the hotel-based Churchill Town and Tundra Experience. Each type of departure has differences due to, in part, the location of the accommodations.
Accommodations for Churchill Polar Bear Tours
Here is a short comparison to help determine which type of accommodation is right for you: Churchill hotel or Tundra Buggy Lodge?
1. Getting to know the town of Churchill
Hotel: Guests staying at a hotel in Churchill have the chance to visit the Tundra Pub in the evenings, get to know the locals, and explore the town of Churchill and its gift shops and museums at their own pace.
Tundra Buggy Lodge: Although a handful of our Tundra Buggy Lodge trips include a night in Churchill as part of the tour, most of our guests who choose to stay at the Lodge won't get to experience Churchill's nightlife. Don't worry, we still set aside time for the Tundra Buggy Lodge guests to visit gift shops and our first day in Churchill includes a meal in town before heading out to the Tundra Buggy Lodge.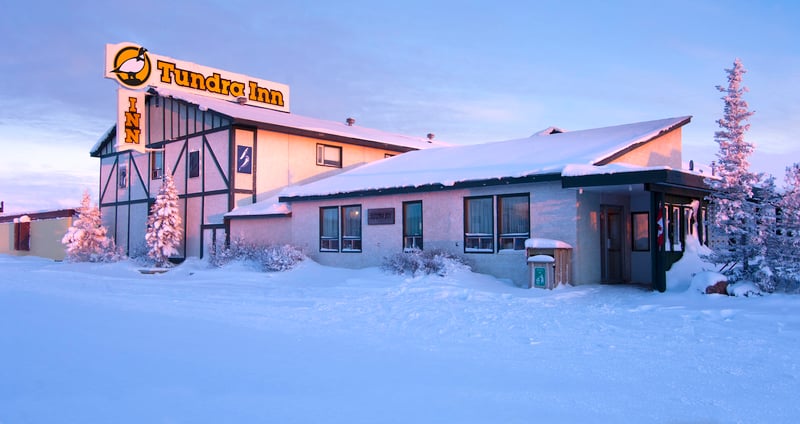 Photo © Mike Macri
2. Location, location, location!
Hotel: Each morning guests are transported from their hotel in Churchill to the Tundra Buggy dock area, which is a 25-minute commute. Once guests board the Tundra Buggy at the Tundra Buggy Dock, it's roughly another hour commute to get to the most densely populated area of the Churchill Wildlife Management Area where the best polar bear viewing begins. Although it is possible to see polar bears during the hour-long commute, most of the polar bear action is located closer to where the Tundra Buggy Lodge is positioned. Guests staying in town must begin their commute back to the Tundra Buggy dock area in the early afternoon in order to get back to town in time for dinner.
Guests who chose to stay in town have the flexibility of trying the different restaurants in town. Although the Churchill hotels are located right in town, you may be able to catch a glimpse of the northern lights from the street late at night (or early in the morning), however the best views would be further away from the lights of town.
Tundra Buggy Lodge: The Tundra Buggy Lodge is located at Polar Bear Point in the heart of the Churchill Wildlife Management Area. This area has the highest concentration of polar bears during the autumn months. Because of the lodge's location, guests staying there do not face the same commute each day. They can wake up, step out onto a Tundra Buggy and begin their adventure in the heart of polar bear country. As well, Tundra Buggy Lodge guests can stay on the Tundra Buggy until late in the afternoon, as they don't require the commute back to town.
Another benefit of staying at the lodge is being away from the lights of Churchill. This allows for better northern lights viewing at night from the decks of the Tundra Buggy Lodge (weather permitting). Photographers enjoy staying at the lodge because they have a full-range of sunlight, from dawn to dusk, to photograph the polar bears. The Tundra Buggy Lodge is known for its amazing meals and friendly staff.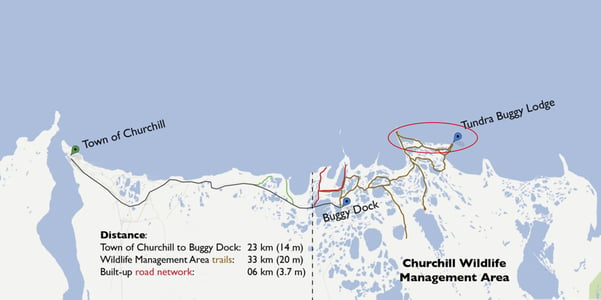 3. Personal space and amenities
Hotel: Hotel guests have their own private room, a private washroom and (likely) a bed big enough for two (of course specific bedding arrangements can be made at time of booking). All of the Churchill hotels have wireless networks and some are equipped with kitchenettes, fridges, coffeemakers and hairdryers. If you're looking for the most privacy and access to the town's amenities and attractions, staying at a Churchill hotel would be the way to go.
Tundra Buggy Lodge: The Tundra Buggy Lodge is set up similar to a large train, with two accommodation units that sleep 20 people each. The Tundra Buggy Lodge can accommodate up to 40 people (plus staff) at a time. Each unit is equipped with 10 upper and 10 lower berths (single beds). For privacy each berth has its own curtain, and each alcove has a thick sound-dampening curtain. Each berth also has its own window, four power outlets for charging your devices and a thermostat to adjust the temperature. Each accommodation unit is has three bathrooms, two of which are equipped with showers. This means up to 40 guests will be sharing six bathrooms. Guests are required to bring their own toiletries and hairdryers if required.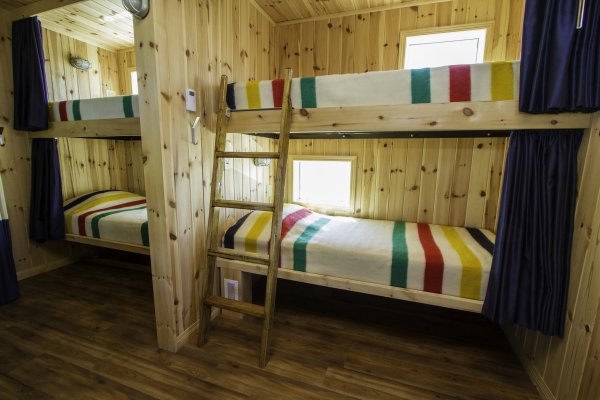 Photo: ©Eric Lindberg
4. Access to Polar Bears International's scientists and researchers
Hotel: Each of our Churchill Town and Tundra departures includes time with a Polar Bears International Field Ambassador on one Tundra Buggy excursion. Generally the PBI Field Ambassador will join the Tundra Buggy for the day and provide insights and interpretation into polar bear habitat and conservation efforts being made. Each of the Field Ambassadors volunteer two weeks of their time with PBI in Churchill and will be happy to share with guests their stories from their home zoos and experiences with polar bears research.
Tundra Buggy Lodge: Similar to the Churchill Town and Tundra guests, Tundra Buggy Lodge guests will have a visit from a PBI Field Ambassador during one of their Tundra Buggy excursions; however, in addition to this, guests will have time in the evening to watch presentations given by PBI scientists and researchers. The Tundra Buggy Lodge is the autumn home-base for PBI's field research, meaning that throughout polar bear season there is a constant stream of polar bear researchers from around the world staying at the lodge, and often they will give evening talks and answer any questions guests might have about the world's polar bears.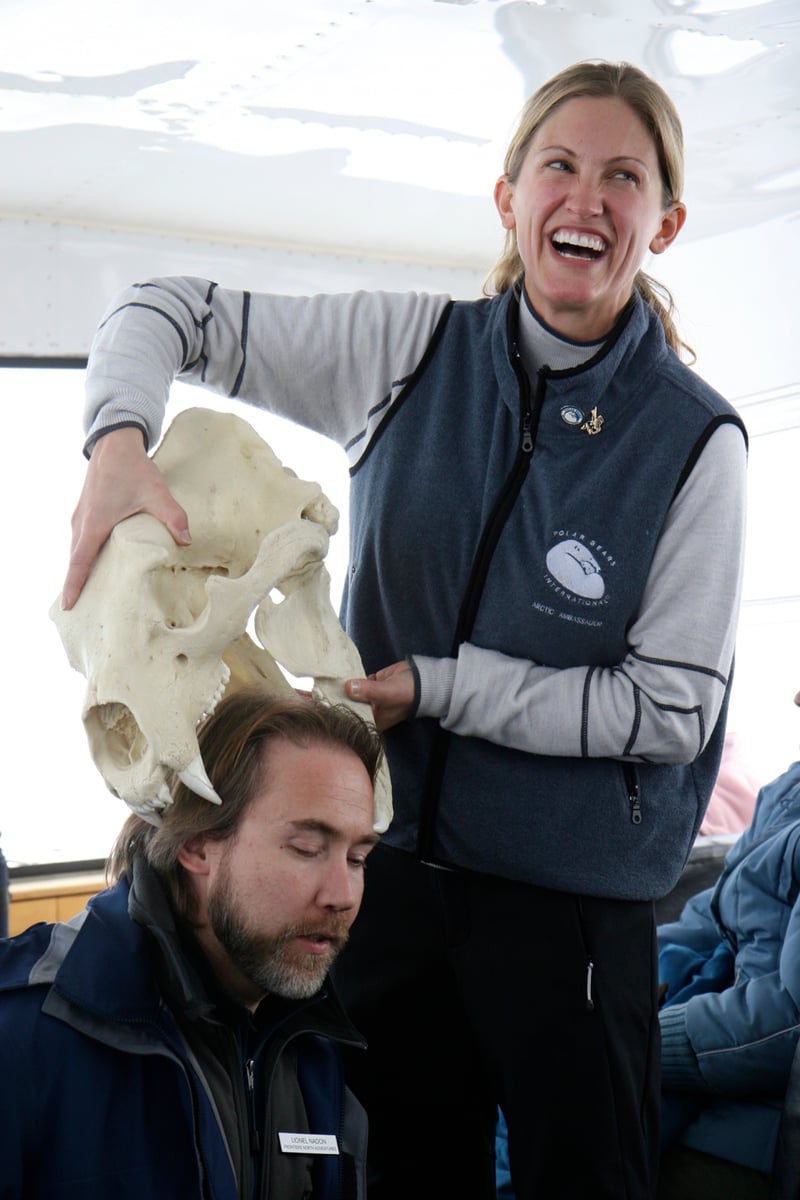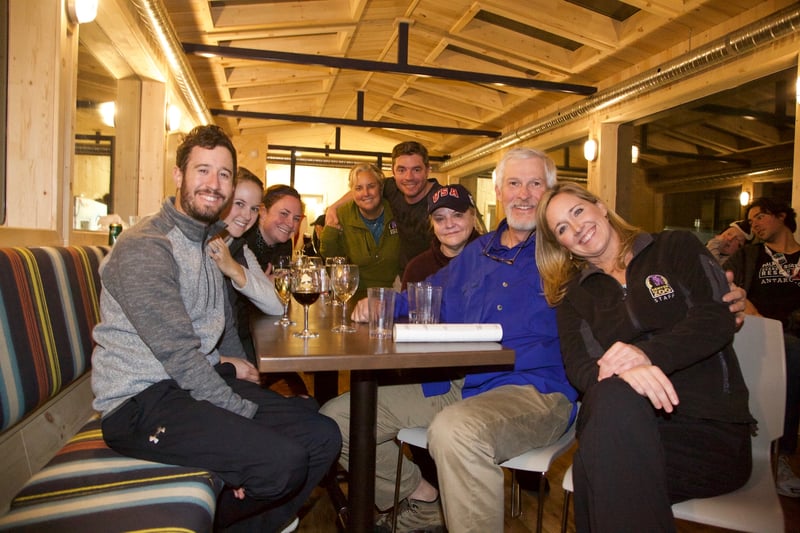 5. family-friendly considerations
Hotel: Churchill's hotel rooms are family-friendly and welcoming to all types of families. Staying in town gives more flexibility to ensure that each family's specific needs are met - whether that means a private space for some much needed downtime or the opportunity to blow off some steam with a visit to the indoor playground at the Town Complex. A hotel-based tour allows families more flexibility to keep the routine that works for them.
Tundra Buggy Lodge: In our experience, families who are interested in participating in our Tundra Buggy Lodge-based tours are usually seasoned travellers with older children (12+). The days are often longer and there is not a lot of space for kids to stretch their legs and be kids. The accommodation units are made up of upper and lower berths with privacy curtains and no safety rails, so are not suitable for a young child who might be interested in exploring while others sleep.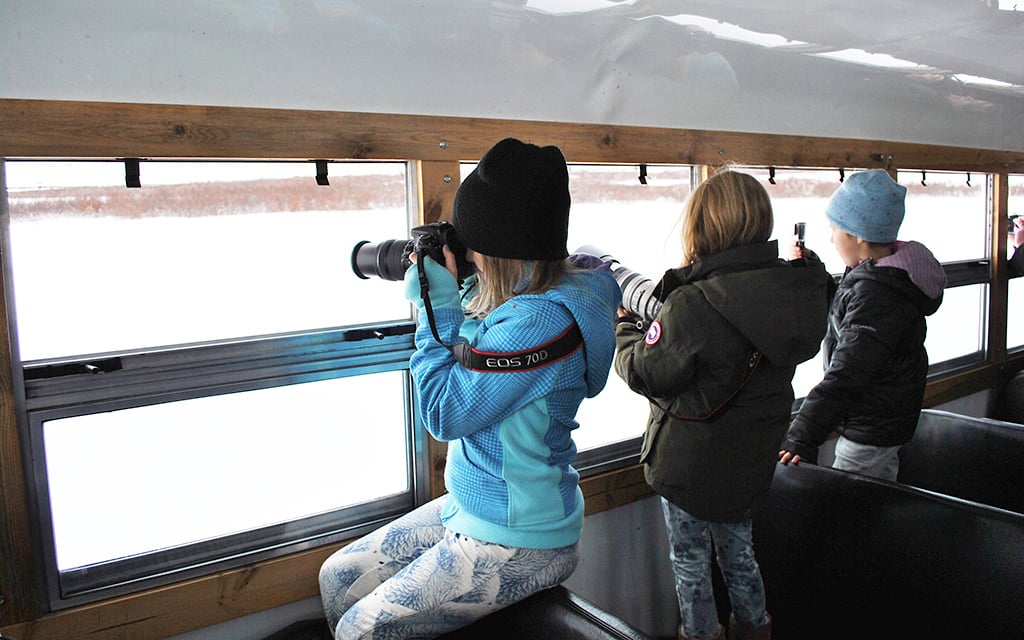 Photo: ©Brandi Hayberg
Although there are some differences, both the Churchill Town and Tundra Experience and the Tundra Buggy Lodge offer plenty of time on the tundra viewing wildlife.
Ready to Join the Adventure?