Road tripping to Churchill this summer? Here's how you can make the most of it!
You may have heard the exciting news: we've just released a self-drive adventure to Churchill! Perfect for independent travellers or families who love hitting the open road, Belugas, Bears and Blooms - Drive and VIA Rail offers a fully-planned itinerary, complete with accommodations and activities. We do all the planning, you just worry about getting there!
If you're taking the time to drive north, you might as well make the most of it and take in all the beautiful sites Manitoba has to offer. After all, who doesn't love the scenic route?
We recommend packing a tent or travelling with an RV to get the full Manitoba experience. Since this is a self-drive tour, you can add on as many stops as you want!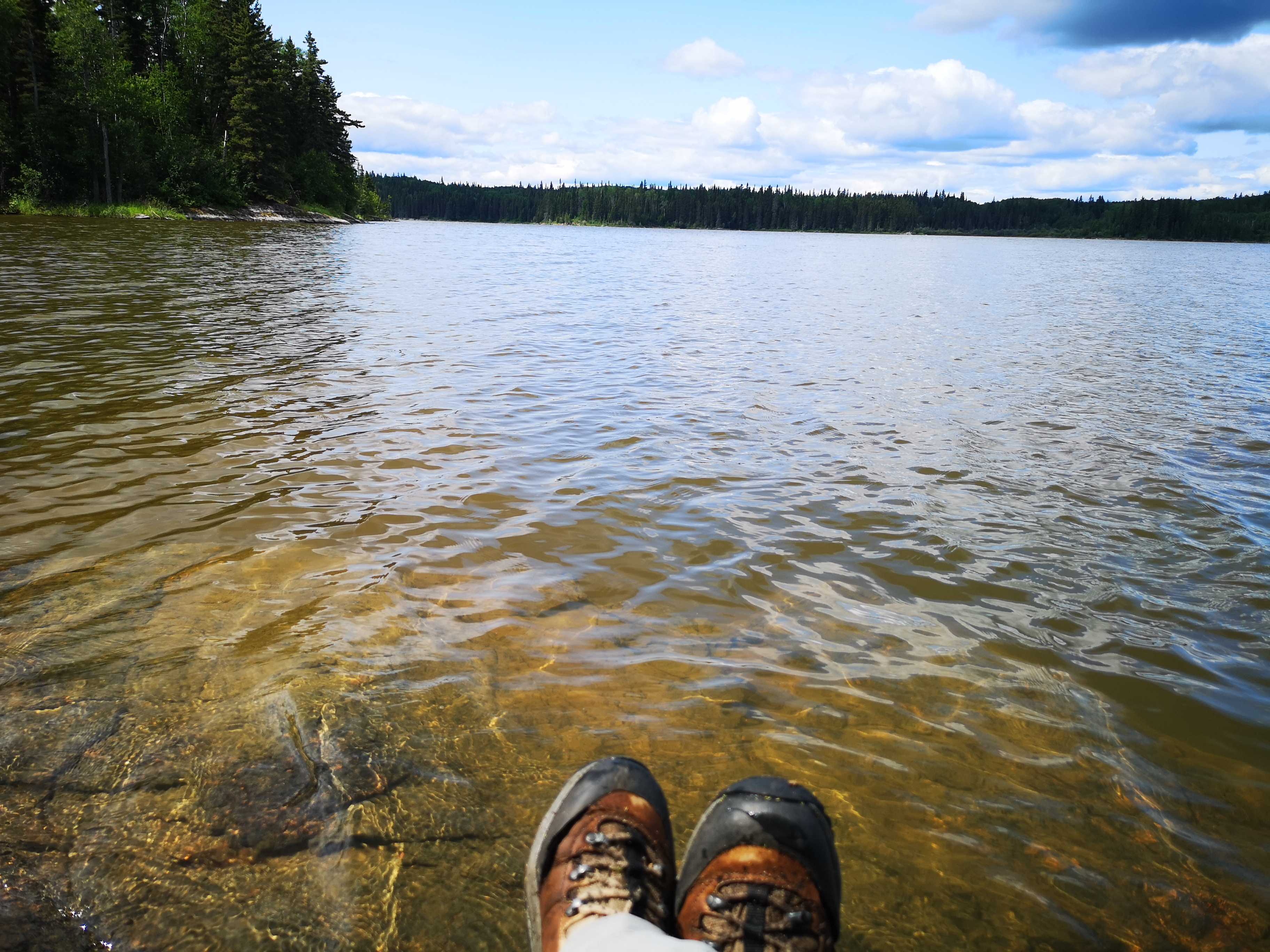 Pisew Falls Provincial Park © Marissa Zurba
If driving from Winnipeg, you will head north on Highway 6 to Thompson to catch the overnight train to Churchill (there are no roads to Churchill, meaning it's only accessible by train or plane!). Thompson is roughly a 760 km journey north of Winnipeg with many gorgeous sites along the way.
Here are our top 4 sites to see: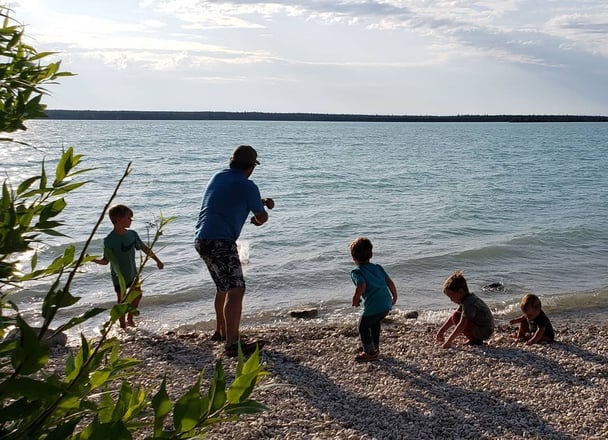 © Joanne Zarichanski
Sure to be on every Manitobans' bucket list, Little Limestone Lake is a turquoise gem reminiscent of the Caribbean. Located 450 km north of Winnipeg (about 5 hours), just off of Highway 6, it's a perfect place to stop for a photo, a picnic lunch or a refreshing swim! Did you know Little Limestone Lake is the world's largest example of a marl lake?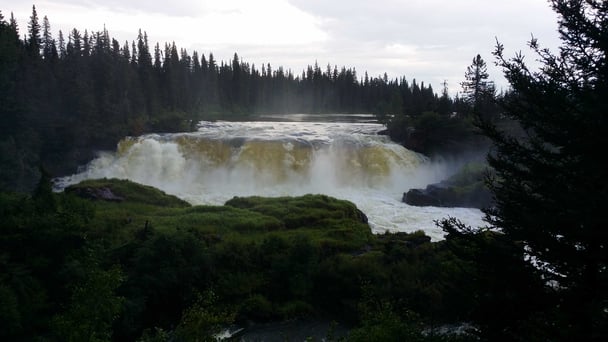 © Marissa Zurba
Located 74 km south of Thompson, just a quick turn east off of Highway 6, Pisew Falls is Manitoba's second-highest waterfall and the starting point of a hike to Kwasitchewan Falls, the province's highest waterfall! Backcountry campsites at the far end of the loop trail allow you to rest overnight*.
© Marissa Zurba
Located just 32 km south of Thompson, east of Highway 6, Paint Lake is known for its islands among the grand northern landscape. The waterways and rugged Precambrian Shield make this area a must-visit for outdoor adventurers. Two campgrounds provide basic and electrically serviced sites. Group campsites are also available*.
4. Thompson's wolf mural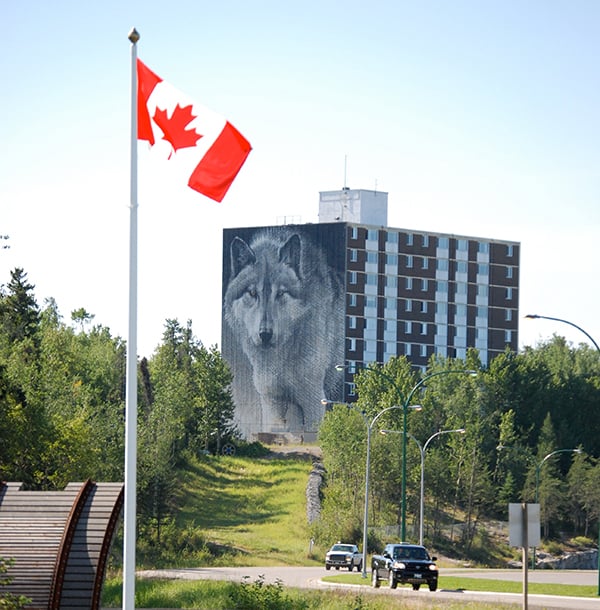 You've made it to Thompson! Upon arrival, you will almost immediately notice a large mural of a wolf painted by Robert Bateman—the perfect background for a photo! To get the best angle, we suggest walking or biking down Spirit Way, an award-winning pathway leading you past 16 remarkable points of interest including Canada's largest rockface sculpture.
Although it already feels like it's been one incredible adventure, you're just getting started! It's time to catch the overnight train to Churchill (economy class) to experience the awe-inspiring beluga whales, blooming tundra landscapes and the incredible history of this northern town.
Learn more about our Belugas, Bears and Blooms - Drive and VIA Rail adventure.
BELUGA WHALES BY THE THOUSANDS, COLOURFUL BLOOMS ERUPTING OVER THE TUNDRA, AND YOU, SOAKING UP THE NORTHERN SUN —HOW COULD SUMMER GET ANY BETTER
p.s. Want to see even more of manitoba?
On your way back home from Thompson, we recommend driving south on Highway 10! This road will lead you to The Pas, where you can stop in at beautiful Clearwater Lake, located just east off of Highway 10. Be sure to check out The Caves of Clearwater Lake—a short hike on the shores with a beautiful rocky landscape.
Next, no summer in Manitoba is complete without a visit to Riding Mountain National Park! Highway 10 takes you straight through this national park to the charming townsite of Wasagaming, where camping and lodging is available*. Take the time to research which hiking trail you'd like to take—there are a lot!
*Please check with individual parks and campgrounds for COVID-safe guidelines and which services and amenities are available.
Header image © Marissa Zurba