Just over a year ago, we at Frontiers North Adventures announced our decision to rid our logo of colonial themes. That decision and the thought that went into it are detailed here. During that time our team has continued on our Indigenous Reconciliation journey, learning along the way. This action that we announce today is another step on our journey, not an end point.
Since developing that original logo in the early 2000s, our company has continued to evolve in order to meet the changing expectations of guests that consider travelling to our destinations. Twenty years ago our destination and our operation were very utilitarian. We used to rationalize the 'rustic' experience at our Tundra Buggy Lodge, for example, by telling ourselves that guests travelled with us to lock their gaze with wild polar bears, not for a five star hospitality experience.
Well, times change. A number of years ago we recognized that the expectations of the guests that arrive in Churchill today are much different than they were in the 1990s: less wildly eccentric and now more leisure oriented. So, for example, from between 2010 and 2017 we completely rebuilt our Tundra Buggy Lodge to meet and exceed these heightened guest expectations.
This past year when we dug into the values of our company, how we have evolved and the characteristics we wanted to retain in our visual identity, we identified the following characteristics to be most important: the resilience required to thrive in the harsh northern environment; the kindness that we strive to exemplify everyday; and that above all that We Are Hosts. We also recognized that we wanted to move away from the romance of old European, arctic explorers of the past, towards a more youthful, ungendered view of the future, and the opportunity to better incorporate themes of warmth, inclusivity and community into our logo.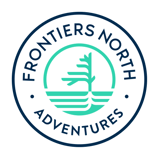 The tree depicted in our new logo is intended to resemble a white spruce krummholz formation (i.e. a flag tree) commonly found along drier coastal areas near Churchill. These trees are subject to strong prevailing northwest winds, which over time essentially sandblast (or in this case ice-blast) the branches from one side of the tree.
These trees are resilient to the harsh, Canadian subarctic climate and tend to have shared root systems with neighbouring trees allowing them to flourish.
The roots of the flag tree in our new logo are intended to represent inclusivity and the stakeholders and rights-holders we consider in our business. Our guests, yes. And also our communities, the environment, our staff and Indigenous perspectives. During the development of this logo we engaged with Indigenous people from Churchill that are members of the Indigenous Knowledge Keepers requesting their feedback and input.
It's been a long time since our learnings as a company have been pulling us away from the individualistic and colonial characteristics that informed the development of our old logo, and today we are excited to share this next step in our journey.
John Gunter
President and CEO
Frontiers North Adventures