How far would you travel for the ultimate foodie adventure? How about 58° North latitude in the canadian subarctic?
The frigid wind rushed over my cheeks as I stepped off the plane. The excitement in me grew as the subarctic air swirled between the terminal building and myself. I had been waiting my entire life to be able to experience this feeling and to step foot in one of Canada's most remote destinations, Churchill, Manitoba to experience the ultimate foodie adventure at Dan's Diner.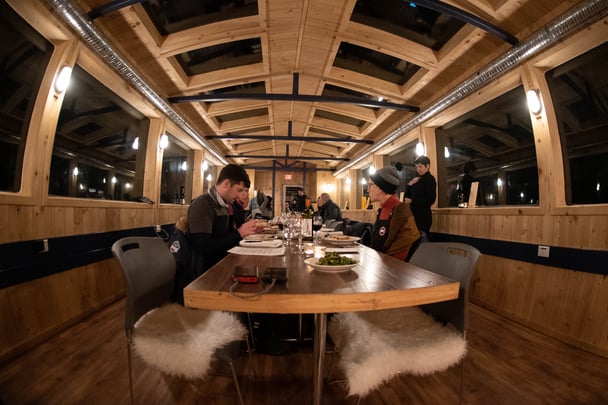 Image © Abby Matheson
After a quick ride to town, we made our way to the Tundra Inn. There are only a few places to stay in town and the location and quaint charm of this place can't be beat.
We dropped our bags to explore the town of Churchill. We were told that February/March is considered winter and that most if not all bears would be on the sea ice hunting but to still be aware of our surroundings. I made sure to grab my toque before heading outside on foot. Even as a Manitoban who came dressed for the cold, Churchill in March is a certain level of cold that is harder to describe.
It was nearing sunset as we walked the short distance to Frontiers North's boutique store, Fifty Eight North. It's the cutest gift shop where I quickly collected some amazing postcards, interesting jewelry and local prints.
As more people filled the store we heard the low rumble of the Tundra Buggy® roll up. Excitement and eager anticipation was in the air as we quickly climbed on board and met our driver, Luke. After some short rules we set off on our journey over the frozen Churchill River.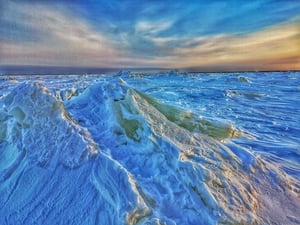 The sprawling landscape as we traversed over and around the ice hummocks; the bite in the air; the coziness inside the Tundra Buggy and the sun sinking below the tundra on the horizon– made for a picture-perfect memory I won't soon forget.
Image © Luke Johnson
As the orange and pink glow of the sunset cast its final moments of light over the frozen landscape with glimpses of the boreal forest in the distance, it suddenly came into view! We were approaching Dan's Diner, so far one of the most unique foodie experiences of my life and I hadn't even tried the food yet.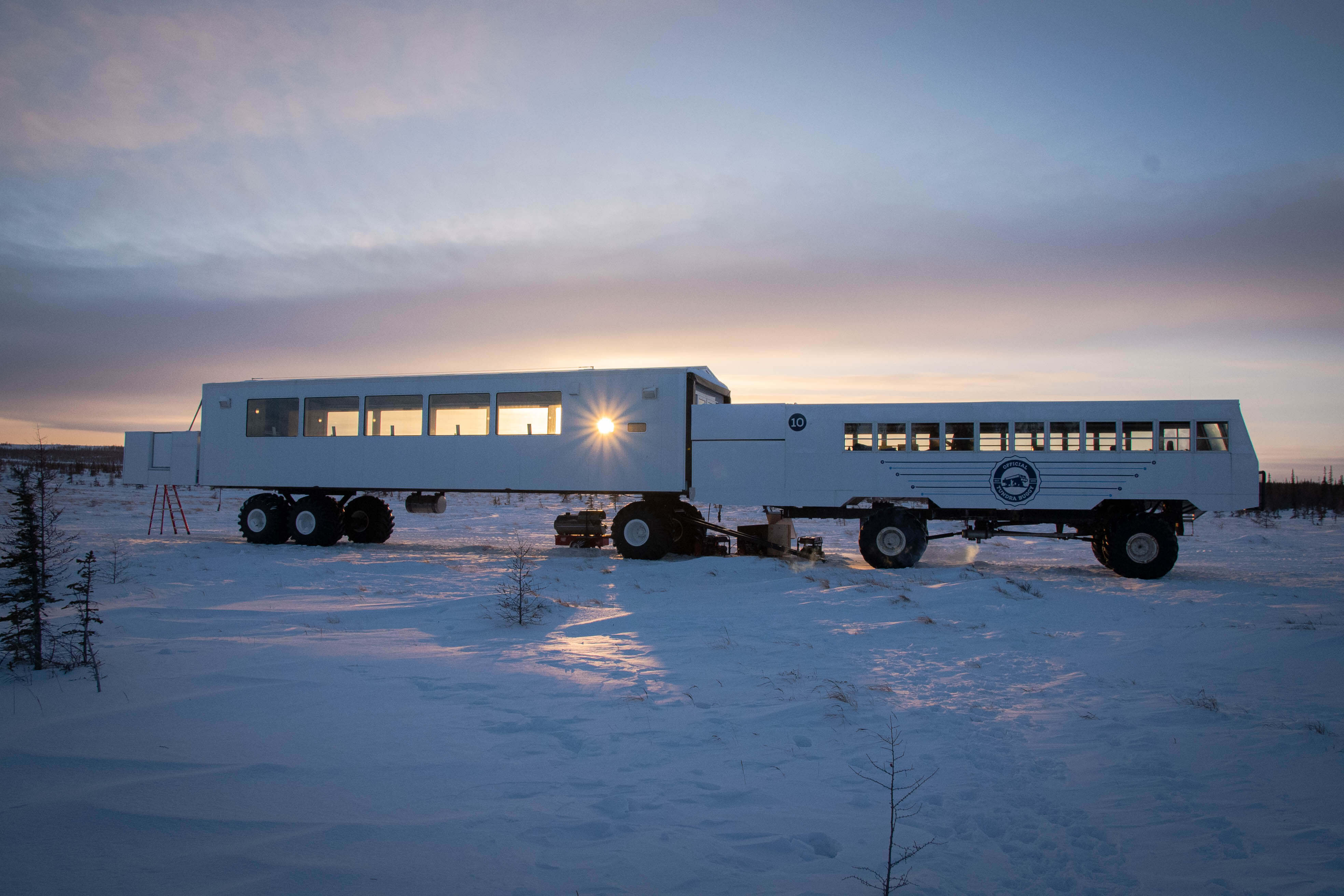 Image © Abby Matheson
As Luke backed our Tundra Buggy up so we could enter Dan's Diner, Frontiers North staff and Chef Jared came to greet us. The energy in the room was electric; everyone was so excited to be in what felt like the middle of nowhere about to feast on some locally inspired cuisine as darkness fell upon us.
We were seated at a communal table which helped everyone get to know each other as I chatted with locals and people from around the world. It was amazing to meet people who enjoy good food & wine and great company as much as I do.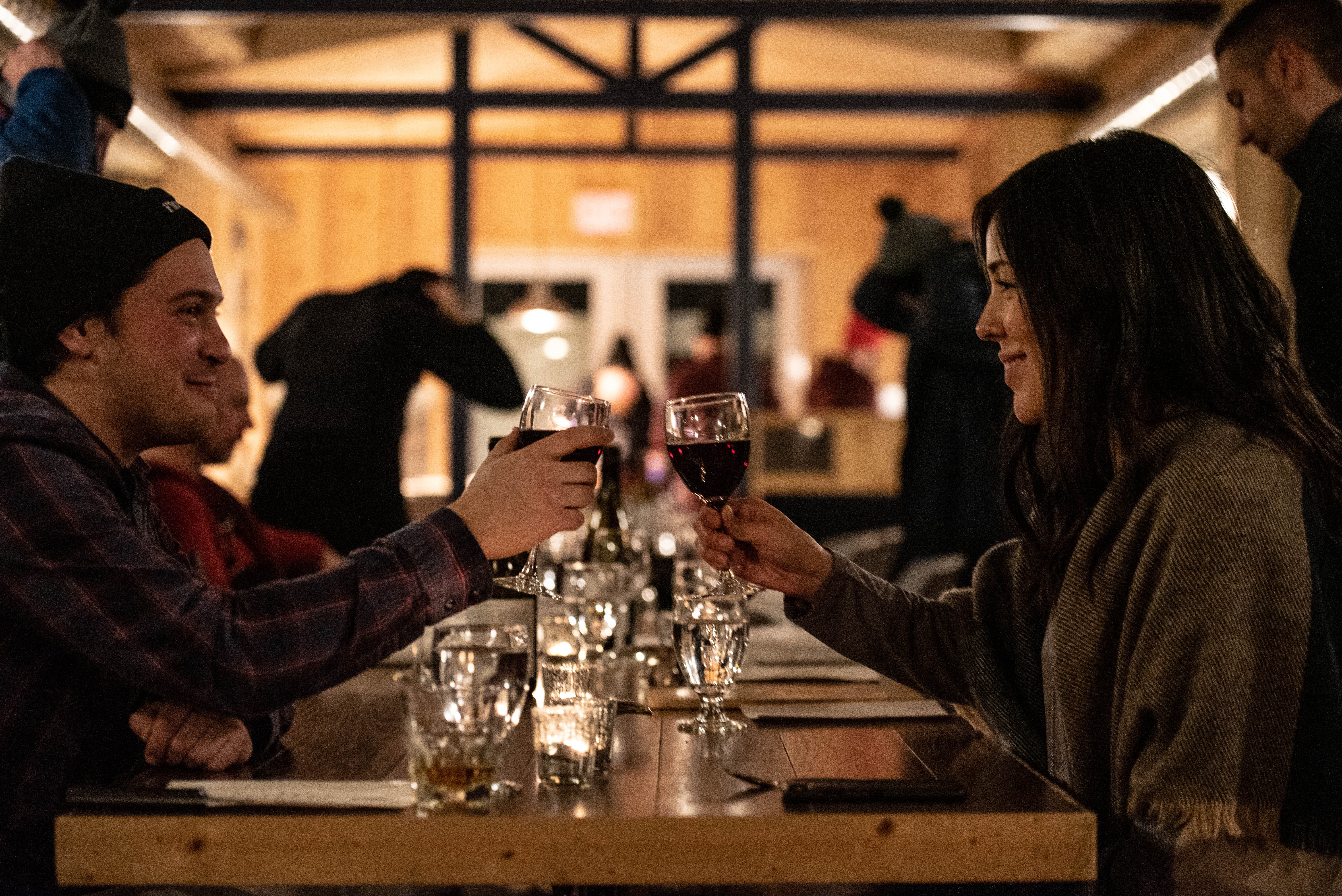 Image © Abby Matheson
We were told the menu can differ each evening based on availability of certain products (keep in mind, we are in a place that can only be accessed by train or plane on the edge of the frozen Hudson Bay).
As the first meal was served, we were informed the Rocket Greens (named for the former Churchill rocket testing facility where the Churchill Northern Studies Centre is located) were actually grown locally in a hydroponic shipping container called the Growcer. I couldn't believe what I was eating and how fresh it tasted. What an excellent way for the people of the North to be able to sustain themselves.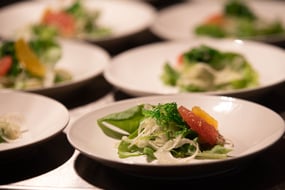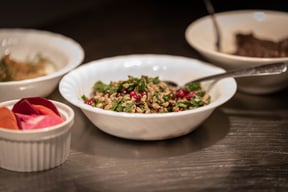 Images © Abby Matheson
As we continued to sample the delectable pairings of local greens with other vegetables found around Manitoba, we were invited to come stand around the fire outside. As we headed outside, we sampled some Glenfiddich Scotch learning that in 1905, they made their first trade agreements with North America to ship their product from Scotland to North America and it first landed at the Port of Churchill, Manitoba. Churchill was an important shipping port for the William Grant family, it represented moving product to other parts of the world.
*This portion of the evening may differ from year to year.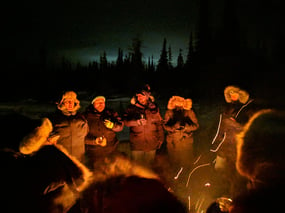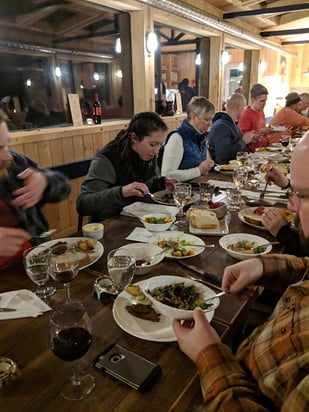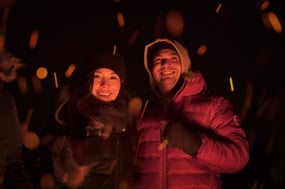 We headed back inside to escape the -35°C temperatures for a moment and to our surprise, found more food being served. Sharing family-styled portions with homemade bread and fireweed jelly, we devoured every last bite.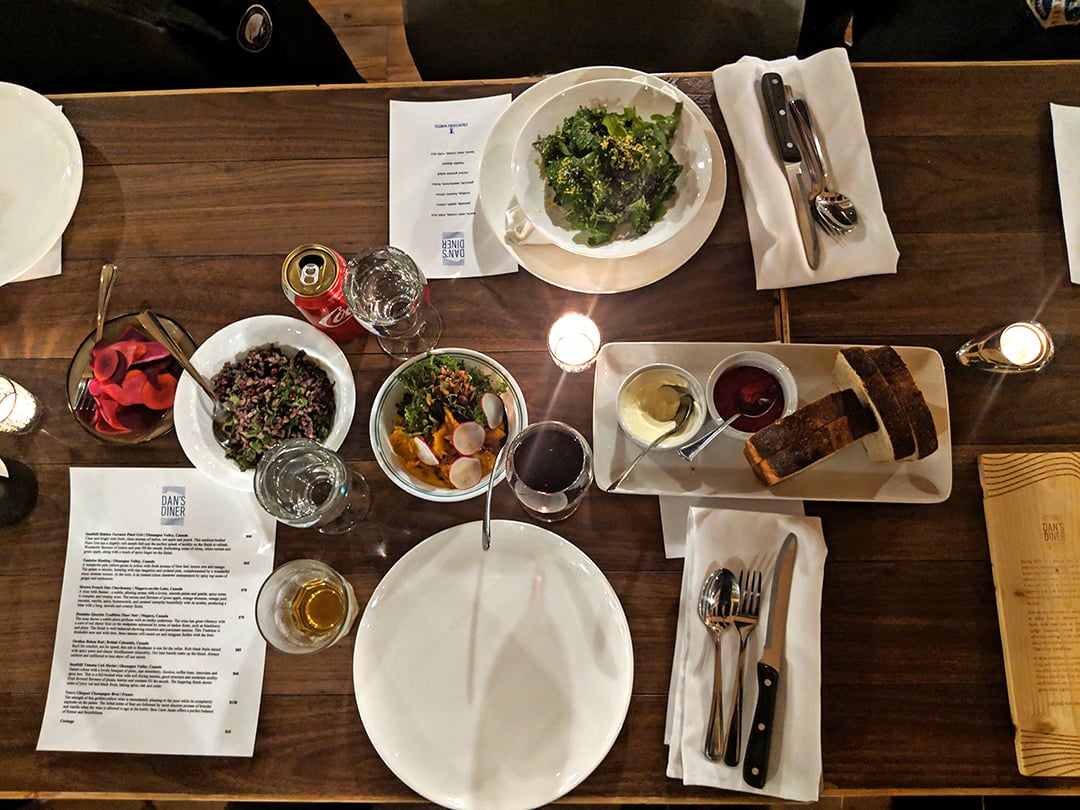 Just as we finished dessert our driver pointed out that we should head back outside as the sky was beginning to change. As we scrambled to grab our cameras and all of our layers, we could see those vibrant ribbons of purple and green starting to cascade over the skylights and peek through the panoramic windows.
With full bellies full of decadent food and delicious wine we waddled out in our gear to the tundra. Stepping foot into the darkness feeling like you could be at the edge of the world- Mother Nature basically told us to 'take a seat' and enjoy her light show. I set up my tripod and couldn't help but stand in absolute awe as the northern lights engulfed the night sky.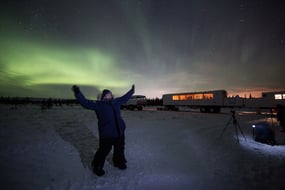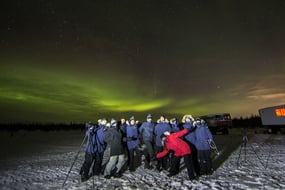 Images © Mike Gere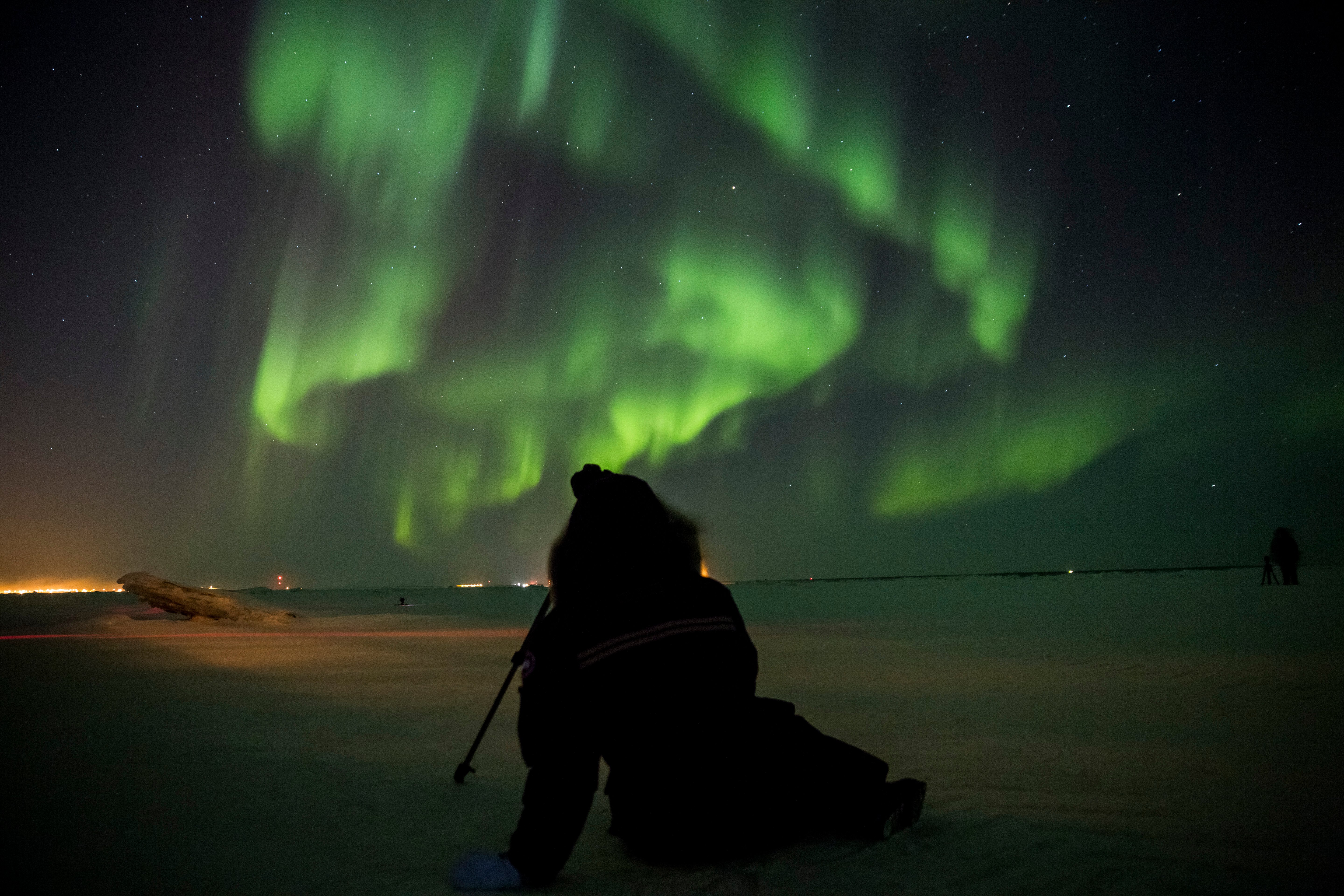 Image © Handcraft
I stood outside for the whole evening and could barely feel the cold. I could not get over the splendour of one of the world's natural wonders, the aurora borealis.
My photos help take me back to that evening when I sat in the snow, leaned back and gazed into the vast skyscape loaded with stars. I can only describe it as feeling extremely grateful for the chance to participate in this adventure. Anyone looking for a truly authentic Canadian experience with an affinity for adventure and food should add this to their bucket list.
Dan's Diner has a short run; this pop-up restaurant appears once a year and will be available this February 28-March 8, 2020 and again in 2021.
Are you ready for the ultimate foodie adventure? There are three ways to take part in this exceptional culinary experience:
For someone looking for the entire northern lights experience, every Northern Lights and Winter Nights tour includes one night at Dan's Diner.
If you are already in Churchill or have made it there on your own, there are

individual tickets.
Inquire about reserving an entire seating for your group.
Written by: Abby Matheson