Capturing the northern lights with your smartphone has never been so easy and the results have never been so good!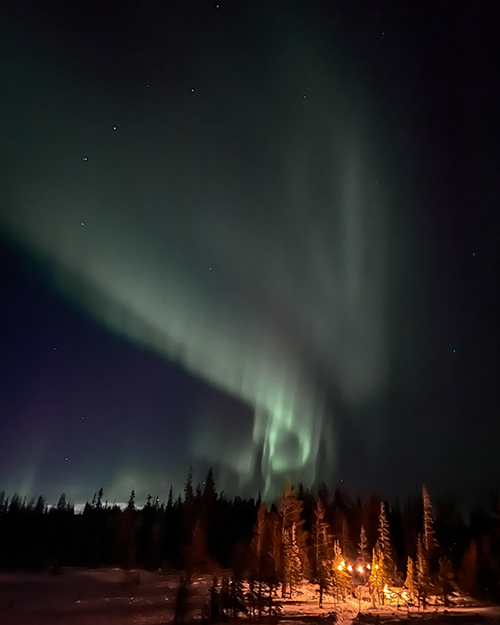 Handheld captures on an iPhone13 | Image ©Nicole Batchelor
If you were traveling in the early 2000's or anytime prior a camera was a necessity if you wanted to come home with photographic memories. Fast forward 15 years and we saw a huge shift in mobile phone pictures, daytime photos were great, but the low light and night time photos left something to be desired. Continue on another few years to the 2020's and the photos and videos that you can capture on a phone are mind blowing!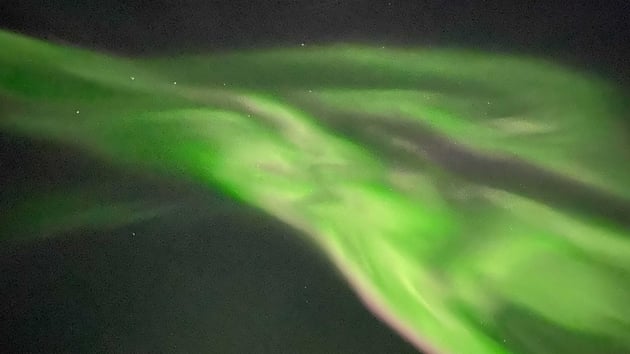 A handheld capture on a iphone11 | Image ©Joe Stover
Ten years ago I would have never dreamt of using just my cell phone for photography while traveling. But, here we are in 2022 and my trusty point and shoot gets left behind at home more often these days. I am not alone in ditching the camera, we have seen a lot of people traveling sans-camera, relying solely on their mobile phone and why not? The proof is in the pudding with the images people are taking. If, like me, you have been thinking about using your phone for your next big adventure, here are a few tips to help you get the best photos you can! Once you've captured a great image be sure to submit it to our photo contest for a chance to win a travel voucher towards your next Frontiers North adventure.
But first, let's make sure we are all on the same page.
Planning to print your photos ?
If you're nodding your head, you should be warned that you won't get the same quality prints from a cell phone image as you will from a camera, you might find them quite a bit darker when printed, compared to your phone screen. If you are planning to print a larger version of a favourite image you will want to opt for a proper camera, smartphone camera technology just isn't quite up the task of delivering large sized prints.
Digital sharer?
Do you plan on emailing photos to your family and friends, posting them on your social media accounts and reliving your adventures through a digital photo album on your ipad? If you said yes, then ditching the camera in favour of a mobile phone might be in your future.
Now that you've committed to using your phone, let's talk about how you can get the most out of your phone. Starting with the phone itself.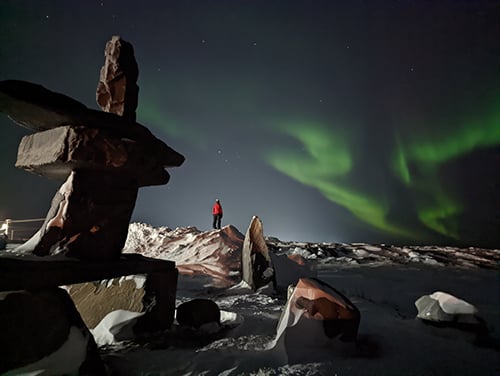 Handheld captures on a Google Pixel 6 | Image ©Emilie St. Pierre
Phones to Consider
It is a good bet that if you purchased a smartphone in 2020 onwards your phone will have a decent chance of being capable of capturing the aurora, but as all phones are not created equally, the following is a list of phones where we have seen great aurorae photos captured.
Google Pixel 6: excellent captures
iPhone 13: excellent captures
Samsung GalaxyS22: excellent captures
Samsung GalaxyS21: excellent captures
iPhone 12: excellent captures
Google Pixel 5: great captures
iPhone 11: great captures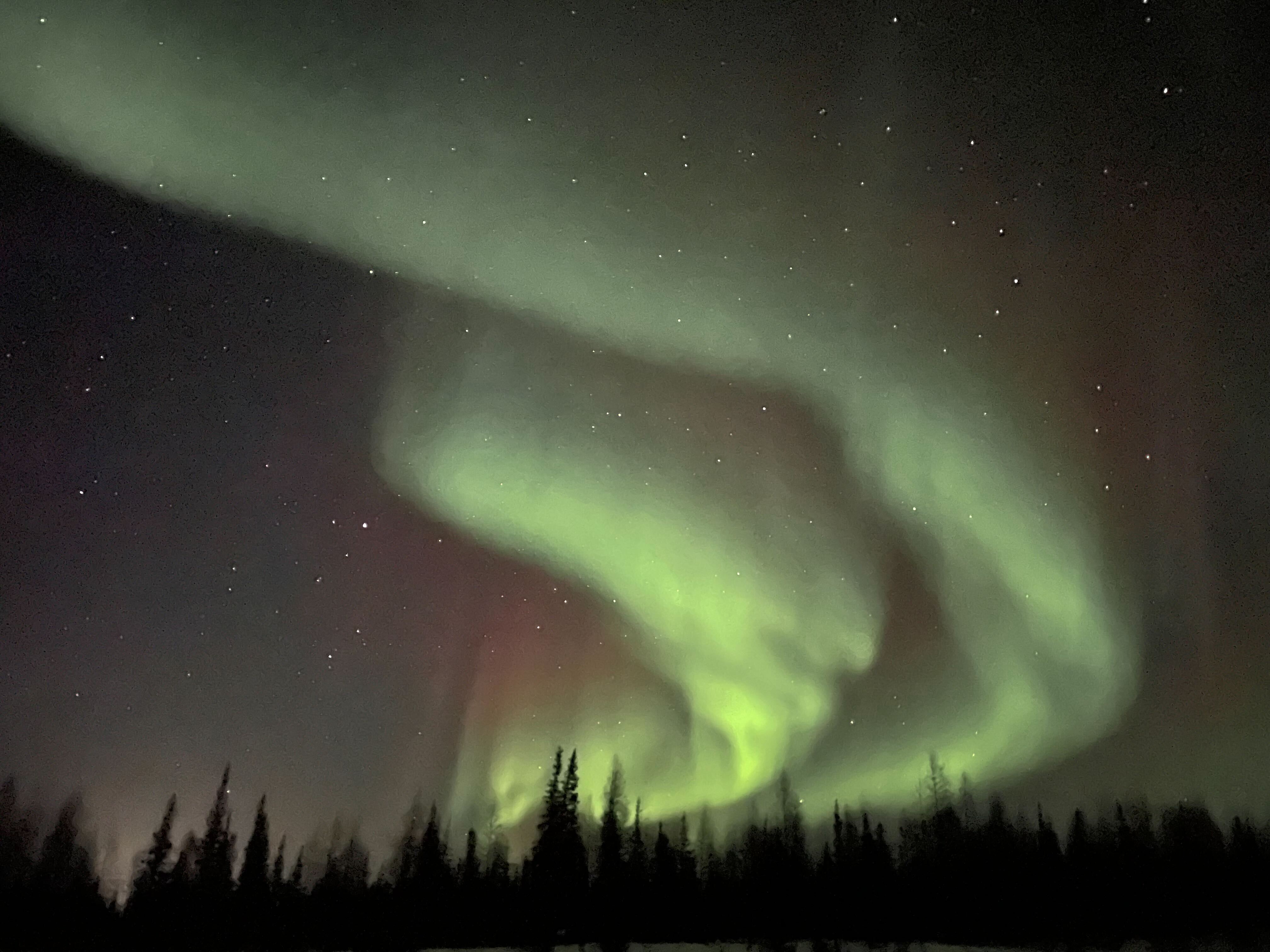 A handheld capture on a iphone12 mini | Image ©Haley Magwood
Getting a great shot
Having a steady camera is the key to ensuring you have a crisp picture. Take a look at the two images below. Both were handheld images, but one has a lot more of a visible shake to it.
Use the white slider to slide back and forth to compare two similar images. Look closely at the trees in the bottom right corner as well as the foreground, even a slight shake can have blurry results.
Tripod vs Handheld imagery | Image ©Mike Gere
How to reduce shake
Tripod and Phone Holder
You can find some reasonably priced tripods that are light and don't take up much space in your luggage. The Gorillapod is a great option and typically available in most stores.
Don't arrive at your destination with a tripod and no way to get your phone on the tripod. Ideally you will have a phone holder that allows you to tighten the holder using a screw function. The phone holders with springs tend to be a bit less reliable, but if you do end up with a spring loaded phone holder, a simple elastic band can help to secure it and make it a bit more sturdy.
When using the phone holder, be mindful not to cover your camera lens and try not to put it on top of any of the buttons on the side of your phone.
In a pinch, if you have no tripod or phone holder try and find a nice flat surface to lie your phone on. Rocks and branches can let you prop up your phone, while keeping it steady. I have even put my phone in a mug which worked surprisingly well.
Self Timer or Voice Activation
Even on a tripod your hand will shake the camera a bit when you take a picture. There are two solutions to prevent this and they both exist on your phone. The first is, voice activation controls. Once your camera is open you can simply ask Siri (iphone,) Bixby (Samsung,) or Google to take a photo. If voice prompts don't work for you, use the self-timer on your phone, a 2-3 second delay should be more than enough time.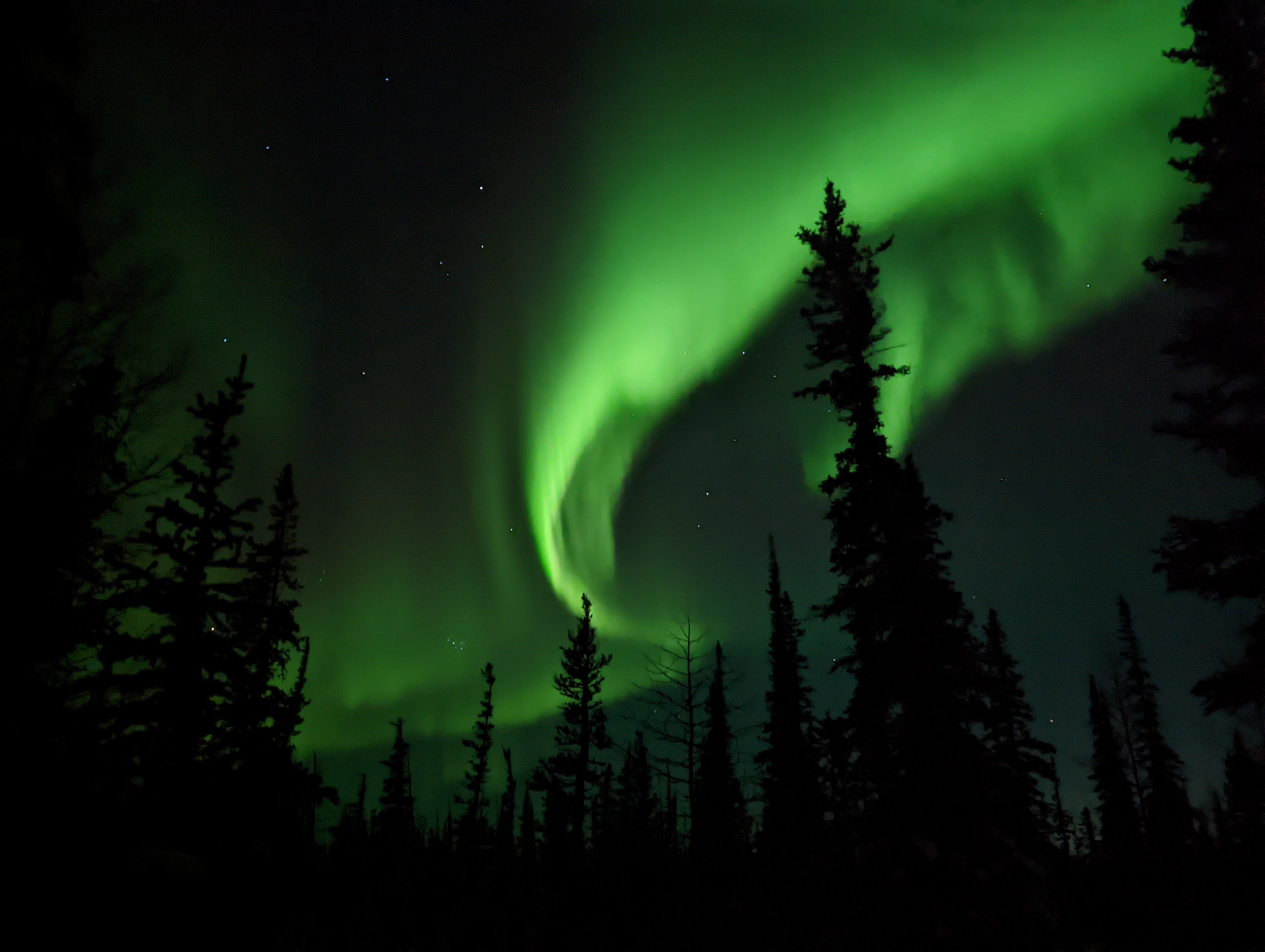 Handheld capture on a Google Pixel 6 | Image ©Emilie St. Pierre
Mode
The images captured in this blog all used the night mode setting. Most phones in this article offer a form of night mode, but in the event your phone does not have this, try using the cloudy setting.
Quality
Often phones will not save your images at maximum quality to help preserve space. Turn the image quality to maximum to get the most out of your photos.
Location
If you can have something in the foreground to give the viewer context it can really improve your images. Try finding trees, a building with little to no light or an iconic object, like Churchill's beachside inukshuk to fill in the bottom of your frame. It will give the viewer perspective to how large and beautiful the northern lights displays can be.
Focus
Nothing can be worse than setting up your phone on a tripod, making sure you have something great in the foreground, arrange your self timer and still getting a blurry photo! Make sure you tap on your screen to focus on a point, to ensure the image is a crisp, we recommend trying to use a star or something in the distance.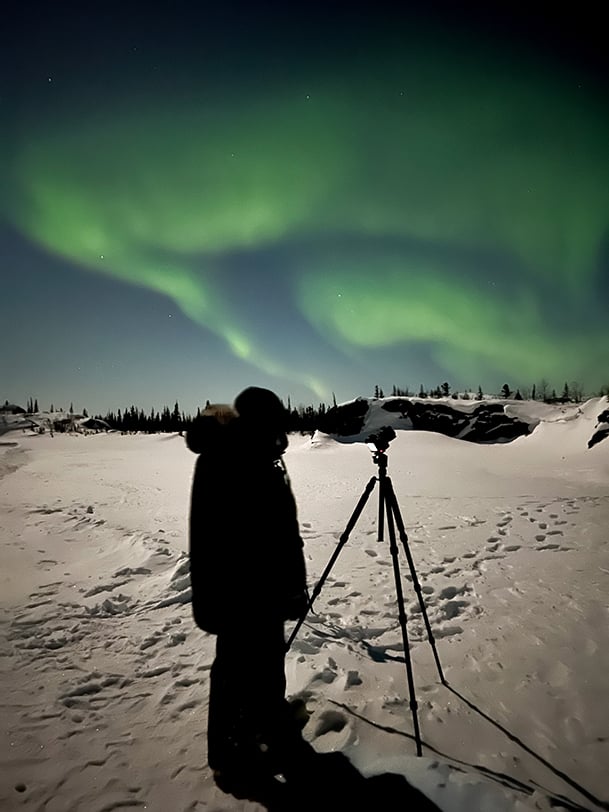 Handheld captures on an iPhone13 | Image ©Nicole Batchelor
Got the photo bug?
This is an introductory blog into taking photos using your phone, but if you're looking to learn a bit more about camera photography, including manual settings check out our blog: 5 Tips to Take Northern Lights Photos Like a Pro.
If you're interested in learning more about the northern lights join our 5-part e-series and click below, if you're ready to learn more about the trips we offer.
Header Image ©Emilie St. Pierre