Wildlife in Churchill
Located in Canada's North, Churchill is a spectacular place for wildlife viewing with unrivalled polar bear and beluga whale viewing on the planet. It is the perfect place for the shutterbug or wildlife enthusiast to embark on the adventure of a lifetime.
If you are considering heading to Churchill in Autumn seeking wildlife take a look at the species listed below to get an idea of what you might find and when. Much of Churchill's wildlife is seasonal, with specific times of year for viewing.
Check out our Wildlife of Churchill: Summer list as well!
Mammals
Polar Bear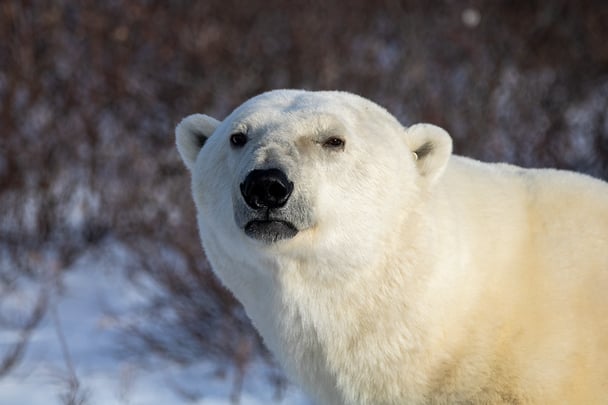 ©Alex Cupeiro
Sighting odds: High
Churchill is known as the world's polar bear capital for a reason, and autumn is the best time of year to come and see polar bears roaming their natural habitat. Each autumn, polar bears migrate back to the Churchill area to wait for the sea ice to form along the Hudson Bay, allowing guests the best polar bear viewing in the world. The polar bears that frequent the Churchill area are part of the Western Hudson Bay population, there are 19 different populations across the arctic. From a Tundra Buggy, guests have the opportunity to safely and intimately observe the world's largest land predator as the polar bears roam the tundra.
Red Fox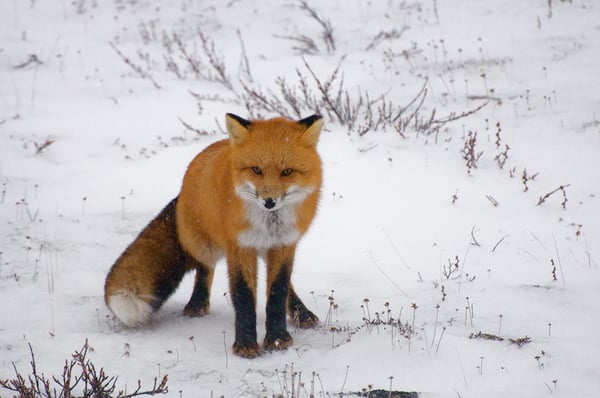 ©JP McCarthy
Sighting Odds: High
The red fox is a year-round resident of the Churchill Wildlife Management Area (CWMA) and are frequently observed by our guests during their Tundra Buggy adventures. These curious canines are quick, graceful and often very photogenic. There are three different colour morphs of red foxes found in the CWMA: red morph (most common), silver and cross (rarest). Red fox populations have been increasing in the subarctic and they have been observed (in rare instances during our Tundra Buggy adventures) predating on arctic foxes.
Arctic Fox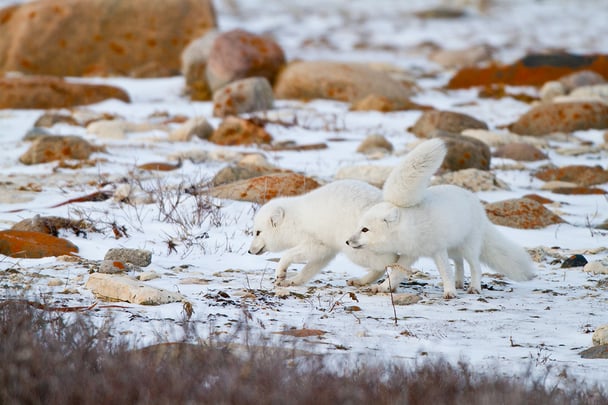 ©Richard Day
Sighting Odds: Medium to High depending on cycle
Arctic fox populations go through cycles that will determine the odds of spotting one during a trip to Churchill. A year-round resident of the Churchill area, arctic foxes, are one of the smallest sub-arctic mammals (weighing the same as a house cat) to not hibernate during the harsh winter. Quick moving and almost always in motion, arctic foxes make for a fun photo subject when they make their appearance.
Arctic Hare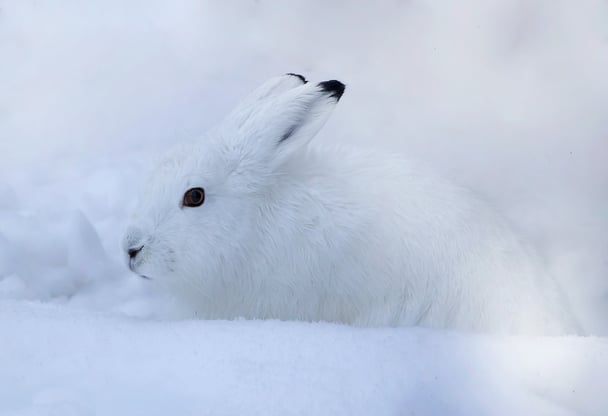 ©Johnny Chen
Frequency: High
Arctic hares frequent the subarctic tundra of the Churchill area at all times of the year. Their pelt colours change over the seasons to better camouflage with their environment. During autumn, arctic hares are usually well on their way to having entirely white coats that enable them to blend right in with the snowy landscape. Arctic hares are often spotted on Tundra Buggy adventures and are known to hide amongst the rocks at Halfway Point in the CWMA.
Moose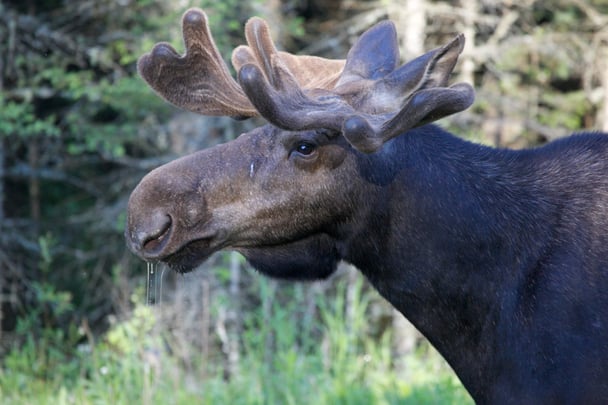 ©Frontiers North Adventures
Sighting Odds: Low
Moose are the largest ungulates to call the Churchill area home and spend the vast majority of their time in the boreal forest hidden amongst the trees. Though they are not uncommon in the area, these large animals are seldom spotted venturing out onto the tundra in the CWMA, where they can be spotted from a Tundra Buggy. The best way to view moose in Churchill would be to book a helicopter tour where you can fly over the boreal forest and spot them from above amongst the trees.
Wolverine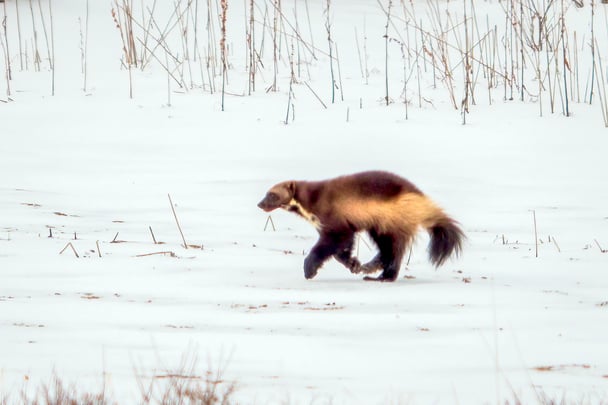 ©James Deng
Sighting Odds: Low
Wolverines have a reputation for a ferocious attitude and a strength that surpasses their size. People's sightings of wolverines are few and far between, with much still unknown about this elusive mammal. Wolverines are solitary and prefer to spend their time far away from the presence of humans. Though sightings of this animal are rare even for Churchill locals, wolverines have been spotted on a handful of occasions by guests on Tundra Buggy adventures.
Wolf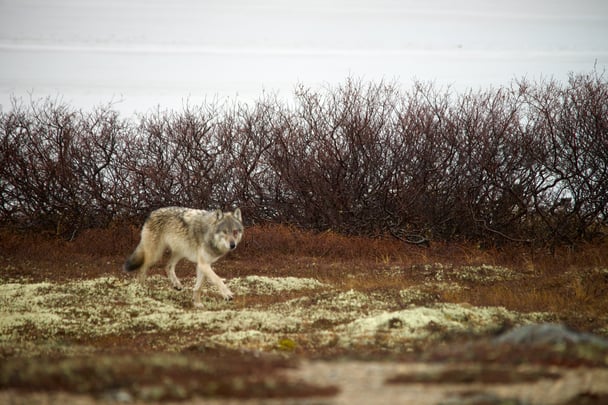 ©Lindsey Bell
Sighting Odds: Low
A small population of wolves is known to inhabit the area surrounding the town of Churchill. Though wolves are in the area, they are rarely spotted, preferring to stay away from humans. Though they are seldom spotted, wolves live in the area surrounding Churchill year-round. Recently in our 2022 autumn season wolves were spotted and photographed by some of our Tundra Buggy Lodge guests and staff as pictured above!
Collard Lemming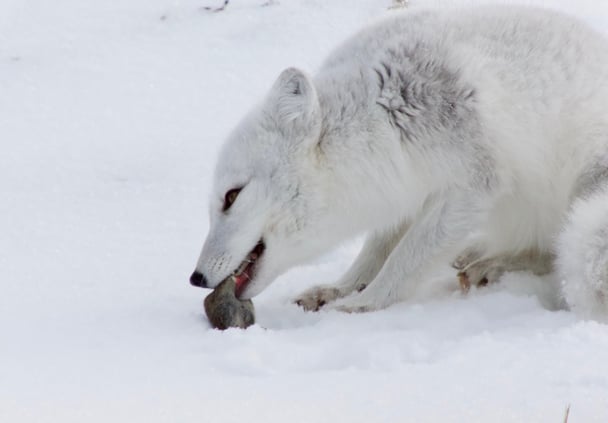 ©Jim Baldwin
Odds of sighting: Medium
Lemmings are a critical animal for the Churchill ecosystem as a primary part of many predators' diets in the area. Their population size is cyclical, and depending on the cycle point, they can be more common to see. Due to how tiny lemmings are, they can be hard to spot while viewing wildlife. Often when lemmings are spotted, they have been caught by a predator such as an arctic fox (photo above), snowy owl, gyrfalcon or even a polar bear.
Birds
Snowy Owl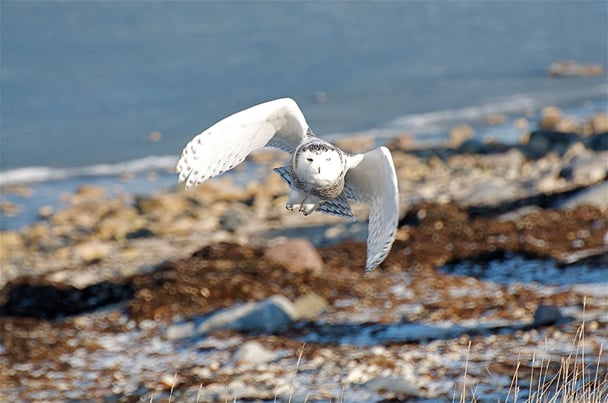 ©JP McCarthy
Sighting Odds: Medium to High (cyclical)
Snowy owls call the subarctic tundra of the Churchill area home year-round and can be spotted gliding through the sky elegantly or perched upon a fallen stump. Snowy owls are built for the cold environment of the subarctic with thick plumage, and they are the heaviest owl species in North America. These black and white-winged hunters have a cyclic population, meaning that many are spotted in some years, and at low points in the cycle, they are rarer to spot.
Common Raven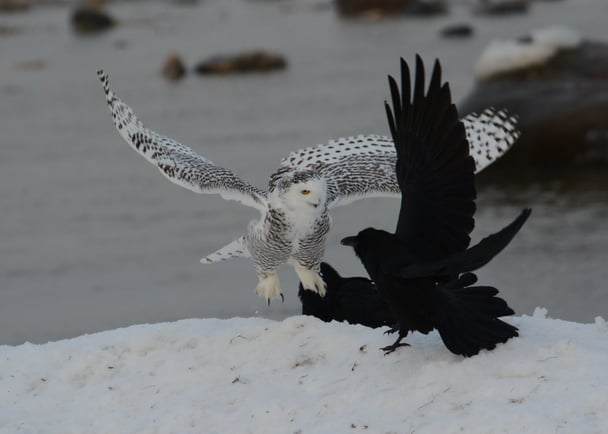 ©JP McCarthy
Sighting Odds: High
The croaking call and silhouette of a black raven silhouette against the sky is a common sight in Churchill. Raven's are often spotted right around the town of Churchill, never far from the presence of people. The curious nature of ravens combined with their high intellect always makes these birds a delight to watch and observe as they barrel roll through the sky or search for food sources. These massive birds, though often sticking close to the town of Churchill, can also be spotted in the CWMA. You may also spot them having a dispute with their enemies Snowy Owl's as pictured above.
Canada jay (Grey Jay)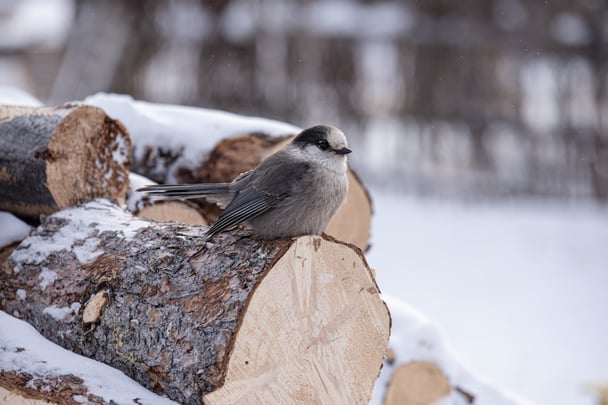 ©Abby Matheson
Sighting Odds: High
The Canada jay is a bird of many names, also known as the Grey Jay and Whiskey Jack. These playful birds call the Churchill area home year-round and are known for their inquisitive nature that often brings them right to guests' hands. There are a handful of Canada Jays at the Wapusk Adventures dog yard known to land on the outstretched hands of guests or even their heads, making for some fantastic photo opportunities.
GyrFalcon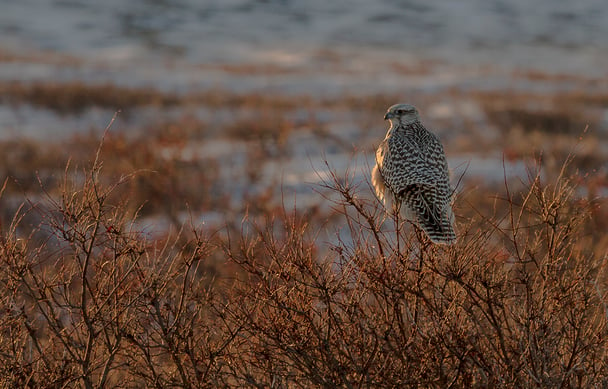 ©Simon Gee
Sighting Odds: Medium
Though the iconic gyrfalcon that often comes to mind when the species is mentioned is often nearly all-white, they come in various morphs, with grey being the most common in North America. It is possible to see white morphs, grey morphs, and dark brown morphs of gyrfalcon in the Churchill area. They are most likely to be spotted in the CWMA, where they are in search of ptarmigan, their favourite food.
Willow Ptarmigan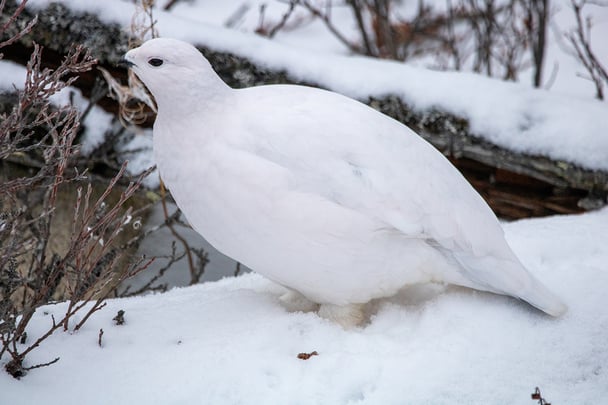 ©Alex Cupeiro
Sighting Odds: High
Willow ptarmigan are a common sight in the CWMA, and it can often feel like there are ptarmigan everywhere when a covey of them. Willow ptarmigan are hardy birds living in the subarctic environment year-round, where many birds can only survive during the summer. Ptarmigan are playful and social birds, and during the autumn, they start to gather together for the winter. They are masters of camouflage with seasonal plumage that helps them blend right into the tundra.
Rock Ptarmigan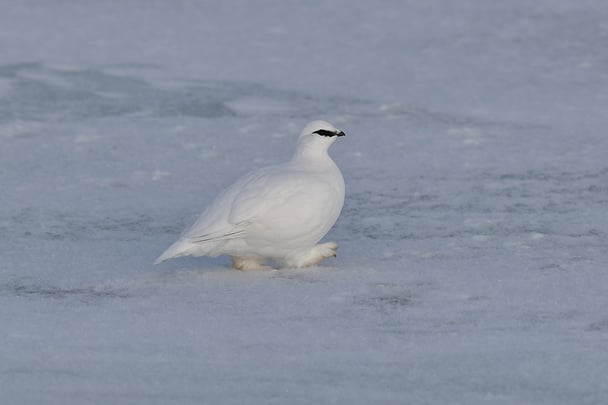 ©Hsin Chuan Wong
Sighting Odds: High
Telling the difference between rock ptarmigan and willow ptarmigan can be a difficult feat with the species' similarities. However, male rock ptarmigans have a black stripe in front of their eyes (pictured above) that can be used as one of the visual differences between a rock and willow ptarmigan. Breeding male rock ptarmigan also have a red patch (comb) over their eye. Rock ptarmigan plumage changes depending on the season. They are usually transitioning to their white plumage or already all white in autumn.
Snow Bunting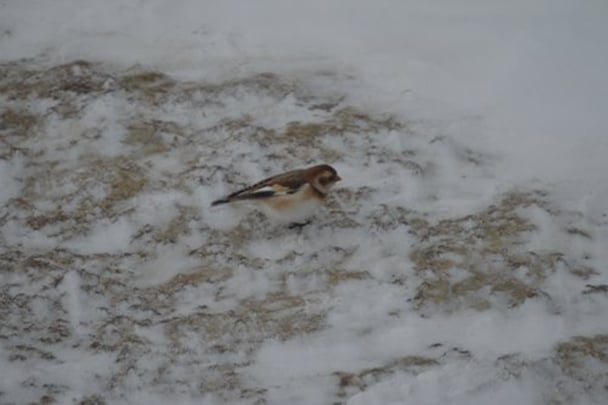 ©Alex Muller
Sighting Odds: Medium
Small and quick snow buntings are entertaining to watch as they move between willow bushes in the CWMA. These little birds are often spotted during the autumn season as they migrate through the area heading South. Though they are not uncommon, snow buntings can be tricky to get a good photo of due to their quick-moving nature and small size.
Short Eared owl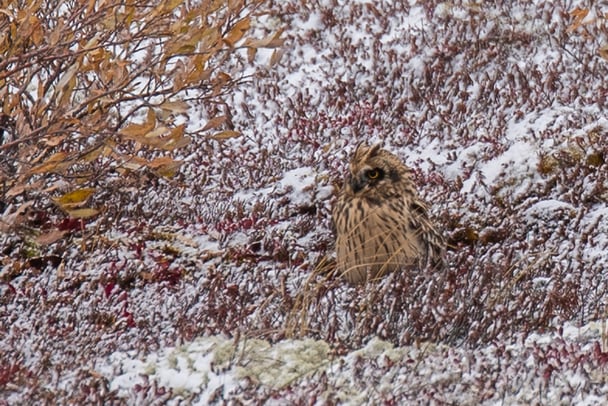 ©Abby Matheson
Sighting Odds: Low
Occasionally Short Eared Owls have been observed to hang out in the CWMA into autumn. In years that a short-eared owl has been spotted, they are often seen hanging around the site a few times. The short-eared owl pictured above was spotted multiple times throughout the 2020 autumn season. They are most likely to be observed perching and looking for lemmings and other small rodents that would make a tasty meal.
Other wildlife that could be spotted
Common Redpoll (Sighting Odds: Low)
Pine martin (Sighting Odds: Low)
Ringed Seal (Sighting Odds: Low)
Harbour Seal (Sighting Odds: Low)
Ermine/stoat (Sighting Odds: Low)
Lynx (Sighting Odds: Low)
Want to see subarctic wildlife?

Header Image: ©Alex Cupeiro