2022 was an exciting year up in Canada's North as visitors were able to return, including the long-awaited arrival of Barb to Churchill (learn more about her story below)! As travel returned in full force to the subarctic, mother nature was kind in welcoming visitors back with many nights of northern lights in the winter, roaming polar bears in the autumn and singing beluga whales in the summer.

Join us as we reflect on the past year and relive some of our most memorable moments. We wish a big thank you to all of our staff and partners who made the year a success and, of course, to our guests who joined us and allowed us to show them all the beauty of the subarctic.
Barb's Long Awaited Adventure
In 2020 when travel was restricted due to the global pandemic, we held a contest called Picture Yourself in Churchill, where a lucky winner would have their cardboard cutout explore Churchill until they could make their way to Churchill in person. Our lucky winner was Barb, who in the autumn of 2022, was able to make her long-awaited adventure.

Watch this video to join Barb on her adventure in the Polar Bear Capital of the World.
many Nights of Epic Northern Lights
2022 was a spectacular year for northern lights in Churchill, with every guest on our trips in 2022 having great viewing opportunities. Many evenings throughout the 2022 northern lights season had high solar activity levels producing stunning aurora borealis displays that danced across the night sky. We are currently headed towards a peak in solar activity in 2025, meaning that the next few years are expected to have high levels of solar activity! The image below was taken in 2022 at Dan's Diner.
Checkout our northern lights trips and join us to witness the aurora borealis.
© Frontiers North Adventures
Family Friendly Certified
We are excited to share that in 2022 the Family Travel Association launched a new Family Friendly Supplier Certification Program and Frontiers North Adventures is a charter member of this new program!
We have two trips, Family Learning Adventure: Polar Bears and Family Learning Adventure Beluga Whales, where families can join us on a journey designed for family travel. Designed for families by families, these trips have custom-designed itineraries that include extra snacks, bathroom breaks, free time, and everything to make travelling as a family easier.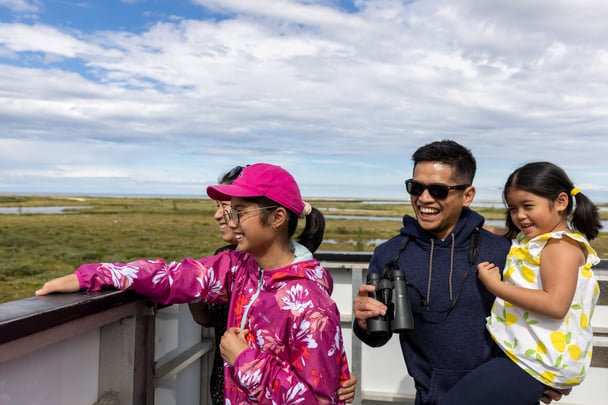 © Alex Cupeiro
New Logo and BRanding
In autumn we unveiled our new logo featuring a white spruce krummholz formation (i.e. a flag tree) commonly found along drier coastal areas near Churchill. We are excited to share this new logo and you can learn more about the meaning behind it here.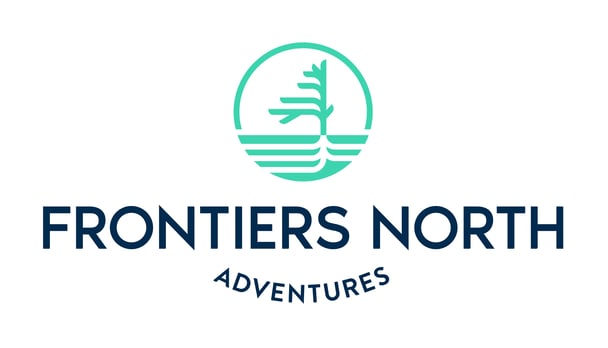 Conservation Journey Beluga WHales
Our first Conservation Journey®: Beluga Whales trip took place in the summer of 2022 and it went swimmingly. Cetacean researcher, Valeria Vergara from Raincoast Conservation Foundation, accompanied guests on this special departure. Throughout their time in Churchill, Valeria provided guests with insights into beluga whale biology, behaviour and ongoing conservation efforts and research projects.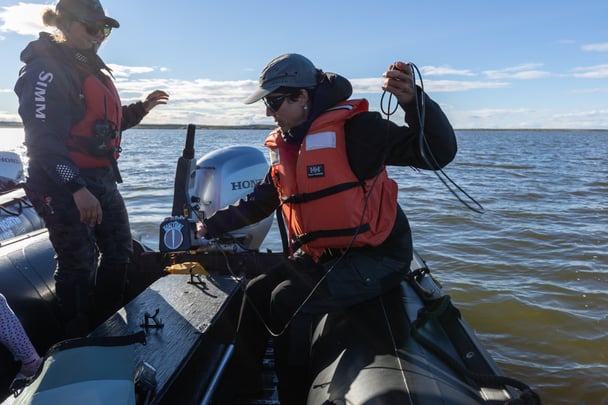 Dr. Vergara using a hydrophone so guests can listen to the beluga whale acoustics © Alex Cupeiro
Our EV Tundra Buggy Did Its First Full Year on the Tundra
Our EV Tundra Buggy® was roaming around Churchill in all three seasons of 2022. The EV Tundra Buggy transported guests across the frozen Churchill River at -40•C during the 2022 northern lights season to explore the tundra in search of wildlife in autumn and summer. If you are curious about our EV Tundra Buggy you can learn more about it here.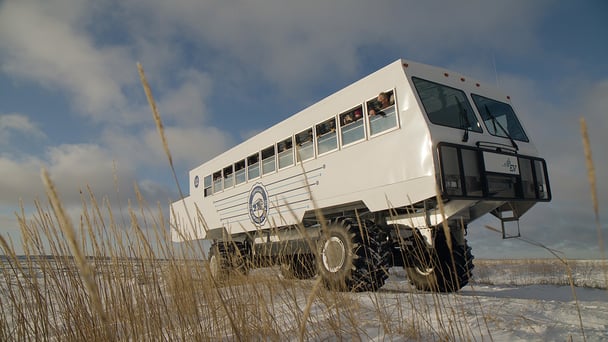 ©Frontiers North Adventures
Farewell and good luck Floe, hello Yvette!
Throughout most of 2022, we followed the journey of Floe, our sponsored Polar Bear in the Polar Bear Tracker Program. However, as autumn rolled around again, it was time for us to bid farewell to Floe as her time being tracked had ended. Polar Beas International assigned us a new polar bear we have affectionately dubbed Yvette.

Yvette is an 18-year-old polar bear with a year-old cub in the Polar Bear Tracker Program. So far, Yvette has proven to be a bear on a mission travelling 719 km to date, further than any other bear in the program! GPS tracking collars provide some of the best long-term monitoring data on female polar bears worldwide.
You can follow their movements by using PBI's Bear Tracker.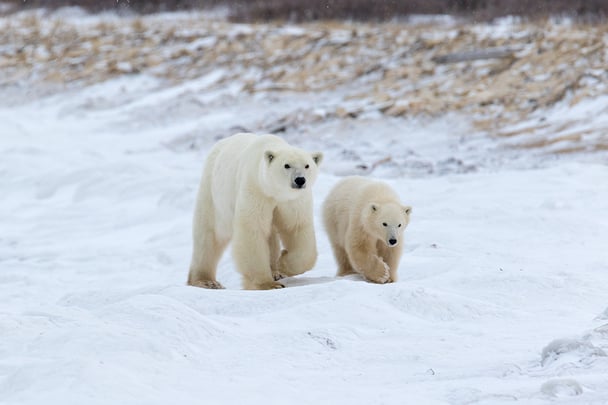 ©Simon Gee
The Annual Wildlife Count
Each year we keep a running tally of all the wildlife we see during our adventures in the Churchill Wildlife Management Area. We do this so we can compare year over year how much wildlife we see in order to have an understanding of how populations in the North are faring, and so that we can share with our guests what they might expect to see when they join us on a Tundra Buggy® excursion.We are still counting our 2022 numbers (coming soon!) but you can checkout our 2021 numbers in the meantime! Check out our Wildlife Count 2021.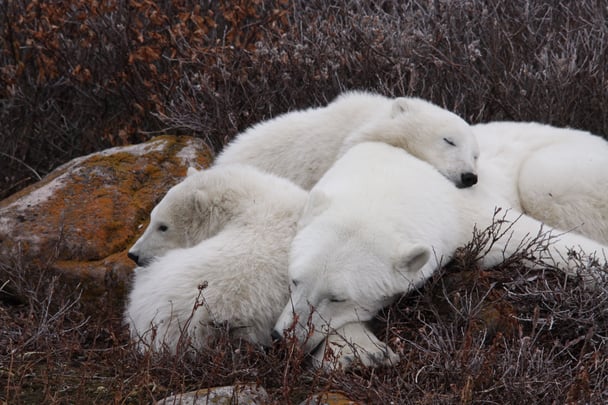 ©Andrew Reid
That wraps up our year in pictures for 2022. We hope you enjoyed following along with us, and we wish you all the best in 2023!
Want to learn more about Churchill and its incredible wildlife?